Shorts
Cornucopia by Ani Antonova and Dimiter Ovtcharov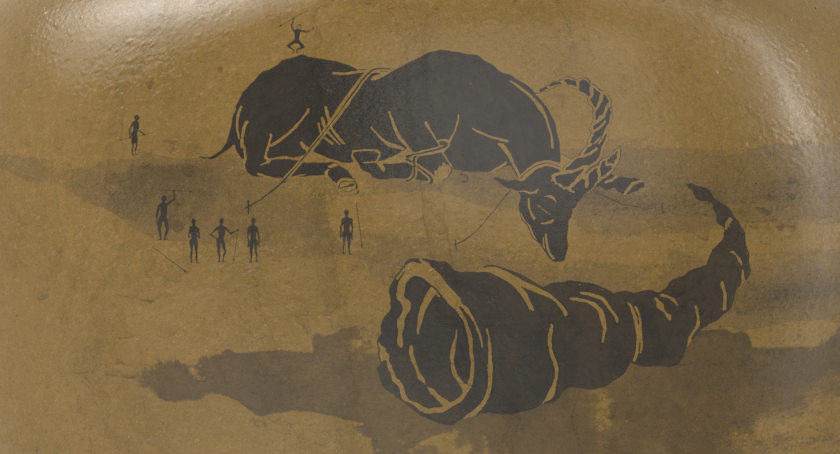 A man wanders in constant search and pursuit, driven by the longing for a magical cornucopia. His vicissitudes are brought to life on an ancient vase's surface - Film Synopsis
The Bulgarian animation director Ani Antonova talks to Zippy Frames about her 'Cornucopia' film, directed by Dimiter Ovtcharov and herself.
ZF: What was the initial thing that motivated the film? It was inspired by the ancient Iranian vase painting, but was it your point to tell the history of animation? Or perhaps use a classical myth, and in what way?
AA: Inspiration for the initial idea was a small ceramic bowl found in today's Iran, that dates 5200 years, depicting sequential images of a goat jumping and eating the leaves of a tree. When the goblet is rotating, we see the movement and the articulated intention of the person who created it. Some people claim it is "the first animation". One can agree or disagree. But we decided that this first "animation goat" can break out of its cycling movement and become one of the protagonists in our film 'Cornucopia'. The perceiving of animation is an entirely cortical process, the illusion of movement is formed in our head, so we connected this illusion with another illusion, the one that if we as humans get more and more things, security, and pleasures we will reach a point of satisfaction. Human insatiability is the central idea of our film.
ZF: Your main character is one of many in the film. Do you consider your film as a kind of tableau of life where everything happens, good and bad?
AA: Our main character is part of the group. He is in constant motion, fulfilling the impulses of the collective wishes for more. The group does not define the actions as genuinely good or bad, but as needed. But he is only to find out, that acting against someone else is also acting against oneself, and by being the hunter he is the hunted too.
ZF: I couldn't help noticing how relaxed the women were in their activities in contrast to men who had to hunt for more. Was something intentional here?
AA: For the development of the characters, we used a wide variety of vase paintings as inspiration. Some of the female characters are walking on their hands or juggling for the entertainment of a duck. Some male characters are hunting, some are dancing, and some are playing music or sleeping. We didn't intentionally search for a contrast between men and women. We tried rather glimpse the absurd opposition between humankind and nature.
ZF: Is the film hand-drawn frame by frame? Give us more insight into your work in process. Did you start with storyboarding etc.? And how sensitive is a material Indian ink when animating?
AA: We mixed different techniques: frame-by-frame hand-drawn with Indian ink on paper, 2D digital, and 3D. As we wanted to tell this story using the aesthetics and alphabet of the vase paintings, we made some tests and with Indian ink, on paper, we reached the desired ceramic look. The ink adds texture and flow to the drawings, and the accidents were surprisingly satisfying for us. The drawings were then digitized and virtually projected on the surface of a 3D rotating vase in a rendering engine software. The 3D vase is identical to the real vase in the final live-action scene. We tried to create a seamless transition between animation and live-action, between illusion and reality. We did use a detailed storyboard. As we are two animators, we worked simultaneously on different scenes, but we did it linearly: from the beginning towards the end, so we could see it growing and be able to add or correct transitions or movements.
Watch the 'Cornucopia' trailer:
ZF: The vocalizing is energizing in the film. Did you have specific sounds or feelings in mind, and how did the whole process work out?
AA: As the music was composed at the end, we animated our protagonists dancing in silence. It looked for some time as if they are participating in a silent disco, and we do not know what track do they listen to. We had a vague idea of how it should feel, but we left the composer and sound designer Valeria Popova to dive alone into the muddy water and waited outside until she returned.
And she returned with a composed music theme. Valeria insisted on adding a ceramic texture in the sound layer as well: using in some parts the Udu drum (a ceramic percussion instrument) or the terrifying Aztec death whistle. The best instrument was, of course, the voice of the singer Miglena Tzenova. So while having fun recording the vocals and the foley effects, the drawings very much became alive by themselves in front of our eyes. Working on the sound and the music was one of our favorite moments of the process.
ZF: Was it difficult to produce the film in general or did you encounter the same amount of challenges almost all indie  animators face?
AA: The film was produced by KOPFKINO - Verein für alte und neue Medien in Vienna, and we got a lot of support and valuable ideas from our artist colleagues. It is always good to be able to share with someone your work in progress and get honest feedback if you are somehow creatively overwhelmed. The film was produced during the global pandemic, which made everything quite unpredictable or even impossible to be organized and scheduled. And we were confronted with similar production challenges like everyone else in the film industry at that time.
Our Bulgarian Co-producer Omega Films offered us a lot of support in the organizational part of the live-action filming and in the search for funding, so we are very thankful they had our back. And last, but not least, during the production our son was born, and we experienced an emotional, time, and world-view shifting that we cherish a lot.
ZF: Is the live-action segment, in the end, a reminder of the artist and director who supervises the whole creation? And do you have as a director, a message to tell, or do you leave that to the audience?
AA: The final scene is a metaphor and offers different possible readings, but we see it as a suggestion of reconciliation.
Film Review (Vassilis Kroustallis):
Man (male here) and nature have their fight in the suggestive, step-after-step battle in 'Cornucopia' (in which, not incidentally, women have to be absent from 'action'). Starting from a simple premise and moving to animate the figures in a classical vase, the film tells in a direct way the story of a human folly repeated time after time. Its soothing vocalizing stops when hunting is conducted and becomes a series of short breaths -before destruction occurs. 'Cornucopia' is simple in its conception, and quick and evocative in its aesthetic treatment, building a recognizable bittersweet picture of a society driven by individual gain rather than co-existence. 
Credits:
'Cornucopia' (2022, 7'49") | short hand-drawn animation, Indian ink on paper, 3D rendering
Written and directed: Ani Antonova and Dimiter Ovtcharov | Aspect ratio: 1.85:1 | Sound: 5.1 Multichannel Surround Sound | Producers: Kopfkino Verein für alte und neue Medien (AT), Omega Films (BG) | With the financial support of Federal Ministry Republic of Austria for Arts, Culture, the Civil Service and Sport, ORF Film/Fernsehabkommen, City of Vienna – Cultural Department MA7, Bulgarian National Film Center
About:
Ani Antonova (born in Chirpan, Bulgaria) is an animation director, living and working in Vienna, Austria. She graduated in Portuguese philology at Sofia University, Multimedia at "die Graphische" and a Master's in Experimental Media at the St. Pölten University of Applied Sciences. Her first documentary animation lm 'The Outlander' was screened at many international lm festivals and received several awards, among them "The audience award of the Austrian Panorama" at Tricky Women/Tricky Realities 2019 and the Jury's Citation Award at The Thomas Edison Black Maria Film Festival (2020, USA). She is a co-founder and an active member of "Kopfkino – Verein für alte und neue Medien". Since 2017 she collaborates with the artist Dimiter Ovtcharov. Their work embraces animation in its different states of matter.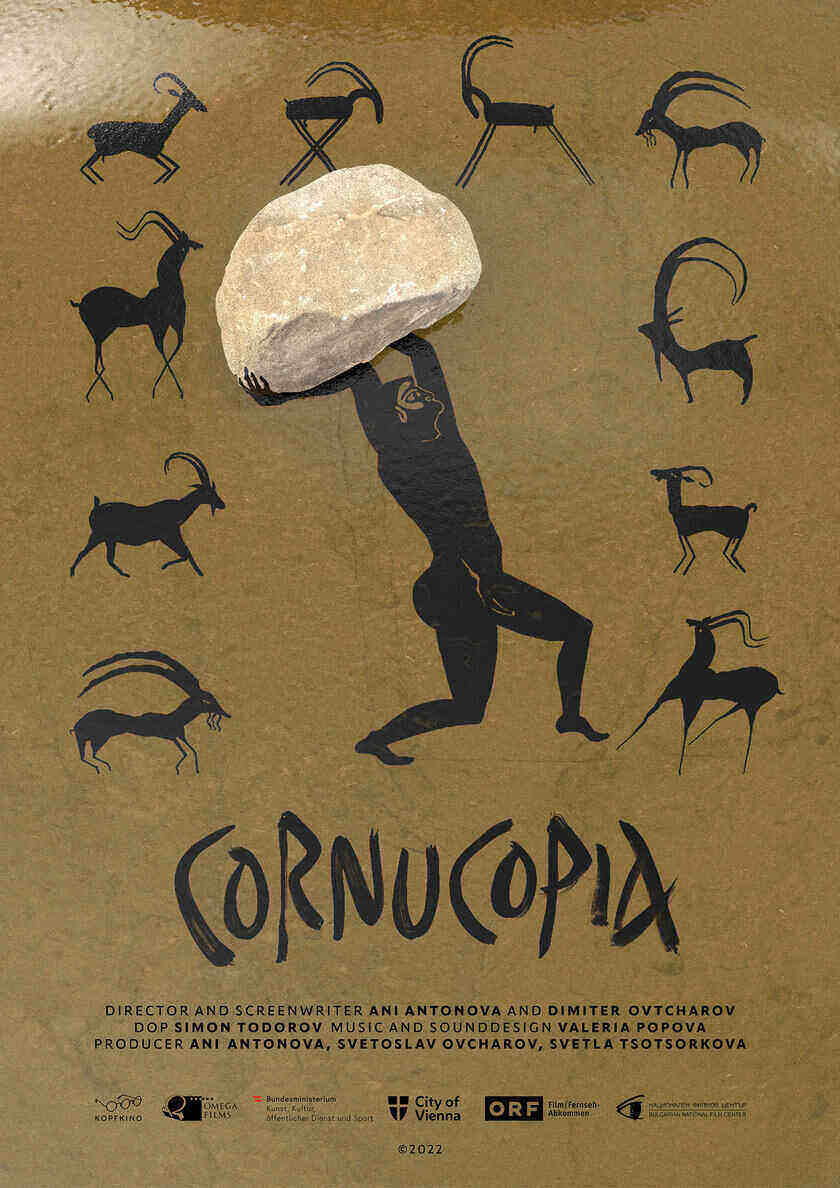 SIGN UP: Want to read more free articles like this? Sign up for Our Newsletter
Read More About: