Shorts
Eating in the Dark by Inari Sirola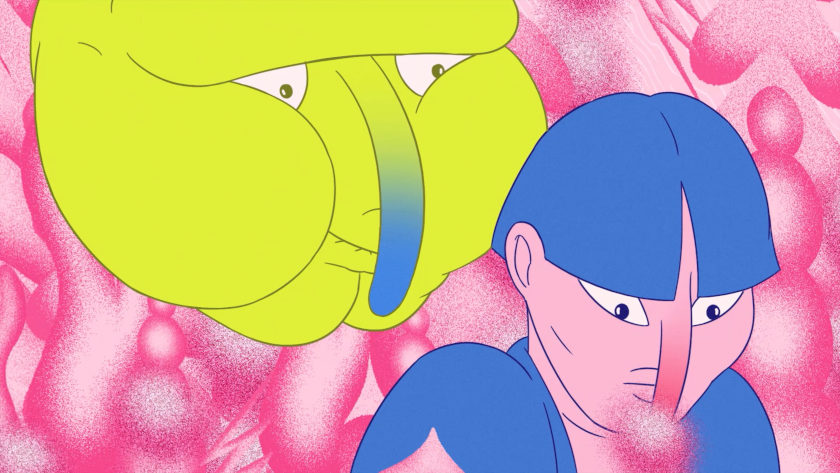 Finnish animation director Inari Sirola challenges gender stereotypes in her work. Her latest, 'Eating in the Dark' animation short, is now online.
Through snakey dildos, setting boundaries and a journey through a mind bending forest, we follow Siro's quest for self discovery - Film Synopsis
She talked to Joseph Norman and Zippy Frames.
ZF: The film is highly sensual and explores our relationship with our own bodies and the need for intimacy and connection. What were your intentions for the film?
IS: Body image has always been a complicated topic. Ever since I was about 6, I can remember being critical of my body, which left me with a level of disconnection as an adult between what's true and my intrusive thoughts of negativity. I'm sure a lot of people feel this way.
Insecurity is being pushed down from above until you're a miniature disheveled wrinkly version of yourself. Looking up at a high and mighty who is judging you, telling you you're not good enough. This lowly place is one of familiarity and, therefore, one of safety. When someone likes you, you can't believe it. It must mean that you're not this tiny wrinkly being, but you're something much more grand. And there's the issue; happiness actually lies in the acceptance of how you see yourself and believe that others can love you, rather than their love proving to you that you're different from what you expected.
Bodies and sexuality are such a hot topic, but we're still presented with this perspective from a commercial point of view. I saw a beauty advert recently that was portraying "real" beauty. People of different colours and sizes, showing their wrinkles and cellulite, but even that failed to do what it set out to accomplish. The wrinkles were on a laughing face, everyone's skin tone was beige, and the cellulite was so barely visible. Here we are given an illusion that this is real beauty. Until you realise it's far from real. In my film I wanted to deal with real emotions. Real beauty, real insecurity.
Watch Eating in the Dark:
ZF: The story is at once highly personal and sensual, and revealing of how fantasy operates alongside reality. How did you approach developing the narrative?
IS: Creating a genre blend allows the audience to be surprised. 'Eating In The Dark' is a very human story, but the world is not, so in some ways, I think this is my attempt at bridging the gap of accessibility for the audience. People simply want to be entertained, and I intend to deliver on that wholeheartedly while maintaining an authentic theme at the core. 'Don't apologise for the world you've created' was a sentence from my tutor that really hit home. I love how the viewer accepts the world presented to them. You can walk in a forest full of melting rocks or date a literal blob, but there's no question whether it's all correct. Anything goes as long as the characters don't react to their surroundings with surprise. Blending fantasy with realism means you don't need to explain yourself, it just works.
The world-building and the overall pacing of the film is what I'm most proud of. Creating an atmosphere with sound design and edits is something I learned from studying Hideaki Anno's and Katsuhiro Otomo's work to name a few, and I went into this film conscious of how these elements affect the tone. Within this, I wrote in my dialogue. From the get-go, I had my two main characters already created; Who they are and how they would interact. Whenever I felt anxious about these themes within the film, I would make these tiny comic strip conversations between these characters. One's the voice of reason, while the other is the voice of judgement. As I discovered these characters, a narrative started to build, and then it started making a scene.
ZF: The film seems to reference the social context of selfies, the pressure to conform to sexual stereotypes and the need for personal freedom and exploration. Can you expand on the background and context to the story?
IS: Female stereotypes repeatedly appear in my work, which was most pronounced in my previous film "CRAZY". Attempting to avoid being the stereotypical girlfriend, friend or woman. Needing to show that I'm not high maintenance or demanding. Not loud or needy, but chill and "cool". What impossible combinations.
Stereotyping is hard for everyone and I believe is a source of anxiety to many. The expectations of others and your own. Your profession, gender, looking a certain way, being a certain way. People always attach their own meaning to their surroundings. This is what my protagonist is also navigating through. When acting out of demand or emotion, 'Eating in the Dark' stops to ask whose demands are they and whose emotions are truly in hand? Often they're not originally yours at all.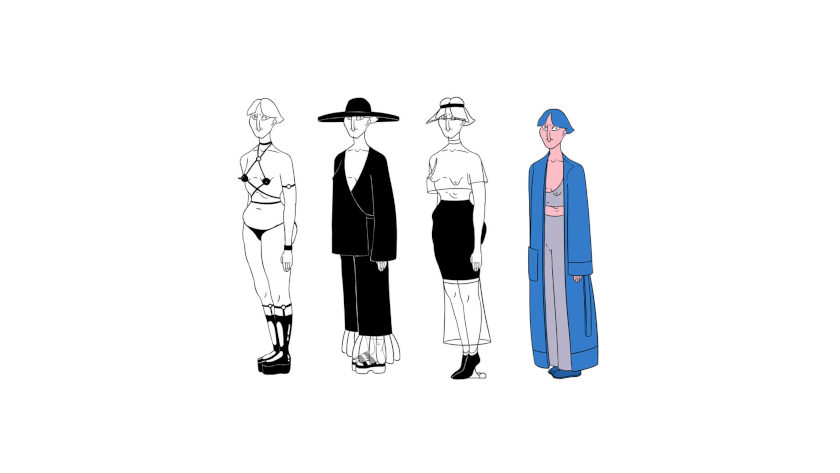 Eating in the dark: Concept art
ZF: The garish and vivid aesthetic is both strikingly intimate and fused with gentle humour. How did you approach developing this specific quality?
IS: Humour is everything. It allows us to tolerate complicated characters dressed under the costume of comedy. In Finnish, we have a term 'kitchen psychology', which is my number one hobby. You analyse people and their behaviour without any real training or license to do so. I do this in film and in life. I want to find the meaning behind the action and the trauma that reaffirms our decisions.
I come from a family of hilarious women, and we have always used humour to navigate our world, it's just a natural part of what we do. We're silly and outrageous and love to laugh, this is my happy place, where I feel most at home. For me to sit down and make something serious, dark, and foreboding would be a lie. I want to tackle the intensity of life through the lens of the absurd.
Film Review:
This striking film by Finnish animator and RCA graduate Inari Sirola explores mature themes. It follows a young woman on a journey of self-discovery and examines issues of body image and the recognition of how one's critical inner voice can constrain freedom. The film opens in a shop for sex toys, where the young woman is looking at a range of products. A purple vibrator jumps playfully on the counter in front of her as she selects her chosen dildo; in what seems like a conversation with her subconscious, the protagonist realizes that independence can be her choice, and that she need not be reliant upon others. We enter her fantasy world, a sensual garden forest where self-acceptance may occur. This is a kind of primordial fantasyland, access to which has been opened-up through a night of self-pleasure in a hot, steamy bath. Exploring the pressures on women to conform to stereotypes and the need to be in a relationship versus independence and self-pleasure, this is a deeply interesting and groundbreaking work, and of particular significance against the backdrop of contemporary sexual politics and the pressures of social media. The sensual journey of self-acceptance signifies a wider sense freedom from the insecurity imposed by society.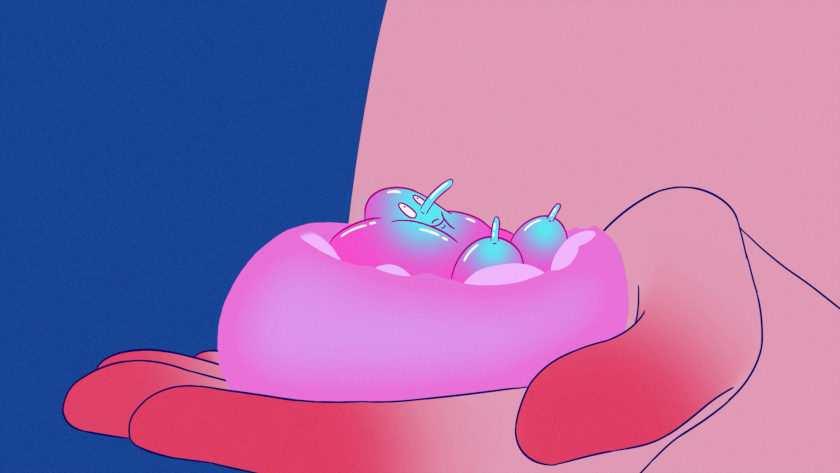 There is a strong sense of surreal interconnectedness between people and environment: as the young woman enters the forest, she softly touches a tree trunk, which opens-up an orifice through the bark. In a highly erogenous scene, she explores her lush forest, and it oozes and opens around her, liberating her from societal pressures to conform to the illusion of beauty in the images we are fed via advertising and social media. It is imbued with grotesque mutability between bodies and landscape, and this sensual interplay is imbued with the protagonist's growing independence and freedom from stereotypical expectations. The sensuality of the forest operates as a sign of this opening up and self-acceptance. Possibly the most striking and exciting dimension of the film is its fecund world-building, and the dissolution between body and landscape is key to its social critique. This is a wildly imaginative film, which boldly breaks new ground in its humorous depiction of sensuality, body image and social pressures to conform. The result is a journey through a pulsing world of heightened sensual awareness.

Credits:
Eating in the Dark (2021, 9')
Director: Inari Sirola | Animation assistant: Miho Katano | Clean up & Colouring: Dimitris Armenakis, Ali Aschman, Ashley Back, Lewis Herries, Miho Katano, Katia Kush, Eric Larsson, Romy Matar, Inari Sirola | Voice actor: Susie Scott | Sound Design: Ruanth Chrisley Thyssen | Additional Sound: Ansso An (Mellow Blush), Ben Price | Music: Ansso An (Mellow Blush), Ben Price | Stereo Sound Mix: Mikolaj Szatko | In collaboration with Miyu Distribution
About Inari Sirola:
Inari Sirola is Animation Director & Animator from Finland. Her work challenges gender stereotypes, questioning identity and confronting the limitations set by society. Tones of surrealism and comedy meet in her mind-bending realities, whilst her unique character design offers personal and social truths about body image and beauty standards. Showcasing all manner of long, saggy, wrinkly, features with love and absurdity. Inari has had 5 years experience within the industry as well as an MA in animation at Royal College of Art. Since graduating 2020 she's been featured in "It's Nice That" Magazine as well as her films "CRAZY" and Award winning "Eating in the Dark" have received high praise within the festival circulation. Both of the films are represented currently by Miyu Distribution.
Contributed by: Joseph Norman
SIGN UP: Want to read more free articles like this? Sign up for Our Newsletter
Read More About: