Interviews
'Guard of Honour': Interview with Edmunds Jansons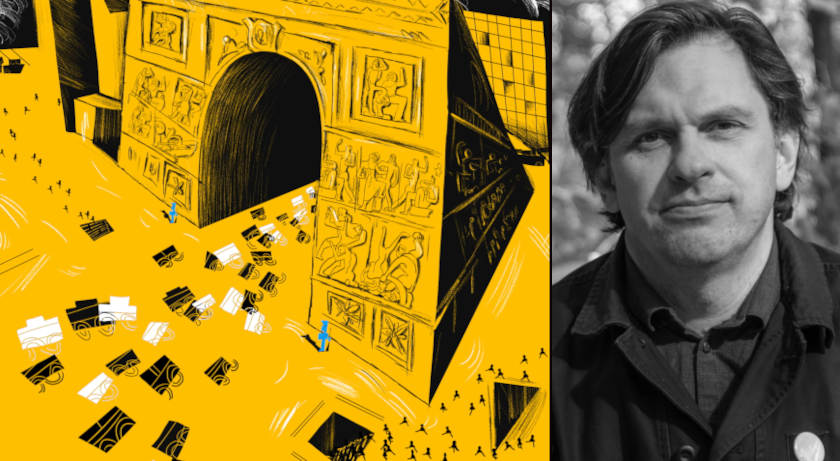 Edmunds Jansons (born in Saldus, Latvia) is one of the distinctive animation directors (also illustrators) of his generation. His short animation films "Choir Tour" (2012),"International Father's Day" (2012),"Isle of Seals" (2014) have travelled and been awarded at all major international animation festivals.
Along with his production company Atom Art (Sabine Anderson: producer), founded in 2001, he went on to direct"Jacob, Mimmi and the Talking Dogs" (2019), a 70-minute feature animation film that had a successful Latvian and international run. Jansons has two fresh projects to cherish: his newest short film"Guard of Honour" (2021) to premiere at Anifilm International Film Festival and a new feature film in development,"The Happy Ones." He also teaches (and studies as a Phd student) in the Art Academy of Latvia. Talking to him is like trying to unveil all the knots of his multifaceted but still unified animation director career.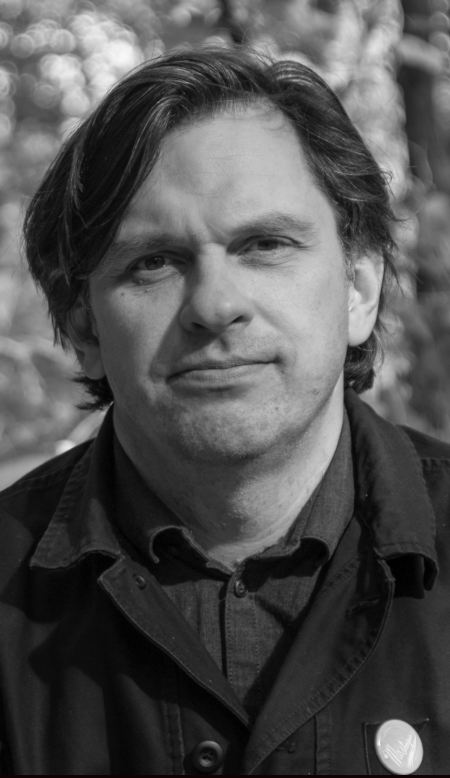 "I have my story how I decided to become an animator," Jansons tells Zippy Frames, "that happened at the third or fourth grade. Animation film Studio Dauka came to our school, and showed us how they make films; there was an introduction on how to make animation. I was a little bit disappointed because I realized there is no magic behind it; there are only real people who make these films".
Yet, after the lecture Edmunds Janson rushed out to his friends and said he wanted to be an animator. Whatever is not magic, and you can do with your own hands, is possible.
Some years afterwards, in 1992, Jansons found himself being a trainee for the same respected Studio Dauka, the home for Janis Cimermanis, Roze Stiebra, and a young Signe Baumane. The first film he completed was the 2-minute film"Haiku" (1995). Jansons went on to study in the Latvian Academy of Culture (TV directing); he completed his Bachelor film "The White" (1999) there, an adaptation of a children's classical book. He then moved on to  Moscow to study animation directing ("this was in the wrong time, when everything was collapsing"). He still completed his"Scissorman" (2005) film. Estonian Academy of Arts came later in his life; his M.A. film thesis (under Priit Pärn) was the "International Father's Day".
"I learnt a lot from my studies" Jansons will tell, "even though the gap between my Bachelor and Master was quite a big one". He now teaches (since 2015) in the Academy of Arts of Latvia (Motion, Image and Sound Department) animation and directing in the curriculum of multimedia studies, with his first students now completing their M.A.
The new generation of students seem to be an interesting crop. "When  they enter the Academy, they know nothing about contemporary and short artistic animation". Being Internet kids, they build their own view on culture in a disorganized, randomly picked way from the net ("It's quite a strange landscape they navigate"). Yet, in the end, more and more are headed towards the artistic side of animation. Jansons leads the way, one way or the other. The new students of today will go towards becoming the new independent animation directors of tomorrow.  
Watch the trailer for Guard of Honour:
The founding of Atom Art (in 2001) was the first step towards Jansons' establishing his own artistic identity. Yet it had its strings attached. "In the beginning, Atom Art was more of a commercial studio, and we were a few people involved in that. But somehow that commercial part was very time-consuming. At the beginning, I thought I'd work both on my own and commercial films at the same time; but then it didn't happen". Atom Art eventually became more of a boutique studio, but not neglecting children films.
"As we had small kids at the moment (and still have), that was a logical decision to start working on children films. We have a studio flat shared together with a children's publishing house, so we were doing the same things in different media. I like working on children animation films. And at the same time, I can work on my own short films as well". 
Jacob, Mimmi and the Talking Dogs development was the result of a Latvian government initiative to celebrate the 100 years of the Latvian Republic (2018). That meant more money on the table for feature animation (there were six animation features currently shooting that period), but at the same time, a deep dive into the waters for Edmunds Jansons and the Atom Art team.
"We decided to give it a try. As a studio, we had the capacity and the resources for that, but as an author and director, I initially thought that the feature film format was not for me". On the other hand, the material itself (based on a children's book by Luize Pastore) was engaging.
"There are not many contemporary stories for children in Latvia" Jansons will tell. "The book  is very interesting; we read it together with the kids and they liked the story. It's both contemporary and takes place in a real place, Riga's Maskachka -and I know that place very well. There is the Academy of Culture there. I had some warm feelings about this place and the relationships between the kids.
The film proved to be a learning curve, especially in its development from book to script (screenwriter: Liga Gaisa) to the screen. The technique itself changed from 2D animation to a combination of cutout animation and 2D animation to accommodate the budget. Jansons' practice not to use scripts in his short films, but build the whole film from his own visual thinking worked successfully there; but feature films proved to be different. "It's harder to work that way (i.e with a locked script). But you still need to have a place for imagination. You should find a middle ground; some structure and free space for imagination".
This is the same imagination that led Jansons to change the initial story of Isle of Seals from a love triangle (a seal hunter, his wife and the cameraman) to a more cameraman-focused story after the animatic was completed. "The film became more about observation". Even now, 7 years after the film's completion, he has thoughts about an alternate ending of the quirky film ("the camera should follow the hunters").
His newest short film is "Guard of Honour"; it tells in precise, geometrical scenes, the story of a natural disaster which interferes with the honour guard ritual -without that bothering one of the guards. "This film started from some kind of anger and fear, and geo-political movements around us" Jansons will state. The first idea came back in 2014, and the activities and the warfare in Ukraine and the Crimea peninsula. "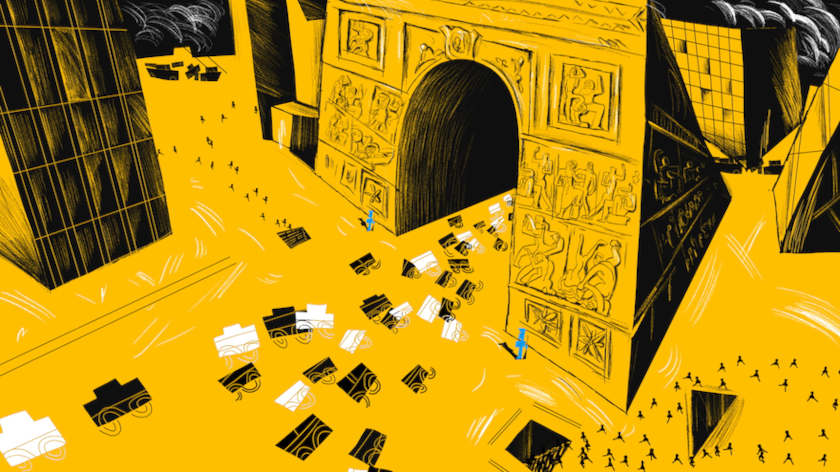 At one moment, I started thinking: the world is not that safe anymore". Personal fears gave rise to ethical dilemmas (your country's survival or your own personal survival comes first); this in turn led to the creative output, set in an amalgam of Western cultural settings, and yet another well-orchestrated crowd (this time of people in traffic). The film was animated by Jansons himself ("These crowd movements and choreography I find it hard to describe and delegate it to someone else").
Crowd movement is essential in Janson's work from Choir Tour (the boys' choir) to the band in the International Father's Day to the traffic crowd in Guard of Honour. "Because of the PhD I'm pursuing, I'm interested in things related to post-dramatic theory" Jansons elaborates. "There is a shift from drama-built stories (based on personal conflicts) to stories about bigger structures; we are observing groups, landscapes, environments, not individual personalities". In Guard of Honour, all characters are intended to be within the same design plane, for a film that it took one year to make.
And how did this project get greenlit in the first place? "After the project pitching, I was surprised that this film idea, which is quite abstract and conceptual, resonated both to the public and the experts." Yet hard as it looked without a 'script', analyzing the situation portrayed led to the film's successful funding. Film funding bodies in Latvia (to which Jansons himself participates at times as an external reader) are constantly changing.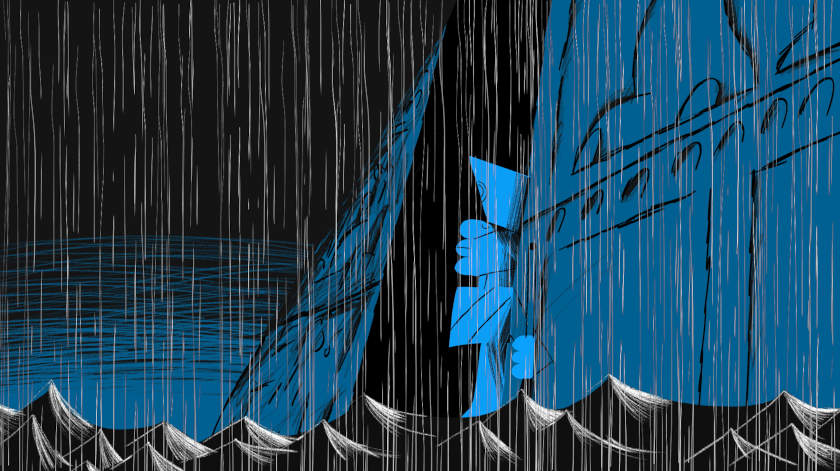 "Some fifteen years ago, it was still unclear what to do with Latvian cinema and animated cinema. There were the old Soviet funding structures that collapsed, and then they started building a new system to organize the film industry". The issue of art vs. commerce also resurfaced, as well as the issue of building a national cinematic identity. "There were many moments when it seemed there was no future at the Latvian film industry at all" Jansons will tell. "But now I feel it's quite a well-organized machine". Funding bodies in Latvia won't practice institutional censorship. "If they do believe your idea, they won't try to push you in a certain direction. Sometimes, they're trying to avoid what they see as mistakes". 
The new feature film in development (already supported by the National Film Center of Latvia) is called The Happy Ones, a 70-minute cutout/2D animation film for 5-8 year old children and their families -based on a real story. In the middle of the last century, the Latvian explorer and cartographer Aleksandrs Laime travelled from Latvia to Venezuela and stayed there, near Angel Falls. "There are a lot of legends around him; him being rich, he found diamonds etc." Jansons states. "But we recently learned that he had family there and kids, who also lived there with him. So, the idea was "how do the kids feel there?" The eldest sister was born in the city and went to a Caracas school, but the youngest, 3-year-old brother was born in the jungle.
Watch the trailer for The Happy Ones
"It's about the relationship between these two very different kids - sister and brother - and how they learn to accept each other" Jansons summarizes. The film is in pre-production stage, with a budget of 1.8M EUR, to be ready in 2024. "I try to imagine a perfect children film. That's something I'd like to achive; with the means of intonation, humour, atmosphere and rhythm" Jansons tells. Commenting on the vibrant, diversified Latvian animation scene, Jansons says: "I like the diversity of the styles, the talents and different formats. There's no such defined Latvian animation thing; everything is quite different, and that's good. Like in the nature, where there is also a big diversity of the species - and that's a sign of a good healthy environment".
Talking of diversity, music and soundtrack is always present in Janson's film, who is also a music fan. ("All my life revolves around music. Now, my youngest boy is playing the cello and the piano"). Being an artist during the Internet era leaves more space for artistic films as well. "You show your name and build your audience. There are many stories on artists that published their films on youtube, vimeo and built up a name-before continuing to work at a bigger studio" Jansons will note. 
Yet the computer screen proved to be the only means of communication during the lockdown, even though Jansons and his family could enjoy time outdoors. "It's very strange and hard for education. These young people who started their studies in the Latvian Academy of Art last year, they didn't meet each other in real life, only behind the screens. I had to explain them animation directing through the screen. It's hard to imagine how they feel, and what they think about education". On a more personal note, Jansons and his family had to juggle between home schooling and work in the between.
Edmunds Jansons still remembers taking sides at school, and choosing the "artist" role over and function over other alternatives and callings. "You slowly continue on this process, and suddenly discover "Oh, now, I'm an artist". And certainly an artist to talk about.
Guard of Honour will premiere at Anifilm International Festival of Animated Films at Liberec, 22-27 June 2021. The interview was conducted in partnership with Latvian Animation Association.
SIGN UP: Want to read more free articles like this? Sign up for Our Newsletter
Read More About: