Shorts
Florian by Keshav Abrol, Lucas Londoño-Clayton, Pavel Loparev & Alicia Velasco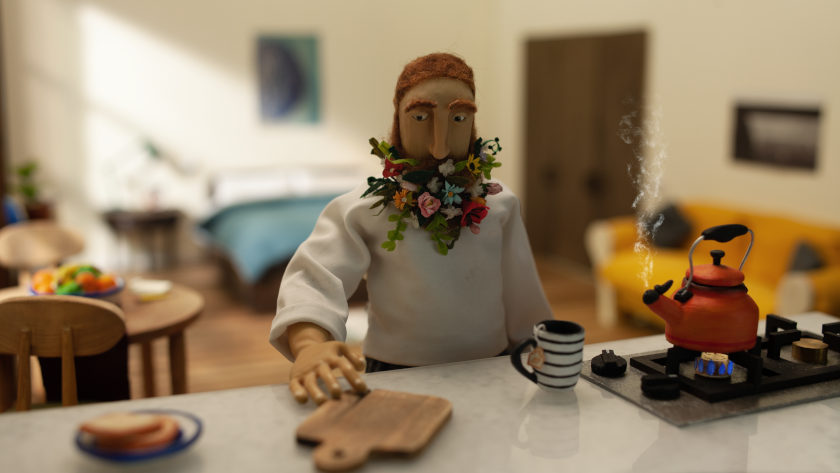 The film Florian by Keshav Abrol, Lucas Londoño-Clayton, Pavel Loparev & Alicia Velasco tells the story of a man who must go  through a strange and difficult ritual to prepare himself for the day ahead. It covers themes of identity and toxic masculinity. 
The film, a graduate work from BAU Design College of Barcelona, has so far been to approximately 35 festivals including Bucheon IAF, Animac, StopTrik, Festival of Animation Berlin, Florida Animation Fest and many others and also won awarded such as Gold Prize from ADG LAUS (Spain).
Watch Florian:
Eliane Gordeeff talks to  Lucas Londoño-Clayton about the film:
ZF: How the pre-production of Florian took place, including choosing of the theme, script, storyboard, modeling, scenery construction. This was a Master's final work?

LLC: Pre-production took the most time out of the entire film. In total, the film took us 6 months to make and 4 months of that was pre-production, writing the script, building sets, puppets, and so on. It's my impression that this is typical of stop motion films and for us was completely necessary to get the level of detail you can see in the sets and in the puppet as well as to plan how to be efficient so that, for example, we know how many walls we need for a room or how we can use different scales to create "close-ups" without moving the camera.
ZF: How did you produce this short with your three colleagues? How did you balance all individual particularities, together with the BAU's exigencies, to achieve a good result?LLC:
The whole film was a great lesson in collaboration. When we sat down to write the film, it was always about finding something that appealed to all of us and we settled on the themes of masculinity and identity. Getting to that point was a delicate balancing act given that we all come from different countries and cultures but it helped to focus on a theme that we could all relate to. From my point of view, being able to compromise was very important. Knowing when and where to compromise but also knowing when to hold on to something that feels important.
ZF: Florian looks to me like a story about someone who needs to adapt himself. The character needs to hide his nature to be accepted by society. Was that your intention or something else, and how did the idea come to your mind (something you saw, read etc.)?LLC:
Exactly! In the beginning, we talked a lot about toxic masculinity, how it manifests and one of the things that came up was how there's a pressure from society to conceal emotions that could be perceived as weak. It was something I personally related to and I think that a lot of men and women can relate to as well so that was our starting point. As we explored the theme, we found images of men who used flowers to decorate their beards and things clicked into place more or less.
Later on, we realized that this pressure to fit in or conform to expectations is much more universal so we made the interpretation of the film more ambiguous so that audiences could read the film how they liked.
ZF: I watched the making of the film as well, and I'd like to know which was the harder sequence to animate.
LLC:
I think walk cycles are always difficult and when it's the final shot of the film there's extra pressure. Pavel (Loparev) had the job of animating that shot. Aside from the technical complexity of the animation, the set was incredibly narrow and was tricky just reaching the puppet.
ZF: Indulge my curiosity: why did you choose to show the flowers on the beard? Why not choose the head or the chest? Is there a special meaning?LLC:
Actually, at one point in the writing process, we thought that he would be man-made of plants and that his whole body would be covered in flowers. In the end, we decided to keep the design of the character more realistic in keeping with the set and also to help the audience to relate.
In terms of why we chose the beard particularly, it was a combination of things. In our original reference images, the flowers were always adorning the men's beards and it was a great visual to have a typical symbol of masculinity or virility full of beautiful flowers - it was a great contrast.  Secondly, it allowed us to combine the shaving ritual with the gardening tools. Beards are a lot like gardens, some people let them grow wild and untamed and others take a lot of care to groom and shape them into something more defined.
ZF: And after all this experience of producing the film, festival participations, what has registered as the Florian film experience?LLC:
It was incredibly gratifying to see the film happen the way we planned. Of course, there were problems, but because we were organized and spent the time to plan things in detail it gave us the freedom to say "we can afford to reshoot this" or "let's spend a little extra time with set". Mostly the film happened the way we planned it and that could only happen because we spent the time in pre-production to sit down and think about every detail of the puppet's clothes to the lighting to the overall theme.
For me, the whole process was a huge lesson in collaboration, in animation, in filmmaking in general. It's not unique to "Florian" but making a film and finishing it is so important. Of course, there are things that I like and things I wish I did differently but finishing the film helped me to understand what those things are and take that forward for future projects.
Film Review (Eliane Gordeeff):
Florian is one of those movies that does not "get" you right away. Very well produced, well animated, one can see the care in the scenes decoupage and the detailing of the short production, when watching the making of. What I find most interesting about this short is the subtlety: in the character movements, in the camera focus, and in the approach to a topic so sensitive and difficult to present, which is the masculinity concept. Let's not forget that 'Florian' is a result of a Master final task, made for a group of four students, from different countries, and one of them is a woman. I have been advising students in their final shorts, and I know how difficult it is to surpass the particular intentions, cultural differences and egos - without this being reflected in the final product, the short. 'Florian''s finely traced path shows us that unity is strength. Exactly as it should be, the living between women and men, not as "woman" and "man" but just as human beings, which respect each other in all circumstances. In an indirect way, Florian talks about that as narrative and as a hard work's result of a group effort.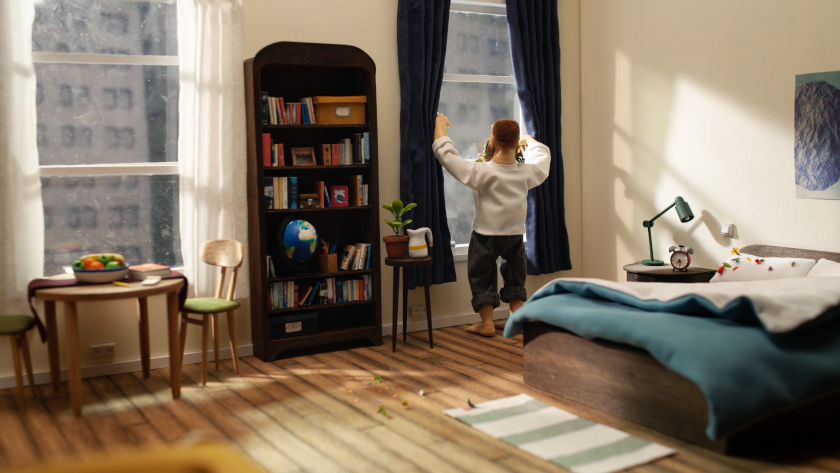 About the directors:
Keshav Abrol is an Animator and Interaction Designer from Jammu, India. Apart from his engineering degree, he has studied animation and visual effects in India. He has served several roles like Interaction Designer, Art Director and Graphic Producer throughout his career. His passion for creating miniature worlds and puppet armatures brought him to BAU, Barcelona for the Stop motion Masters.
Lucas Londoño-Clayton is a filmmaker and animator from Bristol, UK. He studied film and television production in London before moving to Colombia for 2 years. In 2018, he earned his Master in Stop Motion Animation and, one year later, he co-founded Almost a Studio, a small animation studio based in Barcelona, where he lives.
Pavel Loparev was born in Siberia, Russia. He worked as a news reporter for 10 years, also at "First Channel" – the main Russian TV channel. Later, he graduated from Marina Razbezhkina Documentary Film school (Moscow). Co-founder of "CATOUT" animation studio which specialises in social projects and illuminator.info – educational online project for parents of LGBTI teens. For the last few years, he has been living between Moscow, New York, and Barcelona.
Alicia Velasco was born in Caracas, Venezuela. She graduated in Digital Animation in Costa Rica, where she then worked for 4 years in the video/animation department of an American company. She studied sculpting, model making and prosthetics as part of Nahual Studio's course programme and was part of an art atelier directed by artist Max Rojas for 15 years, where she developed as a painter and wood carver.
Florian film on Facebook and Instagram
SIGN UP: Want to read more free articles like this? Sign up for Our Newsletter