Shorts
Flowing Home (Comme un fleuve) by Sandra Desmazières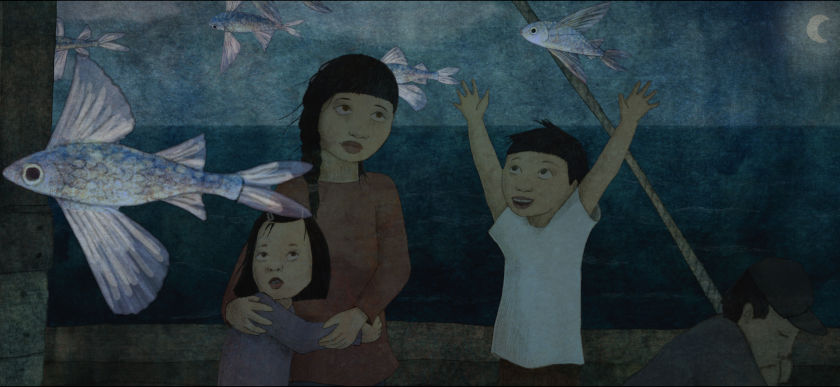 The story of two sisters who got separated during the Vietnam war is the subject matter of the 2D, painterly, affective animation short Flowing Home (Comme un fleuve / Như một dòng sông) by French director Sandra Desmazières.
Two sisters grow up in Vietnam and are separated by the war between North and South. After the fall of Saigon in 1975, Thao, in her teens, must leave the country with her uncle. Her sister Saoi Maï, only a little older, remains with their parents, hoping they will soon be reunited. But their separation will last nearly 20 years, and the letters they exchange are their only way to connect and relieve their loneliness. Thao and Sao Maï write about their everyday lives, their memories, the war, and its ghosts.
The French animation director and artist Sandra Desmazières is not a new person in independent animation. After her studies (ENSAF, Paris) she made her graduation film Sans queue ni tête, won the 2003 Cartoon d'or. She collaborated with production company Les Films de l'Arlequin for her two following films, Le thé de l'oubli (2008) and Bao (2011).
In 'Flowing Home', she was inspired (without being autobiographical) by her own personal story and origins, having a Vietnamese mother and a French father; they both met in Vietnam, during the war, in the early 1970s. The film, a co-production between the French company Les Films de l'Arlequin and the National Film Board of Canada, has been shortlisted at the Academy Awards 2022. 
Watch Flowing Home by Sandra Desmazières:
My other films are all silent. This is the first one that has voices in it. When I started writing, I didn't think there would be so much text. But in the end, the story required it.  The letters are like a conversation that the sisters begin after Thao leaves. They talk to each other through the letters. Some are unwritten and represent what they would like to tell each other, except they can't do that or write it. There are multiple reasons for that: censorship, the fear of saying and providing information that would be compromising for those who stayed in Vietnam, the impossibility of saying and writing what one feels. . . Sandra Desmazières
The 2D (pencil-on-paper and digital) animation was done by Sandra Desmazières, Jing Wang, Janet Perlman, Keyu Chen, Eva Cvijanovic, and Inspidea. Music by Manuel Merlot.
The film will remain online till 7 February 2022.
SIGN UP: Want to read more free articles like this? Sign up for Our Newsletter