Shorts
Pépé Le Morse (Grandpa Walrus) by Lucrèce Andreae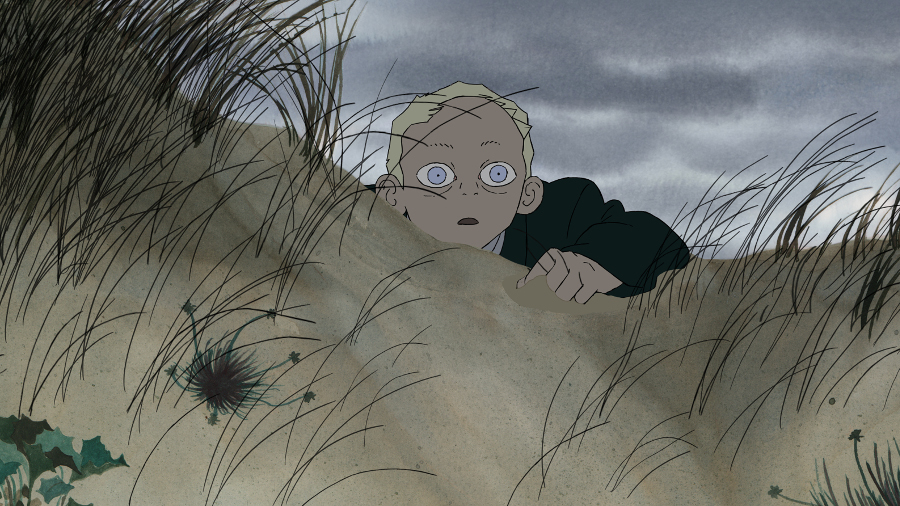 Self-described as creating madcap characters, absurd situations and everyday tragedies with a lot of softness, Lucrèce Andreae had definitely a festival hit with her 15-minute Pépé Le Morse (Grandpa Walrus), which both competed in Cannes festival, and won the French César for Best Animated Short in 2018 (see here for a full awards list).
On the windy and cloudy beach, Granny is praying, Mum is shouting, the sisters don't care, Lucas is alone. Grandpa was a weird guy, now he's dead.
Lucrèce Andreae is a Gobelins graduate with her Trois petits points  short, and proceeded to study in La Poudrière school. The idea for Pépé Le Morse (Grandpa Walrus)   came from a Russian friend of Andrease who described the famous St. Petersburg "walruses", men who walk on the banks of the Neva in their underpants soaking up every last ray of sunlight in summer and winter in hopes of getting tan. 
If smoking will kill you, then being the fatherly end of a 6-member dysfunctional family can still make you into a walrus. Andreae's particularly poetic film, which insists on grounding its story and narrative on 7 characters (including the Pépé-Walrus one) succeeds where most animated shorts would fail; for it gives all her characters a common purpose to which they should also commit to, but no one (apart from the cranky grandma) believes in. This discrepancy between nominal commitment and actual desires help character discover space both when they progress toward their destination (travellng shots abound here), as well as when they feel helpless lying on the sand (bird's eye view shots now taking the lead).
Actually, characters command space in their exploration to Atlantic coast dunes, whether they are running for shelter, or are themselves dug in sand. Of course, subdued colored palette spells out prominently the many problems they have to face as a family (the most important: being together). Still, moving into space -one of the trademarks of animation- can in time reveal solutions sought.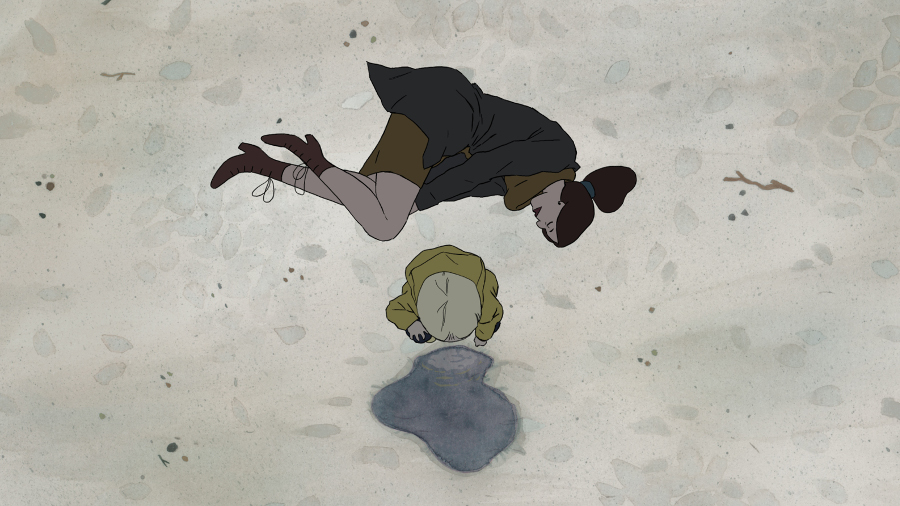 Andreae also withholds from metamorphosis, leaving it only for the grandpa character, which becomes quite a sensation for his grandson. Character designs for other characters makes it for near-normality. But, have a look at the big eyes all characters open wide, and you'll see that they seek something more than what is immediately given to them.
Lucrèce Andreae is currently developing an animated feature film. It seems that Pépé Le Morse (Grandpa Walrus) is an excellent preparation for that. It explores family dynamics with passion and restraint at the same time, leaving it to the sandy environment to remind that the final solution is not a creature in our head - not even a cigarette butt.
CREDITS:
Pépé Le Morse (Grandpa Walrus)
Director – Lucrèce Andreae In her movies, She is currently developing an animated feature film.
Producers – Jérôme Barthélemy & Daniel Sauvage
Background – Marjorie Caup, Amélie Fléchais, Vaiana Gauthier
Animation – Ulysse Malassagne, Marion Roussel, Marcel Tigchelaar
Interns – Léa Krawczyk, Joël Durand, Kevin Nguyen Van Phung, Fabien Corre, Lolita Cury, Cécile Guillard, Fanny Hagdahl Sörebo, Mathilde Laillet, Ariane Teillet
Compositing – Jean Bouthors, Mathieu Brisebras
Editing – Guillaume Lauras & Catherine Aladenise
Sound – Flavien Van Haezevelde & Sébastien Pierre
Music – Flavien Van Haezevelde
Voices – Roman Garance (Lucas), Emilie Blon Metzinger (Olivia), Chann Aglal (Jade), Ilona Bachelier (Melissa), Charles Albol (Marius), Catherine Artigala (Granny)
With the participation of: CNC, ARTE, Ciclic, Mairie de Paris, Région Rhône-Alpes, Procirep, Angoa
SIGN UP: Want to read more free articles like this? Sign up for Our Newsletter
Read More About: