Shorts
How My Grandmother Became a Chair by Nicolas Fattouh
There are chairs, grandmothers, and grandmothers who become chairs. This is the initial premise of the Lebanese director Nicolas Fattouh's acclaimed film 'How My Grandmother Became A Chair' (producers Fabien Driehorst/Nermine Haddad). First pitched at the Arab Forum of the ITFS Animation Festival (2018), the 2D animation short tells the story of an aging lady and her feline-shaped helper.
Grandmother loses her five senses one after the other until she transforms into a wooden chair. Throughout her transformation, she realizes that her housekeeper is not the wild animal she thought she was, but the real, caring, and strong family member grandmother was looking for - Synopsis
The Germany/Lebanon/Qatar production is the second professional film by the Lebanese painter, sculptor, and animation director. His first (and graduation) film was the 'La voleur de casseroles' from the Academie Libanaise des Beaux-Arts. And it is a fictionalized account of his grandmother's own passing.
"One week after my grandmother's funeral, the family returned to grandma's house for the first time in a while to collect her belongings", Nicolas Fattaouh tells Zippy Frames. "Coincidentally, grandma's housekeeper, Asteer, moved to my house since my uncles had found someone to rent the house the next day". The housekeeper brought the grandma's chair with her, a piece of sentimental value that meant nothing to other family members. "I felt my grandmother's presence as if she had transformed into a piece of furniture to remain with her loved ones".
So, the project took off (one year in development) with an intimate goal to resurrect personal memories. Yet, research was also an indispensable element. "I volunteered for a few days at a retirement home located in the north of Lebanon and encountered abandoned seniors who were living in deplorable conditions. Their bodies were incredibly frail, and they relied heavily on the pieces of furniture they used, as if they had lost their own sense of presence". Fattouh sensed a merging of old people with the furniture -when he inquired the facility about this, they told him it is a result of loneliness. One after the other, the things they appreciated in life went numb. "The food they once enjoyed became tasteless, the perfumes lost their scent, the objects, landscapes, and things they once delighted in seeing became meaningless. The music and sounds around them became ambient and neutral, and even the textures they once found pleasurable lost their sensory impact".
Watch 'How My Grandmother Became a Chair':

This was the perfect intro for the film to grow, supported by the Robert Bosch Stiftung Prize (Berlinale 2019), and with funding from Germany and the Middle East. Both the topicality of the theme ("domestic workers from Africa in Lebanon are sometimes treated as second-class citizens") and its universal character needed to be addressed. "The film taps into the universal human experiences of aging, loneliness, and the search for connection and meaning". There was a dual process, on the one hand, to tap into the universality element (the grandmother is a strong family symbol for everyone), yet also show elements of social injustice and the broader question of what defines a family. "I wanted to demonstrate that family is not solely determined by blood relations, but rather by love and care", Nicolas Fattouh notes.
The aesthetics of the film with its limited but almost vibrant color palette, are another case in point. "I deliberately employed color as a powerful storytelling tool. The choice of yellow as a spotlight area for grandma, reminiscent of the sun, suggests that even in the face of sunset-like experiences (as she gradually loses her senses and transitions into a different form), there is always the potential for a new dawn, a new beginning". A fact that adds to the tender mood of the film, despite its difficult topic.
Due to the world intervening and the Lebanese liquidity crisis (it started in 2019), the 'How My Grandmother Became A Chair' project became a remote-country project (his director had even visa issue problems to Germany). Both producers Fabian Driehorst and Nicolas Fattouh still talk of an otherwise enjoyable, productive, rich, and dynamic experience ("Each artist brought their unique skills, perspective, and creative sensibility to the project, enriching the overall vision and execution of the film", Nicolas Fattouh will mention).
Fattouh is also a performance artist, and his 2021 'Living with A Piece of Furniture' exhibition and installation continue in a different vein from the theme of the film. Now a tribute to his grandfather Youssef Basbous (a renowned Lebanese sculptor), the 2021 artistic effort is a split-screen-like installation. The first story portrays his grandfather's fading presence from the house (animation mapping on his armchair). The second story is a comedic take on his family.
"I drew inspiration from 'Blind Vaysha' by Theodor Ushev", he tells. "I aimed to empower the spectators to immerse themselves in the story of their choice, depending on where they directed their attention (to the right or left) allowing for a unique and personalized viewer experience".
Coming from a family of artists, Fattouh constantly utilizes different media forms in his work, according to the needs of the particular story he wants to tell. He now has two short animated films in the pipeline: 'Rien que pour l'amour des gens' (Novanima production, France) and 'Peaux Salées' (Folimage production, France). "I am also in writing my debut feature animation, titled 'People cannot feel the things that do not touch them' ". The first one (English title: 'Salted Skins') is created using various animation techniques such as 2D, cut-out, and salt animation. He also has a feature film in the making, 'People cannot feel the things that do not touch them' (at the scriptwriting stage), and organizes a new animation festival, Beirut Animation Nights (its second edition to take place 22-24 March 2024 in Beirut). A multi-task work that still looks familiar to the multi-dimensional Lebanese artist and director.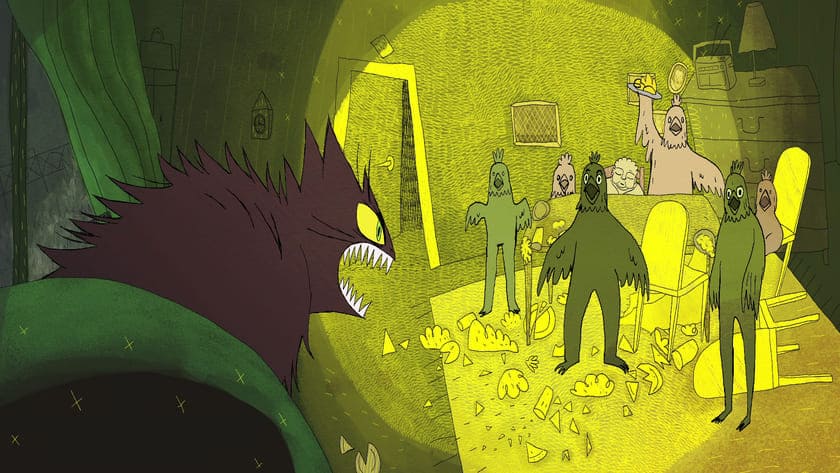 Film Review (Vassilis Kroustallis):
A compassionate, two-hander film on care and prejudice, 'How My Grandmother Became a Chair' invites us to the living and dining room of an old lady, the setting in which most of the action takes place. Nicolas Fattouh has his use of symbols (birds of prey, wood sticks), but most of the time he invites those to a very realistic drama of disappearance/reappearance; disappearance of the senses and appearance of love and care. Lit as a yellow candy and musically attuned to the sea waves (which become a third protagonist in the film's last part), it confers both the inevitability of going away and the possibility of being still a person that other people will respond to. It also traces admirably the trajectory of less fortunate people and workers in need of respect. Quirky affectionate.
Credits:
'How My Grandmother Became a Chair', 2D animation, 2020 (9'55'', Germany, Lebanon, Qatar)
Director, Design, Script: Nicolas Fattouh | Producer: Fabian Driehorst, Nermine Haddad | Animation Supervisor: Frédéric Schuld | Animation Director: Till Machmer | Animation: Till Machmer, Adrian Jaffé, Yann Le Bot, Augustina Morici, Florian Maubach, Shadi Adib, Alba Dragonetti, Carlo Palazzari, Meike Fehre, Rebecca Blöcher, Friedrich Schäper | Backgrounds: Markus Rockstroh, Nicolas Fattouh | Compositing: Till Machmer | Editing: Frédéric Schuld | Music: Cedric Kayem | Sound Design & Sound Editing: François Yazbeck | Sound Design Supervisor: Rana Eid
About:
Nicolas Fattouh (born in 1994 in Monsef – Lebanon) is a visual artist and director. He participated in many national and international exhibitions. He graduated from Academie Libanaise Des Beaux Arts in animation. In 2019 he opened the Fattouh Art Gallery in Monsef. In 2020 his debut 'How Grandmother Became a Chair' premiered at Krakow Film Festival, followed by a wide festival run.
SIGN UP: Want to read more free articles like this? Sign up for Our Newsletter