News
Blind Vaysha, Nighthawk Top 2016 Animation Shorts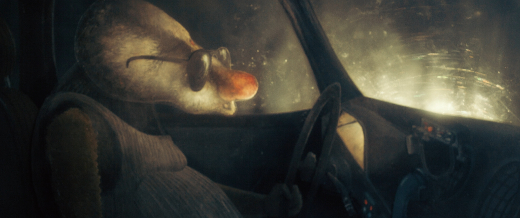 It was really a test. 28 animation professionals,  from Tomm Moore (Secret of Kells) to Konstantin Bronzit (Lavatory- Lovestory) to up-and-coming animation directors like Sarah Saidan (Beach Flags), festival programmers and academics, were all invited to give their view.
The question was: 3 independent animation shorts that touched you/ had an impact on you during 2016.And it went well.  All 53 films voted for could make an exceptional festival programme, and they show that contemporary independent animation has many faces, and it's interesting and challenging; can accept drama, comedy and surrealism, fairy tales and existentialism, abstractness and  personal traumas.
So, here are our Top12 animation shorts for 2016 (and, of course, the full list of 53 films), with a draw at the first place. The two films shared the same number of votes, but they had a different placement in individual lists [find all individual choices here]
TOP12
1. Blind Vaysha, Theodore Ushev (NFB/Arte France), Canada/France, 2016
From the moment she was born, Vaysha was a very special girl. With her left eye she can only see into the past, and with her right she can only see the future.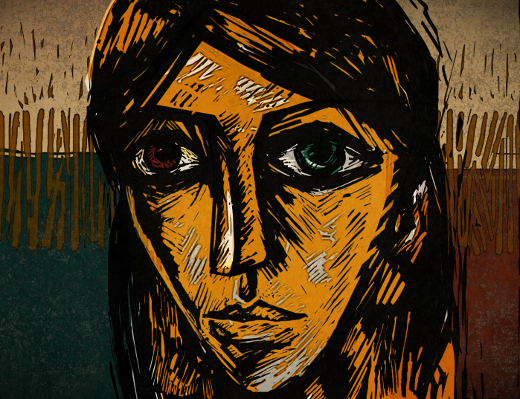 Tomm Moore: The story itself and the direction were what really made me put this one top of my list - the folktale-like story is so relevant to today's world where we are still so lost in thoughts of the past and concerns for the future that we cannot see the present moment. We are all like Blind Vaysha I think, at least I know I am.
- Nighthawk, Špela Čadež (Finta/RTV Slovenia/Bonobostudio) Slovenia/Croatia, 2016:
A badger lies motionless on a local road. A police patrol approaches the body in the dark. They soon realise that the animal is not dead; the badger is dead drunk!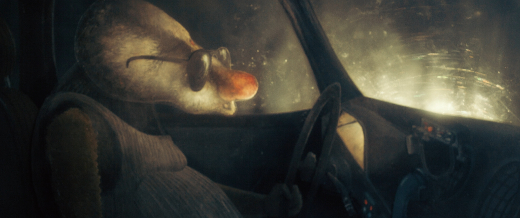 Maroš Brojo (Fest Anča): Mesmerizing demonstration of how traditional animation can still be incredibly stunning.
Igor Prassel (Animateka):  a masterful antropomorphic depiction of alcoholism through the use of multiplane cut-out animation.
3. Decorado, Alberto Vázquez (UniKo & Autour de Minuit),  Spain/ France, 2016
The world is a wonderful stage, but its characters are disgraceful.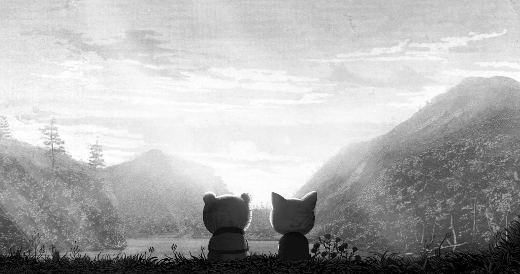 Paolo Polesello: All the world is a stage in this absurd tale full with black humour
4.  Impossible Figures and Other Stories II (Figury niemozliwe i inne historie II), Marta Pajek (Animoon), Poland, 2016
The protagonist of the film is a woman who trips and falls while rushing around the house. She gets up, only to discover that her home has unusual features – it is built from paradoxes, filled with illusions and covered with patterns.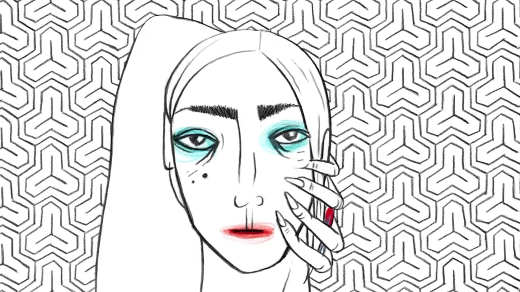 Sarah Saidan: Brilliantly animated and effective use of metaphors in this witty but serious film about a woman's life that reminds us of the power of animation to tell personal stories.
- Love, Réka Bucsi (Boddah Production), Hungary, 2016
"The English word LOVE is not really a word anymore. It's used for so many different platforms and situations that its shape and the lines of its letters have come to be recognised as a picture in itself".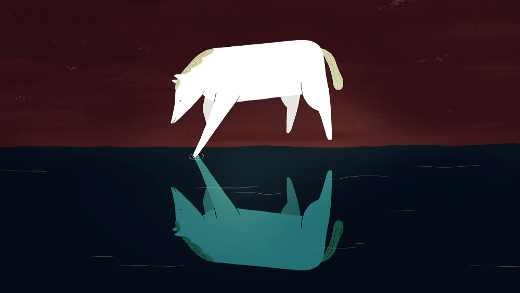 Maroš Brojo (Fest Anča): Réka managed to tie together metaphorical images from her exuberant imagination and crafted a complex representation of various stages of love.
6. The Head Vanishes (Une Tête disparaît), Franck Dion (NFB/ Papy3D Productions), France, 2016
Jacqueline isn't quite in her right mind anymore, but she's determined to take the train to the seaside, as she does every summer. Only this year, she's constantly being followed by some woman who claims to be her daughter.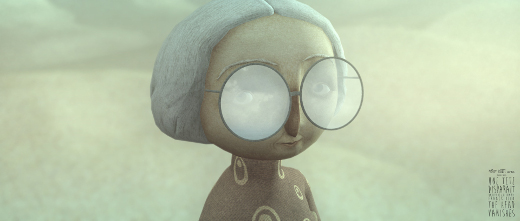 Milen Alempijevic (Animanima): A witty story of mother-daughter relationship and melancholy.
7. Before Love, Igor Kovalyov, Russia 2015
A construction worker on a scaffold observing a young woman who is spying on a man.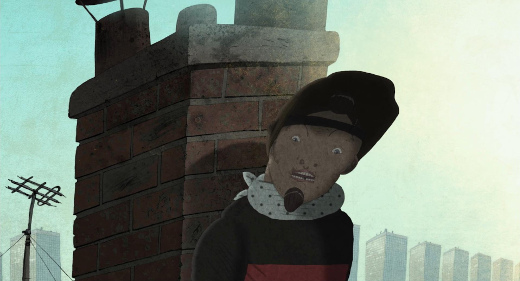 Karin Vandenrydt (Anima): What a rich film, full of details both in therms of image and sound; one of those films that appeal to your instincts rather than to your intellect and that you can watch over and over again
8. Peripheria, David Coquard-Dassault (Autour de Minuit, Schmuby Productions), France, 2015
A journey into the heart of a large and abandoned council estate.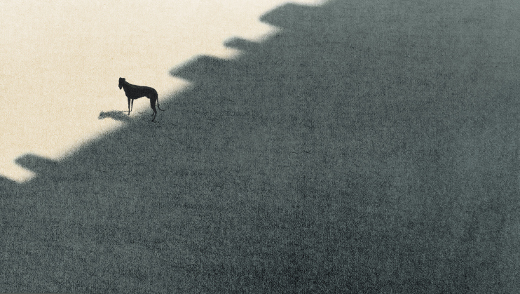 Uri Kranot: An overwhelming non-narrative atmosphere
Mew Lab (Kim Noce & Shaun Clark): The whole film relies on the attention to detail, small changes and permutation of the environment.
9. Three Fitted Flies (Tres Moscas a medida), Maria Alvarez and Elisa Morais, Spain/ Lithuania, 2016
Scorching summer in the village, an old woman tries to bring her late husband back by means of twisted rituals.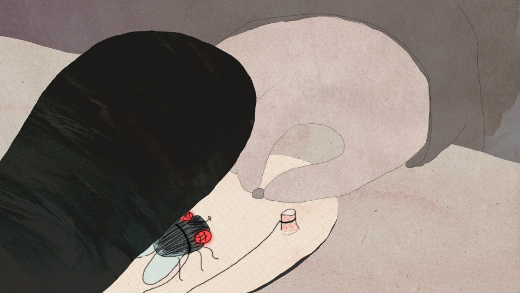 Steven Woloshen: Proof that surrealism can exist within animation
10. Black, Tomasz Popakul, Poland / Japan, 2016
A couple of astronauts are stranded in a space station while a nuclear war engulfs the Earth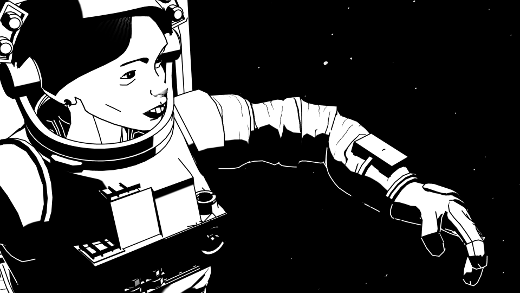 Igor Prassel (Animateka): A tight script with spare dialogue in which every word counts
11. In the distance, Florian Grolig, Germany, 2015
It's calm and peaceful above the clouds. But chaos lurks in the distance and each night, it draws closer.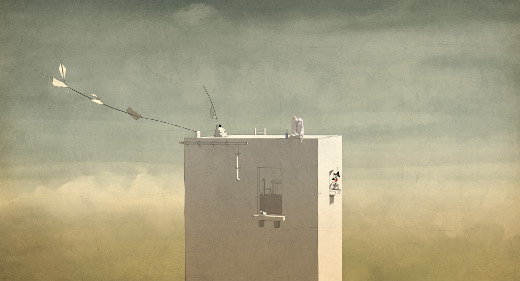 Nassos Vakalis: For the allegorical way of telling a simple but so true story about humanity
12. Lõss, Yi Zhaoa, Netherlands, 2015
A Chinese peasant woman's flashback on her life.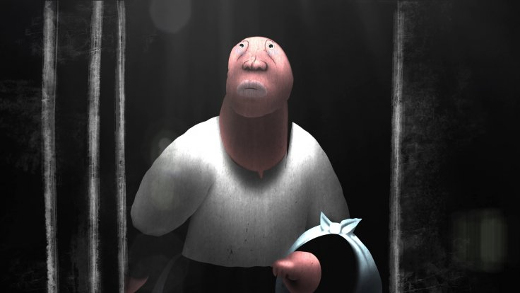 Pedro Rivero: The work of a great artist with amazing visual technique and a masterful sense of pacing
13-53:

(In alphabetical order)
 A coat made dark, Jack O'Shea (Ireland)
Analysis Paralysis, Anete Melece (Switzerland)
Among the Black Waves, Anna Budanova (Russia)
Black Volga (Črna Volga), Marta Wiktorowicz (Poland)
Borderlines, Hana Nováková (Czech Republic)
Kaputt /Broken – The Women's Prison at Hoheneck, Volker Schlecht, Alexander Lahl (Germany)
Catherine, Britt Raes (Belgium)
Aglaia Pantelaki (Be there!): Witty, funny and bittersweet at the same time, catching the viewer's attention with its imaginative story and fast scene changes
Cartas / Letters, David Mussel (Brazil)
Datum Point, Ryo Orikasa (Japan)
Dissonance, Till Nowak (Germany)
Edmond, Nina Gantz (UK)
Endgame, Phil Mulloy (UK)
Erlking, Georges Schwizgebel (Switzerland)
Eternal Hunting Grounds, Elin Grimstad (Norway / Estonia, 2016)
Fenwick Island, Shane Beam (US)
Forever, Zhong Su (China)
Happy End, Jan Saska (Czech Republic)
How Are You Today? Sophia Markatatos (UK)
Pedro Rivero: Full of heart and humor in which all of us can recognize ourselves
How Long, Not Long, Uri & Michelle Kranot (Denmark)
It would piss me off to Die so Young, Filipe Abranches (Portugal)
Steven Woloshen: A truly epic piece of animation
I like Girls, Diane Obomsawin (Canada)
I Think You're a Little Confused, Iku Ogawa (Japan)
Johnno's Dead, Chris Shepherd (UK)
Shaun Clark & Kim Noce: The film smacks you around the head and punches you in the stomach
Yul & the Snake, Gabriel Harel (France)
Uri Kranot: Simple design that carries a heavy weight story
La Table, Eugène Boitsov (France)
Cristina Lima: For its aesthetics, wit and impact on the spectator
Monkey, Shen Jie (China)
My Home, Phuong Mai Nguyen (France)
Once Upon a Line, Alicja Jasina (Poland)
Tomm Moore: A remarkable example of the power of 2d animation to tell a compelling story with just a minimum of detail.
Pear, Cider and Cigarettes, Robert Valley (US)
Parade de Satie, Koji Yamamura (Japan)
Pussy, Renata Gasiorowska (Poland)
Schirkoa, Ishan Shukla (India)
Šuma, Lucija Mrzljak (Estonia / Croatia)
Squame, Nicolas Brault (France)
Tango, Pedro Giongo & Francisco Gusso (Brazil)
The Empty, Dahee Jeong (Korea)
The Piano, Kaspar Jancis (Estonia)
Karin Vandenrydt (Anima): It's a pure joy to watch this film full of humor, delicious absurdity, touching characters and nice design
The reflection of power, Mihai Grecu (Romania)
Sarah Saidan: Haunting, powerful and unforgettable
Waiting for the New Year (Gaidot jauno gadu), Vladimir Leschiov (Latvia)
Way of giants, Alois di Leo (Brazil)
Wild Fire, Hugues Opter, Pierre Pinon,Nicole Stafford, Valentin Stoll, Arnaud Tribaut,Shang Zhang  (France)
CONTRIBUTORS
 (All respective contributors' choices)

Vanja Andrijevic, Bonobostudio (Croatia)
Milen Alempijevic, Animanima (Serbia)
Maria Anestopoulou, AnimaSyros (Greece)
Bea Bartolomé Sacristán, José Luis Farias Gomez, 3D Wire (Spain)
Olga Bobrowska, StopTrik (Poland)
Michał Bobrowski (Poland)
Maroš Brojo, Fest Anča (Slovakia)
Konstantin Bronzit (Russia)
Špela Čadež (Slovenia)
Mew Lab (Shaun Clark & Kim Noce, UK)
Petrit Gora, Anibar
Pavel Horáček, Anifilm (Czech Republic)
Uri Kranot (Denmark)
Cristina Lima, Cinanima (Portugal)
Joni Männistö (Finland)
Chiara Magri, CSC (Italy)
Tomm Moore (Ireland)
Paolo Polesello (Germany)
Pedro Rivero (Spain)
Aglaia Pantelaki, Be there! Corfu Animation Festival (Greece)
Igor Prassel, Animateka (Slovenia)
Sarah Saidan (France)
Mateusz Solarz, Etiuda & Anima (Poland)
Daniel Šuljić, Animafest Zagreb (Croatia)
Theo Ushev (Canada)
Nassos Vakalis (US)
Karin Vandenrydt, Anima (Belgium)
Steven Woloshen (Canada)
VOTING PROCEDURE
All 28 participants were asked to vote for 3 animation shorts that they watched during 2016 at a festival (not necessarily premiered in 2016) and impressed them/ left a mark on them. They had the option to give both an order and a rationale for their respective choices. Animation directors/studios could not vote for their own films.
Results were aggravated according to the number of votes. Whenever two or more films received the same number of votes, individual film preference order was also taken into account (e.g. a film that had higher placements in one or more contributors' choices, moved upper on the list).