Shorts
Hungry Bear Tales by Alexandra Májová and Kateřina Karhánková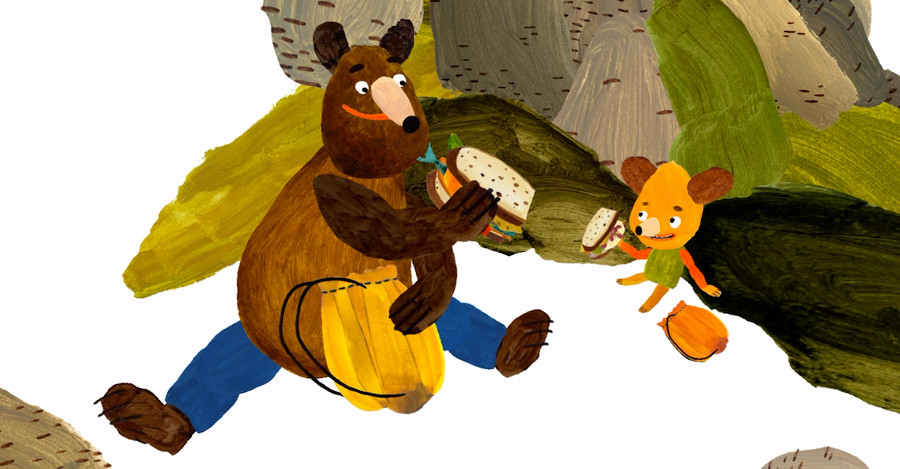 A 45 min (6 x 7 min) series awaits UK audiences  (4+) online on Vimeo on Demand (14-17 Nov) in a a screening and an online art workshop organized by the Czech Centre London. 
Hungry Bear Tales by Alexandra Májová and Kateřina Karhánková tells (in 2D animation) the merry adventures of two cuddly and constantly hungry bears. Stories for young children and their parents full of humour and delicious food.
As everyone knows, bears tend to be loners, but Ned and Mishka are best friends who share a cosy house in the forest. One of them is big, the other one is tiny and they are constantly hungry. Together, they set off on the craziest adventures to fill their constantly rumbling tummies with something really good to eat and with as little effort as possible, willing to take considerable risks. Their plans do not always go the way they imagined, but their little adventures always have a happy ending. A series of short stories in which you'll see how these two funny bears met, how they cook together, taste truffles, hunt for blueberries, celebrate Christmas in summer since they sleep through every winter, and how they make up after a bear fight. There is even a huge feast to which bears from all over the world have been invited. Hooray, let´s play! - Synopsis
Watch Hungry Bear Tales teaser:
Zippy Frames interviewed director Alexandra Májová.
ZF:How did you come across the books of Zbyněk Černík? Was it a childhood reading? And how did you start having the idea for the project?
(Alexandra): I like children's books and I kind of collect them. When I studied at FAMU, I came across this book, Little Bear Tales by Zbyněk Černík. After reading it, I told my friend and schoolmate Bara, who produced my school films, that it could be a nice animated TV series. After graduating from university, Bara pitched this idea to producer of the production company Bionaut, she had been working for and the owner Vratislav Slajer agreed that it would be our debut. We decided to contact our friend Kateřina Karhánková, with whom we are great friends, and we also understand each other creatively. Kateřina agreed, so we decided to direct the series together as two directors. And so, in trio with Bara as our producer, we began to realize our dream.
ZF: I guess it took a while to get from the idea to the series. Can you navigate us through the creative stages, from development to finished series? Your producers and co- producers as well?
Yes, it was a long journey, but this is common in animated projects. Work on Hungry Bear Tales began in 2014. From the very beginning, we intended it as an international co- production, because we would not be able to secure all funding in the Czech Republic. Ourkey partner is Czech Television, which co-produces Hungry Bear Tales, but in the beginning there was very important support for development from MEDIA Creative Europe and Czech Film Fund. With their help, we put together a project bible and synopsis, produced a teaser and later a pilot episode with which we toured the pitching forums and presentations, looking for potential co-producers. At Cartoon Springboard, we attracted the attention of the French company Dandelooo, which takes care of international distribution. At the Cartoon Forum, we were approached by a producer from the Irish public television RTÉ and part of the production was moved to Ireland, to the animation studio Treehouse Republic. in the end, Hungry Bear Tales is a Czech-Irish-Slovak-Polish co-production. It is primarily a 26x7 min animated series, but since its premiere was still a long way off, the French distribution company Gebéka suggested to select 6 episodes from the first series for cinema release. We connected selected episodes with short animation and this is how the movie Hungry Bear Tales (in cinemas) came into being. All 26 episodes will be shown on television from next year.
ZF: What is the most inspiring and what is the most challenging thing when you make a series for children? I guess you have to be constantly innovative in terms of script, but also you need to keep your characters identifiable enough.
Yes that is true. And you need to find motives and themes that would be interesting for a kid not for an adult. In my opinion the most challenging is to make a story that will really address the children's audience. The specific target group of kids. So it should not be too scary, too boring, or moralistic. You need to find the way to pass on the idea of the story. The art design is also quite challenging. It should appeal to the specific target group of children but at the same time should not be a kitsch. The most inspiring is to listen to children, what they think about your work and what they say when they see the series. I love to talk to kids before the movie is ready. We did this with our pilot episode and we received very inspiring impulses.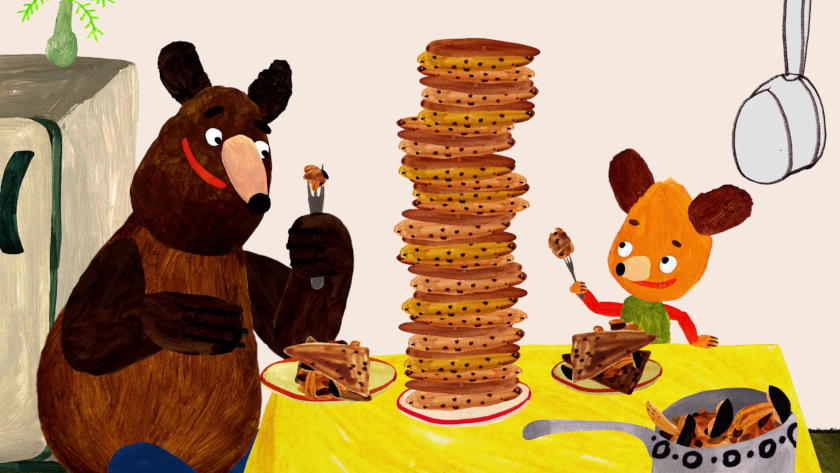 ZF: How did you work with each other? Did you jointly write the script, had your eye on art direction or did you share duties?
The decision to have two directors turned out to be very happy. The amount of work on the animated series is huge. Directors split up the work, but they worked on most of the stages of the production together. Kateřina and I came up with storylines and a concept for the series. We always met, each came up with some ideas and together we chose the ones we found most fun. We wrote them down together in storylines and when they were approved, we met screenwriters who transformed it to the scripts. Kateřina and I then drew the scenarios into storyboards and from that moment on, we split the work in half. I was in charge of animatics and animation and Kateřina took care of art design, layout and music. But we discussed all important decisions together and in the end we were both satisfied with the decision we made together. We have two perspectives of looking at problems and the series as a whole, but we have the same goal and that worked very well :)
ZF: The color palette is marvelous. Is the same as in the book or perhaps you had to change it? And if you can say a few things about the animation process. I guess it's digital cutouts and 3D animation.
The illustrations in the Little Bear Book were painted by the great artist and illustrator Alžběta Skálová, but we finally agreed on cooperation with Filip Pošivač. He came up with the idea of colorful characters and props on a white background and it worked great. It was very different from the common production for kids we usually see and we loved it.
We thought about the technique of cutout animation from the very beginning. Pipeline of studio Kredenc, in which we animated the pilot episode, was built on 3D animation software, so we decided to combine 2D and 3D technology. Filip drew parts of individual characters and elements on paper, then he sent scans to Kateřina, she edited them and put them together in Photoshop and sent them for rigging and layout preparation. That was made in 3D software as well as the whole animation.
Process of animation caught us at the beginning of the lock down. We just came back fromIreland, to hand over a hard drive with all materials and meet Irish crew to go through the workflow, when the lockdown was announced. Animators had to work from home which complicated things, but our teams found a way and finished it without a bigger delay, so we were lucky.
ZF: What do you want the audience to get from Hungry Bear Tales? Is it something specific? And if you want to discover the meaning for themselves, what does it mean to you personally?
From the very beginning we want children to see that despite the differences and problems, these two bears are nice to each other and if they argue or don't agree with each other they are always trying to find a way through. We would like to pass on a message - be nice to each other, you can make it together. That was the main goal in every story. And above that there is a specific message in each episode that children can learn or find out for themselves. For example - don't give up if things are not going well, asking for help is not a shame and so on...
Review (Vassilis Kroustallis):
This is an ultimately charming (and not corny) episodes series, both in its closely knit narrative and its vibrant aesthetics. Shying away from pop culture cliches, it attempts to capture the spirit of the natural surroundings and our communities. Based on the books by Czech author Zbyněk Černík, Hungry Bear Tales are stories of character mismatch, argumentation and final compromise and reconciliation, in a community environment which is more important than the individual stories of heroes and saviours. Alexandra Májová and Kateřina Karhánková know how to include in their slate stories (like 'The Impostors') who tell of the danger of beautifying animals as cute pets and nothing more; they also resist the temptation to find wacky characters to reach easy laughs; Ned and Mishka are different, but approachable and recognizable as characters; they are the ones to engage with, and take part both in their stories and mishaps. Comedy-wise, the best story is The Great Gathering, while the most dramatic one remains A Bear's Dispute. Character design is engaging in its simplicity, while the color palette nicely contrast between the lighter and the darker in a milky white environment. Animation secures that everything looks like a homemade dish, and there's truth in that; Hungry Bear Tales will inform of our need to live together with others without pretenses and without grand statements. It is delightful and a treat to watch.
Hungry Bear Tales won the 2020 Anifilm prize (Competition of TV and Online Films).  The series will be available (both in Czech and in English) to rent on Vimeo on Demand pages from 10 am on 14 Nov till 10 am on 17 November (UK audiences only).
There will also be an online art workshop for children called 'Picnic with Bears' inspired by the film and lead by brilliant Czech visual artist living in Birmingham Tereza Buskova on Sunday 15 November from 3 pm.
CREDITS;
Hungry Bear Tales
45 min (6 x 7 min) | audience 4+ | kids, family, animation
directors: Kateřina Karhánková, Alexandra Májová
art designer: Filip Pošivač
producer: Bára Příkaská, Bionaut
international sales: Dandelooo
Director' Webpages
More about the film and Czech Centre London
SIGN UP: Want to read more free articles like this? Sign up for Our Newsletter