Interviews
Integrating Universes: A Conversation with Regina Pessoa and Abi Feijó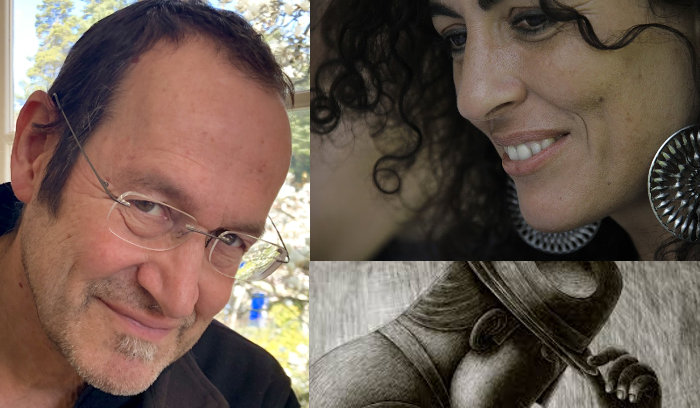 On a humid afternoon, a day before winning Annecy 2019 Jury Award for the film Uncle Thomas: Accounting for the Days, Regina Pessoa and Abi Feijó, Portuguese independent animation filmmakers, entered together L' entracte Café. They were ready to allow the Zippy Frames readers to come to closer understanding of the complexities behind the processes that stimulate work of Regina Pessoa, one of the most imaginative, contemporary animated film artists. Deep bound between Pessoa and Feijó, her producer, creative collaborator and a partner in private life, manifests itself in their ability to smoothly complement one another statements, hesitations and jokes. The couple discussed the phases of creative development of the newest film. Strongly personal and conceptually conceived by Pessoa herself, Uncle Thomas: Accounting for the Days at the same time appears as a unique fruit of collaboration between various contributors, producers and supporters of Regina Pessoa's outstanding talent.
ZF: It's great to talk about Uncle Thomas: Accounting for the Days with both of you since you are...
RP: I'm a director of the film.
AF: And I'm one of the co-producers from the side of Ciclope Filmes, Portugal. We're also voices of the film!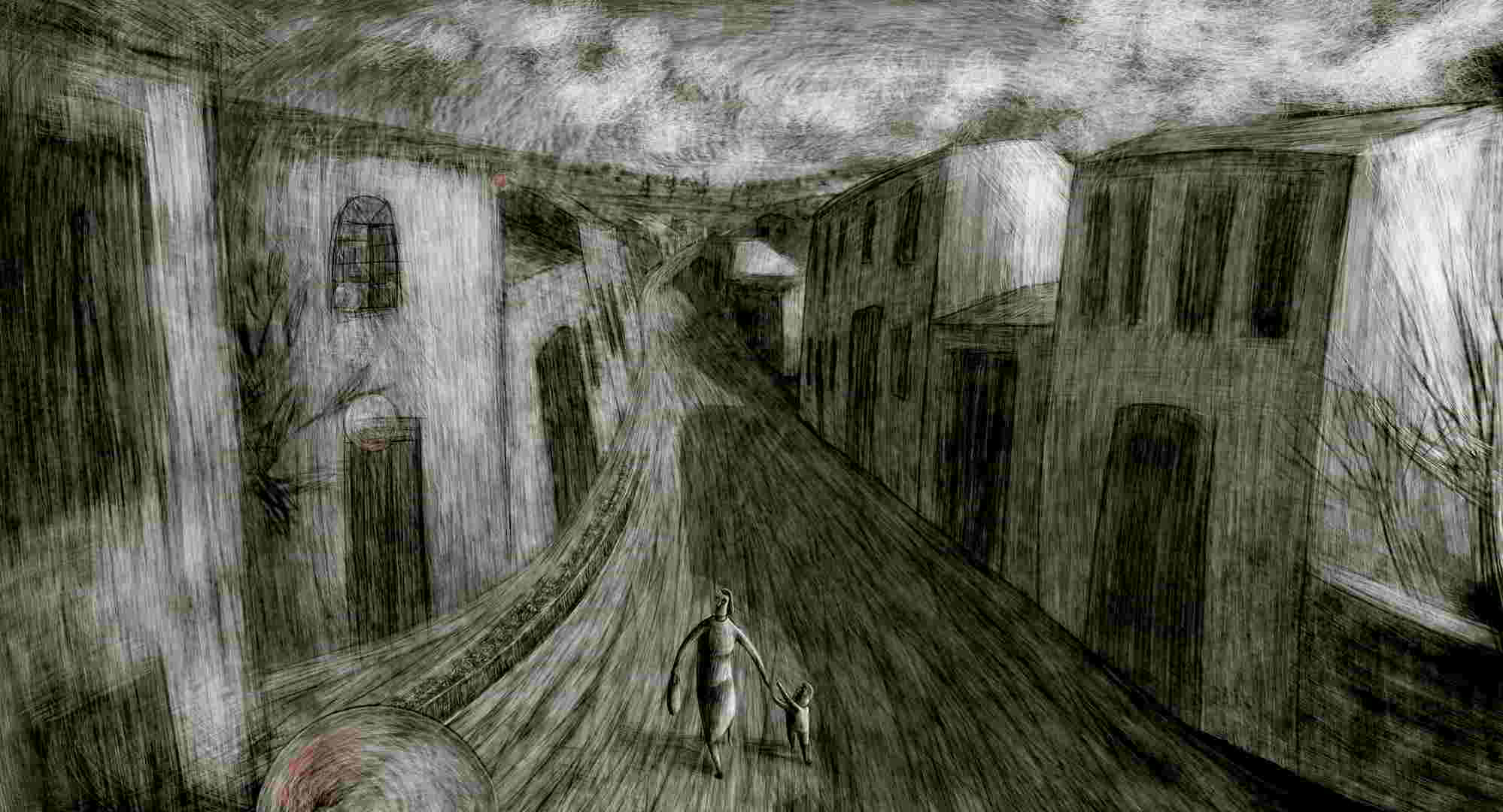 Uncle Thomas: Accounting for the Days, Regina Pessoa
ZF: And anyway you're long-term collaborators...
AF: We started working together in 1992.
RP: First I started working on his films and this is how I learned animation. I never studied animation but step by step, Abi has been encouraging young authors to start making our own films.
ZF: There is an interesting professional relationship between you two: Abi as a producer has to keep deadlines and financial limits, Regina as an artist has to pursue her own way of expression.
AF: That is the worst part. I'm a terrible producer. [laughter]
RP: And I'm a terrible filmmaker. [laughter]
AF: It's hard to keep deadlines and budget so we've been making this short films for seven years during which we had to look for other ways of surviving as well. It is an international co-production with the National Film Board of Canada and Les Armateurs from France, but obviously my company still had to contribute financially. However we tried to do everything that was needed for the film. If it had taken longer, been more expensive etc, we would have looked for yet other ways to solve all these problems. The film had to be as she had imagined in her mind.
ZF: You have also worked together on the script, however obviously, the story first appeared in Regina's mind. How do you go together from there to the development?
RP: My way of working is that I have a basic idea, and I'm lucky to have Abi by my side. Firstly I say: "Abi, I have this idea to make a film about my uncle, what do you think?". I care a lot about his opinions as he is an experienced filmmaker with an exquisite cinematography vision and great knowledge of film language. I start asking when I have a subject and I'm wondering if it's worthwhile to even approach it.
ZF: There is a recognizable narrative motive in the body of your film work, i.e. a focus on the character alienated from the small community, being not understood they try to escape...
RP: Yes, an outsider who does not fit in the world...
ZF: In Uncle Thomas... only naturally we assume that the story of this character bears autobiographical features. You speak about your family, use your own diction in voice-acting, yet similarly to your previous works, this strong load of the personal, appears as only one of many possible interpretations. In this sense you depart from personal memory and arrive at the universal storytelling. How does this process occur?
RP: One thing I've learned from Abi is that our problems are not original. I think knowing this makes my films universal. For instance, my first film The Night (1999) is about most common childhood fear of the darkness, still I have shown my own experiences. I think it is my vision that makes my film unique, but the themes make them universal. In Uncle Thomas... I'm talking about my exclusive relationship with my uncle. No one else has experienced it, even my sister, I guess, would have different vision of him. In this sense the film is very personal but I have met a lot of people who were very moved finding in this character their own family members or neighbours, somebody close and peculiar who cannot be defined. One person from our Canadian team said she felt this film as her own because she had such a beloved uncle who was similarly an outsider in the family, a quiet and an eccentric one. What makes my stories universal is my love and understanding of this person, people recognize this empathy and these feelings.
ZF: What does it take to develop the story from an idea based on memory to a final script?
RP: Oh, this is a long story... I had an idea to make a film about my uncle, I had scenes in my mind and I knew what kind of objects I wanted to use, his notes for example. But I had no idea how to set all these up together! A friend told me: "Regina, if you don't know how to start, just write a letter to your uncle, this will get you in the mood, writing down will show the scenes that you really want to develop". I wrote this letter and used it as a script. But of course this letter was too long, I still had to cut it down. So I was wondering how to create a narrative line out of this? That was another hard moment – how to start; how to finish? I had the scenes but I didn't have an editing order! At that moment great help came from Andreas Hykade, a German director. We met on one festival, I briefly pitched him my idea but also I told him that I was struggling in regard to narrative construction. He proposed a deal: he would help me finding the best structure and "guide" me through my script, in return I was supposed to make some segments for his film. He really helped me a lot, and now I'm working for him!
AF: I think there is one important thing regarding Regina's work: it is not the script that is important, but the storyboard. Her creative process is rather visual than literary. When she starts to draw, the film comes together. For Kali, the Little Vampire (2012) Regina wrote four scripts, all of them she threw away once she started drawing. This time she had very detailed storyboard.
RP: Yes, but the problem was I couldn't make a final storyboard without knowing the beginning and the ending. I drew scenes of motor ride, drawing with fire, this and that, but only when I started working with Andreas, I've began to organize the scenes.
AF: This was a question of editing, but each scene itself has been already visually structured. If you see the storyboard, and the final film, you see that the final form was just there from the beginning.

RP: There is one another reason why I like to do detailed storyboards. My visuals are very elaborated and time-consuming. I cannot afford to loose scenes or animate the ones that will not be used eventually. With well-developed storyboard, I can make a good animatic and be sure that my work and time will not be wasted.
ZF: Your style and technique is very specific to you, you transferred the engraving on plaster with the use of 35 mm film into set of digital devices. The development of this unique stylistics can be again traced throughout all your films, one has the feeling that the technique that is changing, becomes an autonomous form of expression what eventually makes the storytelling secondary.
RP: This comes with my background as a painter. I give a lot of importance to the plasticity and visuals, I enjoy watching my media: brush movement, textures following the movements of the characters. I don't want only to tell stories, I want my eyes to be satisfied. Creating images also gives me pleasure. I used engraving techniques on plaster and paper but along the technological evolution I found my ways to transfer my visual style into digital media. This change happened while I was working on Kali... I had my language already, and of course I didn't want to loose it, but I knew that there was a set of new tools that I wanted to learn. I wanted these tools to serve me, I wanted to use software and digital media in my favor, oblige them to follow my textures, my visuals.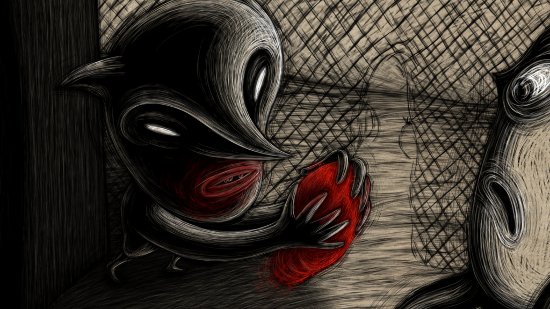 Kali, the Little Vampire, Regina Pessoa
I managed to domesticate the software. This time, in Uncle Thomas..., the challenge relied on using mixed-media as I wanted to make stop motion animation with real objects and papers. And I wanted to keep developing my use of digital media since this is the media of today, but I wanted to combine these two qualities in a coherent way so they won't bump onto each other. In the production I love the stage of research and experimentation, this time I made a lot of tests and attempts, and I think I found a very satisfying way to combine these different features of analogue and digital.
ZF: What kind of quality the use of stop motion has given to this film?
RP: This time I assumed my film to be a real story based on facts therefore I wanted to use real materials that belonged to my uncle. This was an important issue for me. The real objects needed to be really there, to be really present on the screen. Mixed-media made it possible to move these objects. Still the characters were drawn so it was necessary to find a way of integrating characters and objects, papers – all these real things coming from the real history that really happened! But the question was how to combine these... Well, for instance, we built a set (though not in real proportions) and we shot the shadows appearing on the walls. This footage was integrated with my. I was familiar before with the use of projected shadows, it's nothing difficult: lights, shades, cells, wires, projection... The difficulty was in making this imagery fit to other visuals. It had to be coherent, otherwise it would not be beautiful. As for stop motion parts: I made animation before with two animators, this video material was projected onto the real set so the drawings on the wall could have been following the volumes of the set's walls.
ZF: Do you find your films beautiful?
RP: They are beautiful to my taste, I like black, shadows, rough textures. This is my concept of beauty. I need shadows! [laughter] Dirtiness and textures helped me to integrate two different universes.
ZF: The concept of beauty may vary for everybody but your imagery is definitely extremely sensual.
RP: Yes, and this is satisfying for me: this fusion of real objects and my language.
ZF: Is there something you would like to add?
RP: When we were making this film, we all lived together in a countryside house in Portugal: I, Abi, Normand Roger who was music and sound designer, and Marcy Page. At some point we've come to do everything together: "Hey Normand, please come down and see something!". It is a bit funny how this production ended up: it is a film about the family and somehow it was made among the family.
Olga Bobrowska, Annecy Festival 14.06.19
SIGN UP: Want to read more free articles like this? Sign up for Our Newsletter
Read More About: