Shorts
Invisible Monsters and Tomato Soup by Meghan McDonough, Stevie Borrello and Marcie LaCerte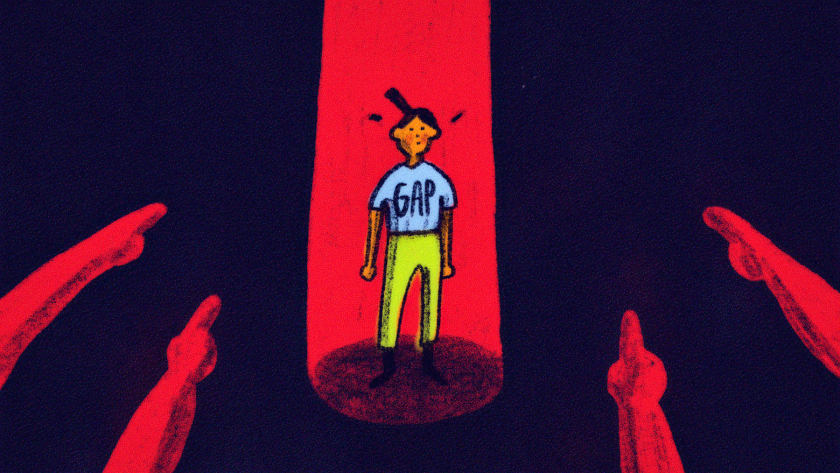 How do you make a Covid film about dreams? 
In spring 2020, articles started coming out about people having unusually strange and vivid quarantine dreams. Chinese-American animator Marcie LaCerte, Brooklyn filmmaker and journalist Meghan McDonough, and New York filmmaker and writer Stevie Borrello began discussing this phenomenon during the pandemic lockdown in March. 
"The three of us were catching up on a video call during the lockdown when Meghan brought up the idea of making an animated film on Covid dreams. From that casual conversation, we decided to seriously pursue the project," Borrello tells Zippy Frames. "We were all having weird dreams too," LaCerte confirms.
Watch Invisible Monsters and Tomato Soup
The work started with an online social media call for participation, which garnered over 80 responses. Borrello and McDonough then selected 20 participants who were willing to talk over the phone.
"It was pretty easy to find people to tell us about their dreams—the more difficult part was narrowing down," McDonough explains. After four months, the first radio cut of the film was 10 minutes long. So they had to prioritize, organizing the dreams within an emotional arc, from anxiety ("invisible monsters") to comfort ("tomato soup").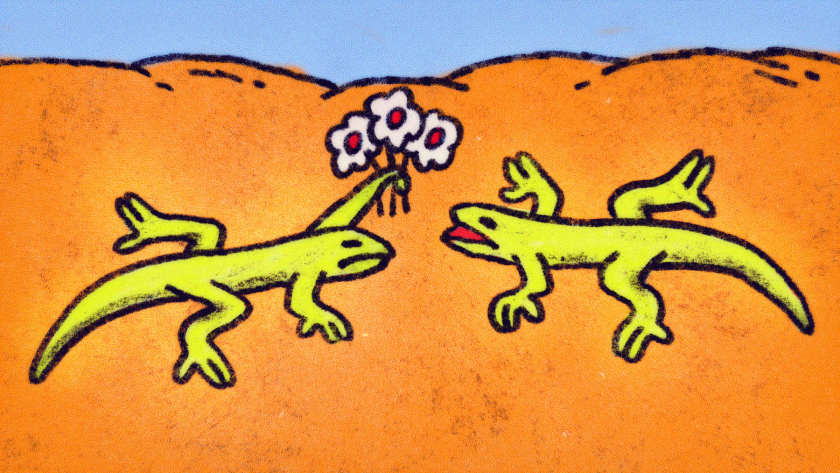 "I was unsurprised by the anxiety—it seems pretty obvious why—but the humor, the eroticism, and the comforting figures were all somewhat unexpected," LaCerte tells Zippy Frames. The dream categories were quickly created (disease, celebrities, reptiles, exes, etc.). Borrello also adds that many interviewees from different countries and backgrounds had "these obscure figures of comfort or faceless lovers who they never met before." The team reports that participants felt overwhelming feelings of calmness and comfort when waking up from those dreams.
With influences from M.C. Escher and films like Albatross Soup and Raise the Red Lantern, LaCerte created the visual style of the film, trying to be imperfect, vivid, and psychedelic, while at the same time slightly digital, reflecting the video call interviews. The film was animated on an iPad, using a pencil brush for line work and an airbrush for coloring. Out of three different color palettes for the whole film, red was the main film color, acting as a visual anchor.
"I love Marcie's animation work and knew she would create something visually stunning, no matter the interview content we received," Borrello comments. "It was worth pursuing without knowing what the final result would look like, and it exceeded anything I could've imagined."
A separate "sound mood board" was created for composer and sound designer Hinako Omori, while sound design and mix (Sam Beneitone) was influenced by films like Akira and Goodbye Rabbit, Hop Hop.
The film itself unfolds as a stream of consciousness. "We wanted to experiment with a new style by letting the individual dreams speak for themselves and flow together, much like a dream," McDonough confirms.
The context of the film (premiering on The New Yorker) and the 2020 pandemic obviously looms large over its subject matter. "I hope people can relate to these dreams in a very intimate way, and feel a little less alone during these uncertain and stressful times," Borrello emphasizes. 
"It is actually something we struggled with structurally—how do we end a film about something tragic, ongoing, and intangible?" LaCerte comments. McDonough adds that the film also aims to show how dreamers cultivate resilience. The film's last scene puts us in touch with our sleeping self, which all directors want us to embrace.
Invisible Monsters and Tomato Soup is a really fun and stress-relieving film to watch—it lays bare and enriches the content of the various dreams themselves by simply putting them together. The interviewees are sincere and taboo-free, their voice-overs flowing naturally from one another, while the thick animation line designs and the saturated color palette remind you that in the world of dreams, everything is possible. Its characters are engaging and its inner timing is well-calculated; it's an almost therapeutic film.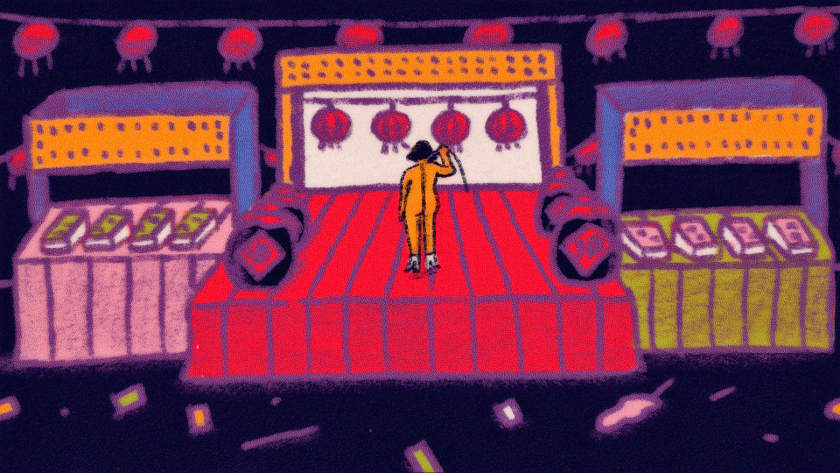 CREDITS:
Invisible Monsters and Tomato Soup
Created by: Stevie Borrello, Marcie LaCerte, and Meghan McDonough | Music: Hinako Omori | Sound: Sam Beneitone | Executive Producer, The New Yorker: Soo-jeong Kang | Supervising Producer, The New Yorker: Sara Joe Wolansky | Senior Editor, The New Yorker: Brian Redondo | Special thanks: Yush Bandi, Katie Hanson, Brian Reinken, Wa Sappakijjanon, Florencia Shanly, Zara Haghpanah-Shirwan, Jacob Templin, and Preeti Varathan

About Marcie LaCerte
Marcie is a Chinese-American animator, video producer, and one-time game-maker. She's originally from Minneapolis but currently works in NYC as a motion designer. Her personal work explores human psychology through a humorous, surreal lens. She's had her short films recognized by OIAF, GLAS, Vimeo Staff Picks, and The New Yorker.
http://marslizard.net/
Meghan is a filmmaker and multimedia journalist based in Brooklyn. She reports, produces, shoots, and edits documentary shorts and series (Quartz, Scientific American, The New Yorker, Atlas Obscura, Business Insider), in English and Spanish. When she's not down a rabbit hole or in an editing flow, she is usually outside exploring, and likely dogspotting. 
https://www.meghanemcdonough.com/
About Stevie Borrello
Stevie is a filmmaker and writer based in New York. Her video work spans from documentary to commercial, as well as narrative. She's produced and edited videos for Apple Music, Converse, Gucci, Quartz, The New Yorker, Vice News, and the TV docuseries Hamilton's Pharmacopeia. She has also managed music video productions for major artists, such as Arcade Fire, Moses Sumney, and Kesha. Stevie's writing and reporting has been featured in ABC News, Bustle, DNAinfo, and several other publications. When not working or scrolling aimlessly on Instagram, she's most likely in her kitchen making grilled cheeses and focaccia.
http://www.stevieborrello.com/
SIGN UP: Want to read more free articles like this? Sign up for Our Newsletter
Read More About: