Interviews
'The Magic Happens in the Editing Room': Interview with Isabelle Favez (Swiss Animation Portraits 2022)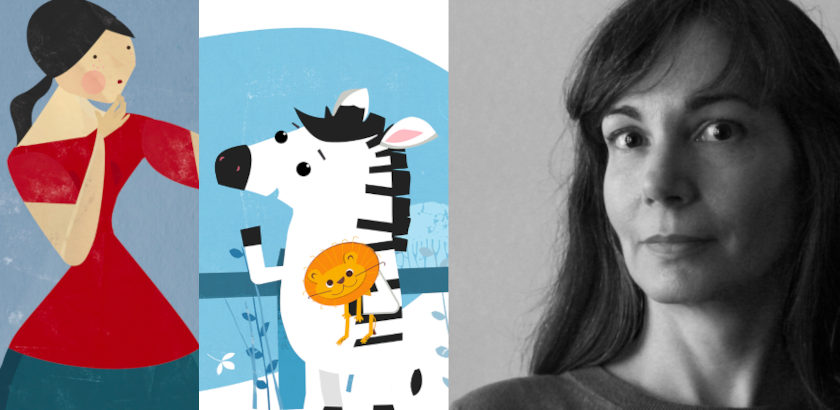 Swiss animation director Isabelle Favez is a continuous driving force in mixing easily recognizable subjects and characters with quirky sensitivity and empathy at the same time. She graduated from the film and video department of ZHdK (Zürcher Hochschule der Künste) in 1999, but she went on to do short animation films afterward. Her highlights include 'Tarte aux Pommes' (Apple Pie, 2006), 'Valise' (Mixed Bag, 2009), 'Messages dans l'air' (Air Mail, 2015), and 'Zibilla' (2019, TV special). She competes this year at Annecy Festival with the 26-minute TV special 'Giuseppe' (2022) and has another screening there -with her new short 'Lost Brain' (2021).
Her live-action studies turned into animation very soon, with her graduation film 'Replay' (1999). 'I feel much free animation, I can imagine my own world, and I don't have the rules of the real world.', Favez tells Zippy Frames. Her initial inspiration came from a Krakow animation workshop she attended (mentor: Jerzy Kucia); her 'Replay' film was a concept film, 'a love story that goes in a circle, from smaller to bigger ones', was first storyboarded there.
Zurich-based Swiss Effects production company (now closed down) undertook was the first to undertake producing Isabelle  Favez's first animated short, the 6-minute, cel-animated, and hand-drawn 'Les Voltigeurs' (2002). Yet a residency in the French production company Folimage changed the course of her own approach to animation technique.
'They asked me which technique I want to use. And because Carles Porta (who did the residence before me) had already used and rented CelAction2D (the software used on Peppa Pig), they asked me if I want to do the film in cutout'. 'Les Voltigeurs' was more of a six-month-multiplane effort in analogue cutout, leaving Isabelle Favez doing the whole film by herself. 'After this and because of the Folimage opportunity, I started dealing with computers. And I stuck with digital cutout'.
'Circuit Marine' (2003) was the outcome of the Folimage/ONF collaboration, and the first one to use a cat in Isabelle Favez's films.  'When I wrote the story, there was just this cat sitting next to me. The cat tried to sleep and there were always flies around, and the cat was always irritated by this. And so this cat came into the Circuit Marine storyboard. And then I got a bit in love with cats'.
Her next film, 'Tarte aux pommes (Apple Pie)' features both a cat and a dog, and a baker and a butcher - and a hunter. This combination of oddballs in unpredictable (but still familiar) situations - completely done in 2D computer animation - was a festival darling, winning both a Special Mention at Animafest Zagreb and a Special Prize at Hiroshima International Animation Festival (among other accolades and festival participations).
'I started to find the characters that I like. Then I made every character have a little story, and I was checking how I can make connections to all the characters'. Connections are important for Favez, who still does a lot of work (like live-action directors) in the editing room, leaving the storyboard flexible.
'Normally, I finish my films in the editing room. That's really where the magic happens'. This process is usually not recommended for animation, but the digital cutout technique permits Favez more space to change. 'When my editor is just telling me, for instance, that "the footage doesn't work, you need a close up", I can go back and make a correction the next day - and we fix it'.
'Tarte aux Pommes' had an initial 15-minute running time, cut down to a 10-minute final film duration. 'I always let the character coming in the scene, doing the thing and getting out of the scene at first - and edit afterward. So, it is like live-action'.
Isabelle Favez grew up in a family where her father was filming in Super8 film and projected the results for her to watch. "Suddenly, he made the living room talk; he then showed me the length of the film for one second at a time. I could see myself working; it was magical'. Wanting to tell her own stories, like the ones she used to watch on the TV, was an aim to cherish; combined with using her own drawings to make them move (like Disney's 'Bambi', as her father had explained to her) was the making of an animation director.
'I did draw a lot when I was a kid. I liked making my own world'. The graphic designer job was her first target, but the dark world of the film she knew actually captured her (even though she had to repeat her University entry exams many times; persistence pays off).
Situation mismatch seems to be Favez's specialty, and this is certainly what happens in her 'Valise', a case of mixed suitcases (loosely inspired by Peter Bogdanovich's 'What's Up, Doc? (1972)'
'This was a more difficult film, for I didn't have a real idea like I did for 'Circuit Marine' and 'Tarte aux Pommes'. I wasn't sure how I was going to end it, and where the suitcase should go. And it was at the very end, we were already starting to mix then it was like, "Okay, now I know where the suitcase has to go".
The results have been both exciting and unpredictable; yet Isabelle Favez continues to evolve, and welcomes collaborators, such as Jochen Rall, who was responsible for the more cubical character design style of 'Air Mail' ('I adapted his character design; the only character I did myself in 'Air Mail' was the cat'). He's now contributing similarly to her latest, more abstract-looking short, 'Lost Brain'. 'The film wouldn't have been possible without him', she mentions, being herself willing to adapt her character design style ('my favorite part') in accordance with the times and the new topic at hand.
'Lost Brain', the story of a crocodile who loses part of her brain when she sneezes, features music in its narrative as well by Jérôme Vittoz. Her earlier films are also filled with music. 'I really like music with Roma sounds. The French group Bratch did the music for the 'Les Voltigeurs' and 'Tarte aux Pommes'; I was a big fan of theirs, and I asked them to do the music for my film'. While in those films the music composing came after the image was locked -and sometimes only the film's theme was given to the composer- in 'Lost Brain' music had to come in the pre-production stage ('I need to have the music before to know exactly what I'm going to draw and film').
Her new TV special in the Annecy competition, 'Giuseppe' (production: Nadasdy Film) seems to come from the same fable source that Favez likes. This is a story of a little hedgehog, who has never seen snow. He does a big winter trip with his friends (even though he would usually hibernate) to meet the winter ghost, and ask him for snow.
Watch the Giuseppe trailer:
When I was a kid, we had an Italian family as neighbors; the boy's name is Giuseppe. And then we went on holiday to Italy for the first time, when I was eight years old. And I knew that ghosts do not exist in Switzerland. I was sure of that. But then Giuseppe came and she said, "Yeah, but be careful in Italy, there are ghosts"'. Favez quickly learned the truth from her father (there are no ghosts in Italy), but the story stuck with her. Coupled with her own childhood story (when she had to go to bed early and miss all the fun her siblings had), the film 'Giuseppe' came along - after a meticulous process of production, and an experienced (but still small) team of 3 animators working in the cutout film for 16 months at Nadasdy Film.
'I started working with Nadasdy Film with 'Air Mail'', Favez mentions. 'Nicolas Burlet is a 100% the producer type; he's not a filmmaker, just a producer. That means to me as a director; every time I have a problem, he's there to find a solution - and he is very serious with the budget as well; it's a very comfortable situation'.
Favez is aware of the financial opportunities offered in Switzerland, as well as the fact that things are evolving. 'When I started to do films, animation was not so much established in Switzerland; there were George Schwizgebel, Claudius Gentinetta for instance, but it was still important to me to go to Folimage for the residency and see the industry'. She now states that the younger generation has more opportunities of studying animation in Switzerland (something she could not have done at the time). And she shares her own insights as well about her films with friends and colleagues (' I'm very lucky to be able to live in Switzerland and to do what I love to do, and have people that I feel safe with to talk about the films').
Favez is candid enough to admit early mistakes, such as the miscalculation of time to be spent in her early 'Les Voltigeurs' film on the 3-level multiplane (' it was very complicated because you are filming and then you have to bring it back to the film lab'). Each mistake meant a whole new round of work. But even that experience proved to be another learning point for her.
Her relationship with Annecy Festival originates in 1993. 'It was the first festival I ever went to in my life. I remember I was there, and it was a program of short animation, and then I thought that's what I want to do'. She also viewed films like 'The Village by Mark Baker (1993), and Mikhail Aldashin, 'The Other Side' (1994). In 2022, both 'Giuseppe' and 'Lost Brain' will be there.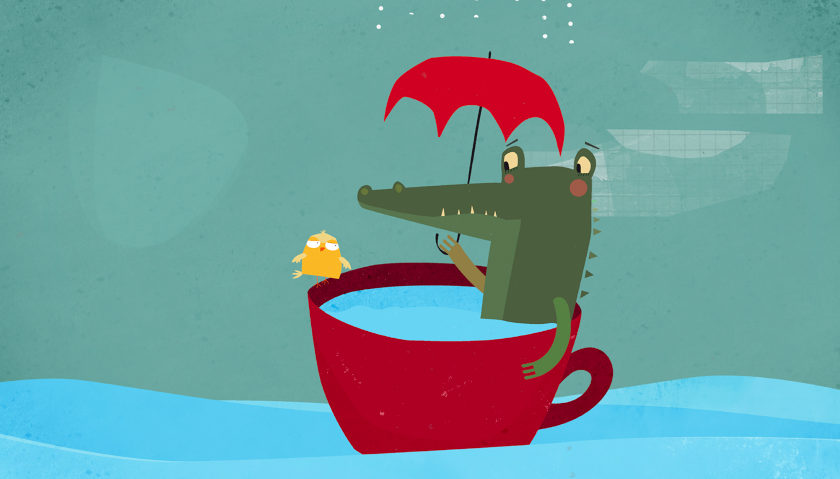 Lost Brain
She now has a feature film in the making, her first in her filmography. The project with the title 'Rouxelle et les pirates' will be a 70-minute animation feature film (production: Nadasdy Film), in script collaboration with Arnauld Demuynck, and some initial instigation by Nicolas Burlet. 'I would need a strong idea for a feature, otherwise, I wasn't going to make it'. Her idea is about a little fox girl who needs to find new friends in a new place; but she can't read because she is in preschool, so she has to lie about that she can read and she's going to tell a story. So, the project's theme talks certainly about storytelling, a form of 'lying' itself.
Still at the early development stage, the project will have its first application round in the summer for script support -'but I have already started doing the characters. I need to see what they look like so I can tell the story, otherwise, it doesn't work', Favez explains. A fox, a rabbit, an owl, a little beaver, and the beaver's mum -a swimming teacher, are some of the animal characters involved; some, like the beaver, are more scared than others, but they all need to get along and be helped.
Favez herself seems confident in her work, but she still welcomes collaboration, ideas and thoughts on her magical world of animated filmmaking. In the meantime, she's busy creating her own worlds.
Swiss Animation Portraits 2022 series is conducted in partnership with Swiss Films.
SIGN UP: Want to read more free articles like this? Sign up for Our Newsletter
Read More About: