Shorts
Junkyard by Hisko Hulsing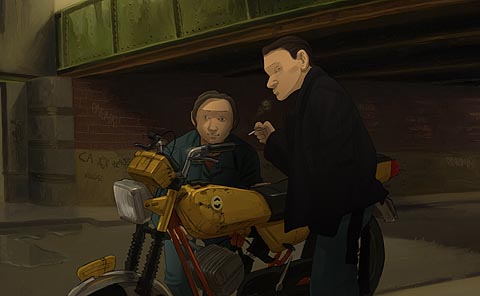 A man is robbed and stabbed on a metro train. As he lays dying, a friendship from his youth flashes before his eyes.
A powerful, multi-awarded drama by Dutch animator Hisko Hulsing, Junkyard won't attempt to parade as a moralistic tale on the drugs abuse problem. Instead, it focuses on the friendship over the years, to which the junkyard they both visit imposes its own rules.
Narratively posited in the manner of Sunset Boulevard or American Beauty, in which the half-dying man experiences his life in a flashback, Junkyard uses a painterly animating style to impose a noirish, dystopian environment.
Empty streets and alleys reinforce the troubled friendship between the two characters, who almost remain in the shadow, except for the flash sequences -and the moment of final truth and betrayal.
CREDITS:
Technique : Oilpaint on canvas, 2D animation, 3D animation
Written and Directed by Hisko Hulsing
Produced by Chris Mouw, Michiel Snijders, Arnoud Rijken, Willem Thijssen, Hisko Hulsing
2D Animation : Hisko Hulsing, Stefan Vermeulen
3D Animation : Polder Animation
Oilpaintings : Hisko Hulsing
Sound : Bob Kommer Studios
Coloring : Marc Schopman
Music : Hisko Hulsing
Casting : Rose Wicksteed
For full creditlist and other information concerning Junkyard please visit:
hiskohulsing.com
illuster.nl
cinete.be
Read More About: