Shorts
KKUM by Kim Kangmin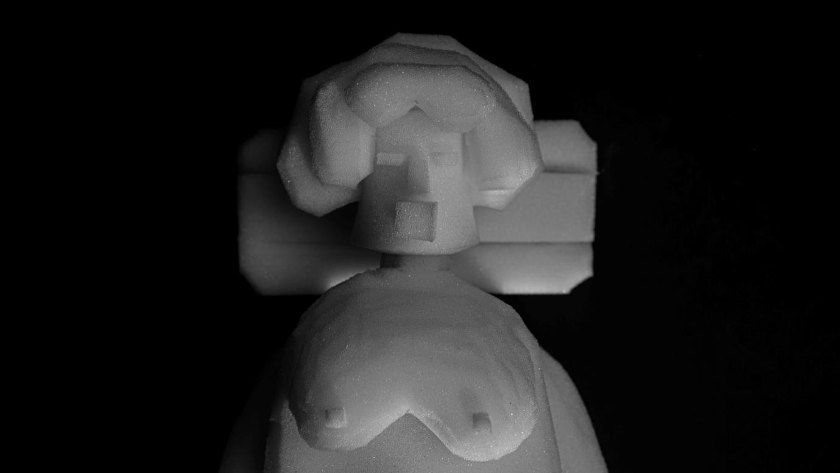 KKUM by Kangmin Kim won the Nelvana Grand Prize for Independent Short at the Ottawa International Animation Festival 2020. Darcy Paquet reviews the acclaimed animation short.
The 9-minute stop motion short film KKUM (which means "dream" in Korean) is bookended, appropriately enough, by a phone conversation. A phone call is a tenuous (but when you stop to think about it, somewhat miraculous) connection between two people separated in space. A mother, hit with a sense of foreboding, reaches out across vast distances to check if her son is okay. There is another kind of connection that transcends space, and that links this particular mother and son: namely, the mother's dreams.
My mother's dreams have always been strong premonitions for important moments in my life. I rely on her dreams more than any religion - Kim Kangmin, Director
When the mother dreams of fire, it predicts the fulfillment of a wish, or a passed exam. Insects indicate recovery from illness, and a pumpkin foretells the conceiving of a child. Long after the son has left home and embarked on life as an adult, his mother's dreams and prayers continue to watch over him, and envelop him in a protective shield.
Animation, with its ability to reproduce a wide spectrum of forms, textures, and colors, is a natural medium for portraying dreams. But Kim largely restricts himself to foam, foam core, and Styrofoam in the making of this work. The materials are ordinary, but the results are not: he is able to create astonishing images thanks to precise, subtle lighting and sharp black-and-white photography. Even the film's most startling special effect, when various forms display sudden bursts of growth, was achieved with a very straightforward method: burning pieces of Styrofoam, and playing back the footage in reverse. This film is a prime example of the adage that less (when utilized properly) is more.
Watch KKUM Trailer:
It's ironic that Styrofoam is sometimes used as a metaphor for the lifeless or the emotionless; a sentence that begins with the words, "Your Styrofoam heart..." is unlikely to end well. But the miracle of KKUM is that it is so emotional. Kim's soft-spoken narration and thoughtfully crafted images re-create the world of his mother's dreams in loving detail. The image of the mother herself seems crudely drawn at first glance, but quickly becomes imbued with emotional power. Pervading the film is a low foreboding of danger; of life's ever-present potential to bring sudden misfortune. But the figure of the mother, and the dreams she sees at night, do act as a kind of antidote. There is a love and painful intimacy in this mother's dreams. Despite the cold, monochrome aesthetics of this film, the foam hearts of mother and son beat with an unexpected warmth.
Credits:
KKUM (2020, Korea, 8' 53'')
Director: KIM Kang-Min | Producer: David Braun, Jason Milov, KIM Ki-jin | Scenario: KIM Kang-Min | Animation: KIM Kang-Min | Character: KIM Kang-Min | Editing: KIM Kang-Min | Sound Designer: SLAGLE Barrett | Music: SLAGLE Barrett | Voice: KIM Kang-min, PARK Joung-soon
About Kim Kangmin:
He was born in 1979 in Incheon, South Korea. In 2011, he graduated from California Institute of the Arts. He is working as a freelancer artist.
The article benefited from the help of Korea Independent Animation Filmmakers Association (KIAFA).
SIGN UP: Want to read more free articles like this? Sign up for Our Newsletter