Shorts
My Face Is In Space by Tom Jobbins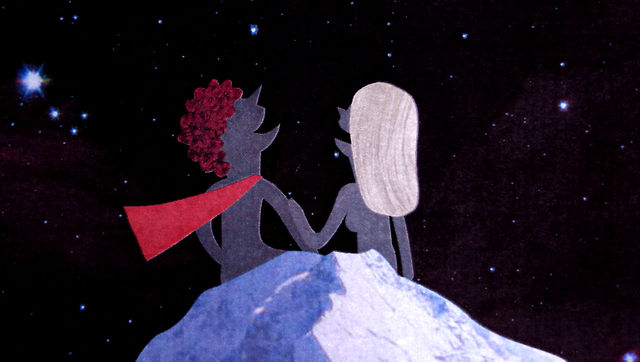 The sci-fi romantic story is set in 1977, when NASA sent a Golden Record into space. It encapsulated the greatest achievements of humanity, and included photographs of its species. One of these photos is of Larry, he hopes this will propel him to the status of Earth Ambassador. 
My Face Is In Space has an eclectic mix of techniques, just like the various NASA specimens sent into space. It shares the philosophical sensitivity of a Don Hertzfeldt film, as well as the continuous dialogue between live-action and animation.
Larry's troubles begin when he starts mixing his Earthly life with dreams about the Milky Way. But thankfully, no down-to-earth mental problems result. Larry will always be in between, and this is a charming way to reflect on the human condition.
 This is Tom Jobbins' graduation work. Follow him on Vimeo
 CREDITS
• Director - Tom Jobbins
• Producer - Elia Bouthors
• Writers - Daniel Brierley & Tom Jobbins
• Cinematographer - Matthias Pilz
• Production Designer - Laura Tarrant-Brown
• Editor - Isabel Bernadette Brammer
• Sound Designer - James J. Morgan
• Composer - Graham Hadfield
• SFX Supervisor - Cat Harris
• Online Editor and Colourist - Scott Clements
• Production Manager - Bryony Chaplin
• Larry's Face - Thom Watson
• Larry Wilson's Voice - Nadeem Rajwani
• TV News Reporter's Voice - Philippa Alexander
• Live Susan - Zoe Cricks
• Live Larry Wilson - Arthur Mulhern
• Space rocket rider - Maria Aburn
• Assistant Editor - Balint Tusor
• Animation Assistants - Jane Brodie, Nina Cheradivo,Luke Carlton,Tim Dutton, Dave Gilbert, Nadia Taylor, John Reynolds
• Visual FX - Jason Evans & Kevin McDonald
{/tabs}
Read More About: