Shorts
Nieuwstad (New City) by Roos Mattaar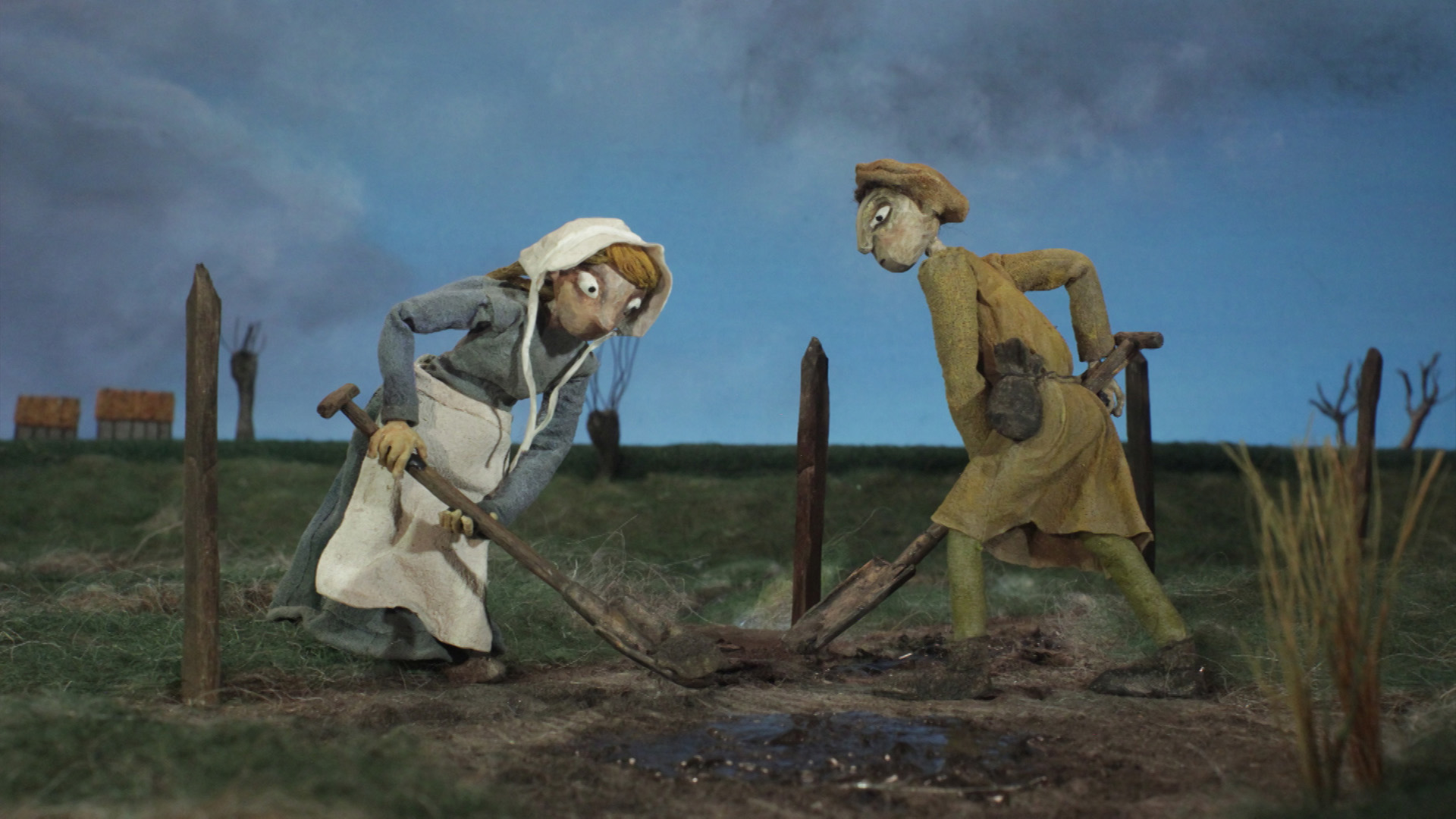 The stop-motion film by Roos Mattaar  features a Dutch peasant family in the 12th century. We follow father, mother, son and their two cows whilst they are given a marshy piece of land.
The short animation shows the hard life of the medieval farmers as they dig channels to drain the water from the land, plough the soil, build their farm house and sow the crops. A village emerges and the fields are full of healthy crops. But will they keep their feet dry, or should they move to higher grounds...? At a fast pace, the history of the local area is told through the eyes of the unfortunate peasant family.
It was a challenge to tell the historic events in a short engaging film. In its original context there is an introduction video attached to it that gives extra info and context about the area and local history. For this stand-alone version I have added silent film style title cards to help tell the historic context of the story.
The animation was commissioned as part of an interactive historic walk for primary school children in her hometown in the Netherlands, to depict the history and foundation of part of this town.
I wanted the film to look and feel handcrafted and took inspiration from medieval illustrations, wooden carved figures and 17th century Dutch oil paintings. For wide shots I made use of forced perspective using different scales and all sky backdrops are hand painted on canvas and re-painted between the shots. To achieve the right textures for the landscapes and props I used materials such as real wood, sheep wool, scouring pads, rubber kneeling pads and the coco fibre bundles of a deconstructed broomstick.
Roos Mattaar is an award winning animation director, stop motion model maker and animator. She has worked in a wide variety of roles with credits including feature films (Early Man, Isle of Dogs), TV series (Twirlywoos, Postman Pat), commercials, music videos (Sparks, Father John Misty) and short films. 'Nieuwstad (New City)' is her first work as animation director since her award winning graduation film 'Moonbird' (2014).
Credits:
Direction, story, cinematography, modelmaking and animation: Roos Mattaar
Commissioned by: Culemborg 700, Project 'Verborgen Verleden'
Music: Kevin Macleod 'Lord of the Land'
Thank you: Joseph Wallace, Anna Mattaar, Mary Murphy
Filmed at Hangar Puppet Animation Studio.
SIGN UP: Want to read more free articles like this? Sign up for Our Newsletter
Read More About: