Animarkt Stop Motion Forum 2023: A Rich Programme
Questions about the future of animation and equal rights in the industry, search for ecological solutions and discussion about the system of education in the industry – this year's edition of ANIMARKT Stop Motion Forum (4-8 October 2023, Lodz) focuses on the debate concerning challenges for the world's animation industry. There will also be no shortage of usual elements of the programme, such as business meetings, workshops, masterclasses and pitching rivalry of creators from 14 countries. We know the detailed programme of the October event.
–This year, except for the usual points of the programme, we're going to talk about the future of the animation industry. Together with forum participants, we're going to think about what has to be changed so the industry is more worker-friendly. We've also created a group of specialists from all around the world that's going to search for innovative solutions to reduce the negative impact on the environment. We do all this to constantly expand our possibilities - Agnieszka Kowalewska-Skowron,  MOMAKIN, director of ANIMARKT Stop Motion Forum.
The question of equal treatment and parenthood is going to appear during the discussion panel about changes that should be implemented to make the industry more work-friendly. Among the panellists, we're going to find screenwriter Rita Domonoyi, director Joanna Kożuch and scenographer Susanna Jerger. This year's novelty will be the mentoring programme for young female producers and production managers, targeted at participants from Middle-East Europe. Five women are going to get to know the aspects of organisation and film production management, film production financing, promotion, distribution and sustainable film production. Among mentors there are going to appear well-known specialists: executive producer Katarzyna Gromadzka, creative producer Maria Motovska, producer Annemie Degryse, producer Kamila Dohnalova and green production specialist Birgit Heidsiek.
"Green team" initiated by MOMAKIN containing people specialising in puppet and set props making is going to gather at the round table to discuss and try out selected new material solutions, such as material made out of pine. In the meetings, the part will take people appreciated in the industry, such as puppet maker Sonia Iglesias Rey, director Debora Mendes, art director Francesca Maxwell, and director Ru Kuwahata. The subject of green filming is also going to be the focus of the discussion panel dedicated to the green guide prepared by MOMAKIN which collects directions regarding green production. Part of the panel is going to take Birgit Heidsiek, Kike Ortega, Margarita Miel Paredes and Sonia Iglesias.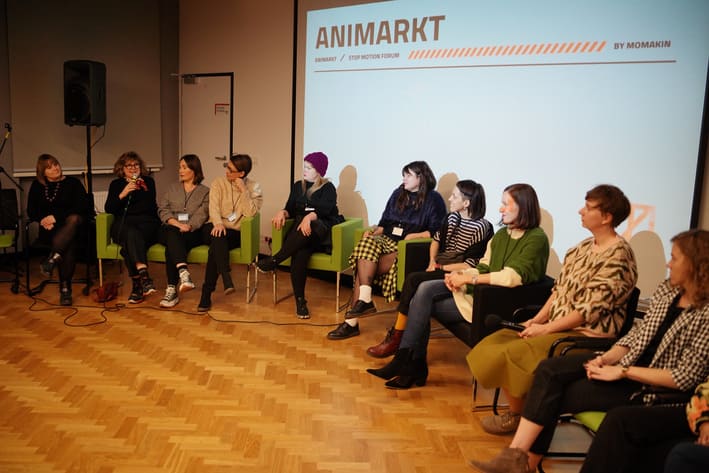 Animarkt Stop Motion Forum
Animation Conference
A conference dedicated to industry education, during which participants are going to confront with each other various education systems in animation in Poland and in the world.
Animarkt Workshops
The first workshop, devoted to character animation, is going to be led by Kim Keukeleire who cooperated with Wes Anderson on his "Fantastic Mr. Fox". She was also a senior animator in "Guillermo del Toro: Pinocchio". The second one, about the role of line producer in stop motion animation production, is going to be led by Angela Poschet – acclaimed line producer and consultant, known from Wes Anderson's "Isle of Dogs" and Oscar-nominated "Frankenweenie" by Tim Burton.
Animarkt Masterclasses
Ru Kuwahata – director and co-creator of Oscar-nominated "Negative Space" film – is going to talk about her latest film and, at the same time her first feature project, in which she connects stop motion and digital techniques. Piotr Matysiak, the experienced camera operator, is going to explain what artistic potential is hidden in stereoscopy. And Miel-Margarita Paredes, a puppet creator specializing in building animation armatures, is going to talk about the art of puppet making.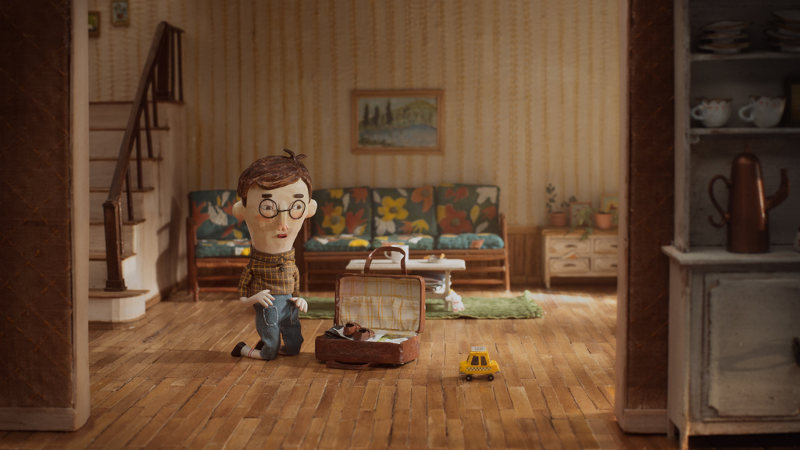 Negative Space
The opportunity to present achievements and find a job in stop motion projects is going to be Career Days – a short 15-minute meeting with representatives of five studios. Talks with selected creators are going to be managed by representatives of selected studios: Dutch 5 A.M. Studios, Swedish Apparat AP, American LAIKA, Spanish Pangur Animation and British Passion Picture.
Animarkt Pitching
20 projects: from Germany, France, Brazil and Mexico whose creators are going to compete for prizes bringing them closer to the realization of their film.
SHORT FILM PROJECTS
A whale a submarine and the sound in between dir./prod.Gali Lea Blay, Germany
Endless Hole dir.Thomas Künstler, prod. Konstantinos Vassilaros, prod. company: StudioBauhaus, Greece
Home Sweet Home dir. Marc-Henri Boulier, prod. Barbara Vougnon, TCHACK, France
Joy dir. Agata Wieczorek, prod. Aymeric Isnard, prod. company Futur Antérieur Production, France
Laundry dir. Vicente Mallols and Pablo Muñoz, prod. Leticia Montalvá, prod. company PANGUR ANIMATION COOP V, Spain
Ovary-Acting dir. Ida Melum, prod. Kjersti Greger, prod. company Klipp og Lim, co-prod. Jante Films (United Kingdom) and Apparat Film (Sweden), Norway/United Kingdom/Sweden
Over And Out dir. Gustavo Amaral, prod. Mariana Lopes, prod. company Estúdio Celestina, Brazil
Season Cycles dir.Roos Mattaar, United Kingdom/ Netherlands
Uka-uka (working title) dir. Henri Veermäe, prod.Kadriann Kibus, prod. company Rebel Frame, Estonia
Winter in March dir. Natalia Mirzoyan, prod. Kadriann Kibus, Rebel Frame, Estonia
PITCHING 2023 FEATURES FILM PROJECTS
Azul's Journey dir./prod. Aline Romero, prod. company Slow Pillow, co-prod. ANIMOON (Poland), Mexico
Bea and the isle of spells dir. Martyna Koleniec, prod. Grzegorz Wacławek, prod. company ANIMOON, Poland
The House of Objects dir. Massimo Ottoni, prod. Federico Turani, prod. company IBRIDO Studio, Italy
The war of frogs and mice dir. Marco Jemolo, prod. Nicoletta Cataldo, prod. company Insolita, co-prod. Grey Ladder Productions(Italy) , Italy
The Vandenberg Sisters dir.Joseph Wallace, prod. TBC, prod. company TBC, co-prod.Delaval Film (United Kingdom), United Kingdom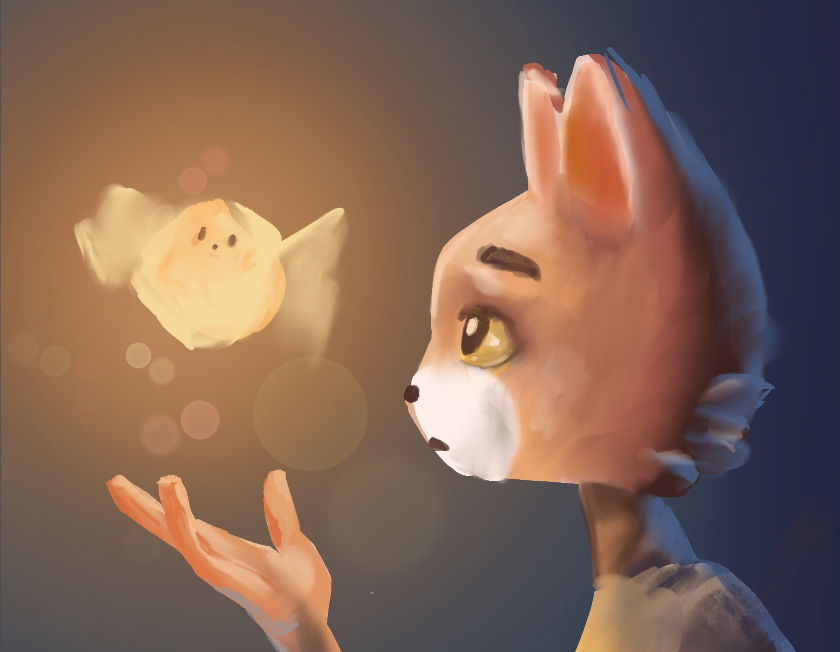 Bea and the Isle of Spells
PITCHING 2023 TV SERIES PROJECTS
A Year of Birds dir. Isis Leterrier, prod.Marc Faye, prod. company Novanima Productions, France
Brolli and Nina dir.Gabriel Nunes do Carmo, prod. Luiza Nunes do Carmo, prod. company Achance Produções, Brazil
The Promised Land dir. Paula Verrua and Yuliana Brutti, prod. Federico Verdier, prod. company Pururú Studio, Argentina
Welcome to Vegetown dir. Sylvain Delcourt, prod. Xavier Truchon, prod. company TOKU, France
Rock Lab dir. Camilo Jimenez, prod. Andrea Feuillet, prod. company Delirium Media, co-producer company NA, Colombia
Travel Bugs dir. Fokion Xenos, prod. Amanda Livanou & Isavella Alopoudi, prod. company Neda Film, co-producer company 5AM Studios, Greece
Travel Bugs
ANIMARKT Stop Motion Forum is going to take place between 4 and 8 October in Łódź. Participation in the new edition costs 45 euros and 30 euros for students.Detailed programme of the eighth edition of the event can be found on the website.
ANIMARKT Stop Motion Forum is co-financed from the funds of the International Visegrad Fund, co-financed by the Polish Film Institute. Creative Europe Desk Polska is a partner of the event. Main partners of ANIMARKT Stop Motion Forum 2022 are EC1 Łódź – the City of Culture, Łódź Film Commission, Direccion General de Promocion de Exportaciones Chile, Instituto do Cinema e do Audiovisual I.P. / ICA and the Centre for the Development of Creative Industries are partners of the event and, as well as LOOM Hotel. 
SIGN UP: Want to read more free articles like this? Sign up for Our Newsletter