Shorts
Nocturne by Anne Breymann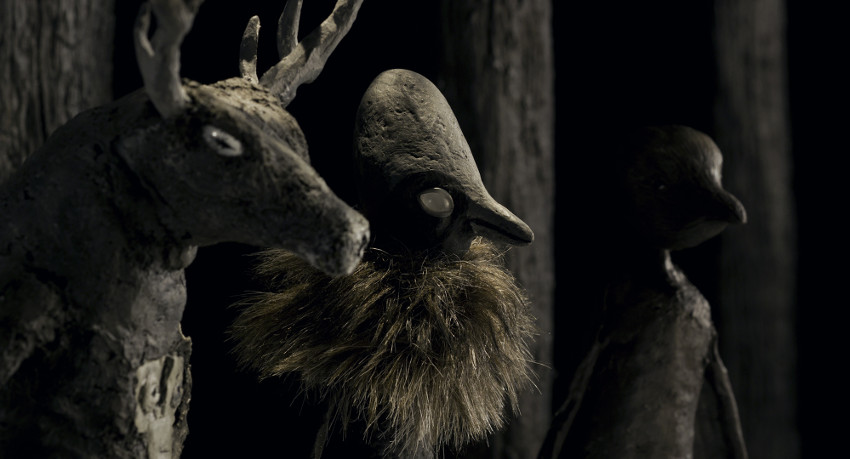 Nocturne is a phantasmagoric stop motion animated short film about masquerade, identity and the vulnerability of putting your innermost at stake. Fantastic creatures gather in a nocturnal forest to gamble for mysterious spiritual objects, which they take out from deep inside their bodies. During the game hidden faces are revealed, and nothing is what it seems.
German-director Anne Breymann was inspired by both masks people wear (both literally and metaphorically), medieval bestiaries (for the character animal design) and  casino dice (here turned into stones, masks people wear both. Financed by Kuratorium junger deutscher Film.
A big inspiration for the story was human interaction and the 'masks' we wear in our everyday lives. For me it's about masquerade, identity and the vulnerability of putting your innermost at stake.
ZF: Your characters are beautifully designed, and also stylized.
AB: I wanted each of the creatures to somehow have more than one face, hidden or only visible at second sight. I love puppet theatre as much as animation, and with the set design and lighting I was aiming for this theatrical feeling of a stage in the middle of a forest. I was also very much inspired by the atmosphere of the forest which surrounded me while I was working on the concept and design at the Saari Residence In Finland.
ZF: What made you start this project in the first place?
AB: After my graduation film I worked mostly on commissioned projects, and I missed making my personal films, so it was about time. The overall theme and look of the film has its origin in a series of diorama photographs which I made some years ago. I had never planned to turn them into a film, but somehow this miniature world was always on my mind. The night just felt natural for the atmosphere I had in mind. I also wanted it to feel like a secret gathering under cover of darkness.
ZF: What was the most difficult element to handle as a filmmaker?
AB: The biggest challenge for me was to find the balance of making a film that is kind of experimental and phantasmagoric, but still narrative. It was also challenging to work almost all the time on my own, and keep believing in my ideas over the two years I worked on the film.
ZF: How did you work with your collaborators (music, abstract animation) and what did you ask of them?
AB: I chose all of my collaborators because I admire their work, and so I trusted them and gave them a lot of freedom to contribute to the film with their personal style. A big part of the production was the sound design which was created by Michal Krajczok, with music by Adam Pultz Melbye and Paul Stapleton. I wanted sound and music to be somewhat experimental and very much intertwined.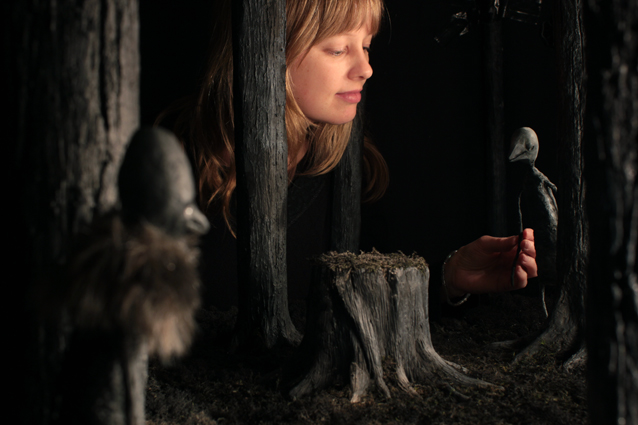 For the lighting I worked closely with cinematographer Björn Ullrich and we tried to achieve the atmosphere of a dark mystic forest with lots of shadows and a moonlit clearing. The abstract visuals were animated in a different technique to appear more spiritual,  in contrast to the physical stop motion puppets. Nikki Schuster designed them in her unique style by photographing minerals and plants, and animating them digitally.
Breymann resists her film being interpreted as a battle of the sexes ('I don't believe in gender stereotypes', she states). But she has certainly made a hypnotic and immensely gripping film about schemes and appearances which are tested to the limit and torn apart by the eccentric, repetitive forest dice game. A film to watch over and over again.
Anne Breymann is an independent animation filmmaker, artist and illustrator based in Berlin. Since graduating from the Kassel School of Art and Design she has been working for international animated film and tv productions. She received Artist in Residence grants from the Netherlands Institute for Animation film, the Abbey of Fontevraud in France and the Finnish Saari Residence. Here's her webpage
Credits
Nocturne
script, direction, production, design, stop motion animation, puppets, sets, editing: Anne Breymann
sound design: Michal Krajczok
cinematography, lighting: Björn Ullrich, Anne Breymann
design & animation of abstract visuals: Nikki Schuster
music: Adam Pultz Melbye, Paul Stapleton
foley artist: Peter Roigk
additional compositing: Florian Grolig
titles: Isabel Seliger
supported by Kuratorium junger deutscher Film and Saari Residence

SIGN UP: Want to read more free articles like this? Sign up for Our Newsletter
Read More About: