Shorts
One Left by Sebastian Doringer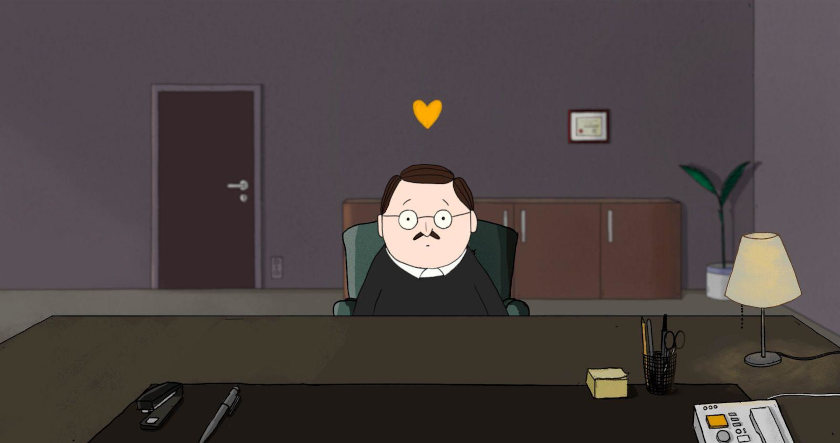 It takes courage and a patience to hear bad results. But Sebastian Doringer brings this understandable uneasiness to its comic limits in the animation short One Left.  In the film, patients are waiting in a doctor's office to hear test results regarding their remaining lifetimes. However in most cases, the allotted time is not as long as they had hoped for.
We talked with the director to get a glimpse of the animation short. 
ZF: Did you have a real case as inspiration for your film? Something you observed or experienced?

SD: The first idea for 'One Left' came to my mind on a long train ride. I started thinking about what I would do if I only had a couple of days, hours or even minutes left to live. Would I get upset? Would I start to cry or maybe get in panic? Or would I try to seize my last moments on earth before I die? I found it so interesting to think about it that for my story I decided to put a group of people in a room and confront them with this question.
Watch One Left by Sebastian Doringer

ZF: How often did you have to write and rewrite the script? Or perhaps you started with the storyboard itself?
SD: I must have written ten or more versions of the script, before starting to draw the storyboard. And even during the phase of storyboarding and pre-production, I kept tweaking the story. Especially when you work alone you constantly come across mistakes you have made before or find new ideas to improve the story at a later stage. But the main idea for the story was clear from the beginning on.
ZF: To make a comedy, you need to escalate the comic situations, something you've done quite finely in the film, showing all those different characters. Do you enjoy multiple characters in your film, or was it because of the comic effect? 
SD: Both. I chose to have multiple characters in my film to create a sense of the society they live in. All of them are waiting to hear about their remaining lifetime and throughout the film we get to learn that. Each one of the characters is reacting in a different way to the doctor's answer, which also supports the comic effect.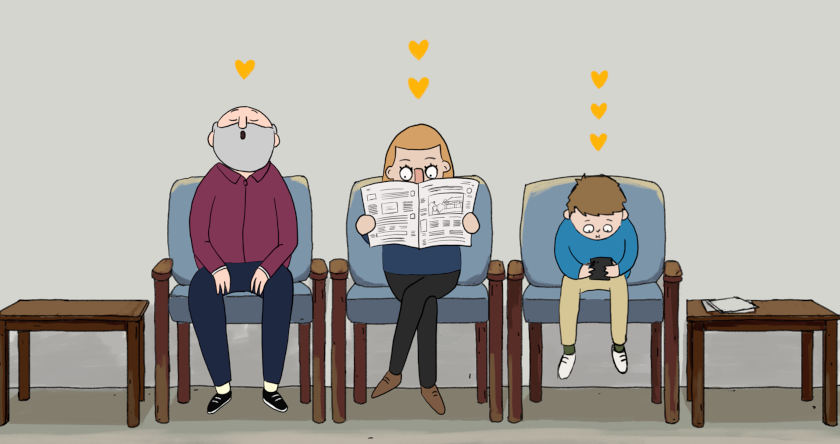 ZF: You used standard cartoonish design styles: dots for the eyes, well-defined bodily sketches, neutral backgrounds. Was that to enhance the comedy effect? I see that your other films/ illustrations have either a richer character design and background or (conversely) an even sketchier, more abstract one.
SD: One of the reasons I chose a quiet simple character design was due to the very limited production time. Thus, I decided on a style which is more pleasant to animate compared to others. Also, I wanted to create an uncomfortable and odd atmosphere in the doctor's office. By keeping the backgrounds neutral the viewer can focus on the characters and the strange vibe in the waiting room.
ZF: I liked the 'foul' language your character used. Did you think of the dialogues first, and how did you arrange them to the different characters (the old lady etc.)?
SD: From the beginning on I knew that I wanted the doctor to communicate with his patients in a rather straightforward and dry way, while being very distant. The dialogues for the rest of the characters evolved as I was working on the script and later while drawing the character designs. I wanted them all to have very honest and unbridled reactions to the doctor's predictions. Like someone who has nothing really left to lose. Furthermore, some parts of the dialogues also emerged while improvising during the voice recordings.
ZF: This was a student film. Tell us how you put this thing together, doing most of the creative tasks on your own -plus your collaborators. What was the schedule?
SD: Before I even began to work on concepts for 'One Left' I knew that the schedule to produce my graduation film will be extremely tight. I started the phase of scriptwriting and pre-production in October 2019 while having in mind that I will be graduating in January 2020. Since I worked alone on all the visuals,  I could adapt the schedule to my skills. I knew my strengths and weaknesses and where to calculate less or more time. Another benefit was that I had complete freedom over the story and the visual choices of my film.
However, it can also be quite inhibiting sometimes to not hear feedback from fellow team members or gain energy by seeing their motivation for the project on a regular basis. Moreover, as soon as I started the production of the film in November 2019 I was drawing and animating in hyper speed and had to reduce pretty much all my personal life to almost zero.

Nevertheless, I was enjoying the process and was also very lucky to collaborate with great artists and friends, who supported me wherever they could. One of them was the brilliant musician and composer Artur Aigner. Not only did he a fabulous job on creating the music and sound design for One Left, but I would also meet up with him from time to time to talk about the film and ask him for feedback.
ZF: Do you like doctors? And do you have a 'message' for your film -or you leave this to your audience?
SD: Yes, I do like doctors! Now more than ever, after seeing understaffed doctors and nurses all over the globe fighting a pandemic under constant pressure. For the last two years they have been working around the clock doing their best to save millions of lives. I have the deepest respect and appreciation for them. In my short film I wanted to confront the characters with a society in which they are being told how long they have left to live. And because I needed a source where they would get their information  from I decided on a higher power in the shape of a doctor in a gown, armed with a clipboard.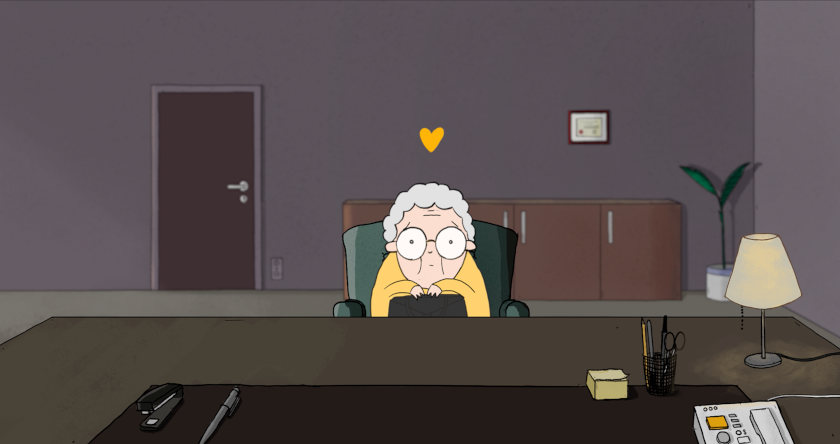 It seems that also big parts of the world we live in are dependent on systems, which are controlled by higher powers. When you look at our society nowadays you can see circumstances like in One Left everywhere. Leaders, politicians, the boulevard press and social media tell others what to do or how to live their lives. They change the world in the way they want and that has the biggest value for themselves. And most people don't question that. So in the case of One Left the doctor and his office with its waiting patients rather represent the society and the system they all live in.

ZF: Do you still want to make comedy films for your next project or something completely different?
SD: Together with an amazing team I am currently working on my graduation film for the Master's degree at Gobelins in Paris. And even though our story is not a comedy, but is rather told in a more serious way compared to One Left, there will still be humorous scenes in the film.
Film Review (Vassilis Kroustallis)
It takes a lot of guts to make a film about death; it seems that Doringer's film has pushed all the right buttons to make a black comedy film full of life, energizing language and visual simplicity. From the audio department building up of tension to the menagerie of accelerated tempo, 'One Left' shines with a healthy dose of courage against the most discouraging of appointment -and it does it with a comically revengeful eye. It feels pertinent,fittingly riotous, and lovably out-of-limits. 
CREDITS
One Left (2020, 6' 19'')
Direction- Production - Screenplay - Artistic Direction:  Sebastian Doringer | Sound: Artur Aigner | Anination - Editing: Sebastian Doringer | Music: Artur Aigner
About Sebastian Doringer
Sebastian Doringer (04/20/1996, Salzburg, Austria). After graduating from school he moved to Vienna to study Painting and Animation at the University of Applied Arts, where he graduated in January 2020 with his short film "One Left". Most of his work is focused on 2D animated short films. He has previously directed "Umami and the Characters of Taste" (2019), "Pomme de Terre" (2018) and "Looped" (2017).
SIGN UP: Want to read more free articles like this? Sign up for Our Newsletter
Read More About: