Shorts
One of Many by Petra Zlonoga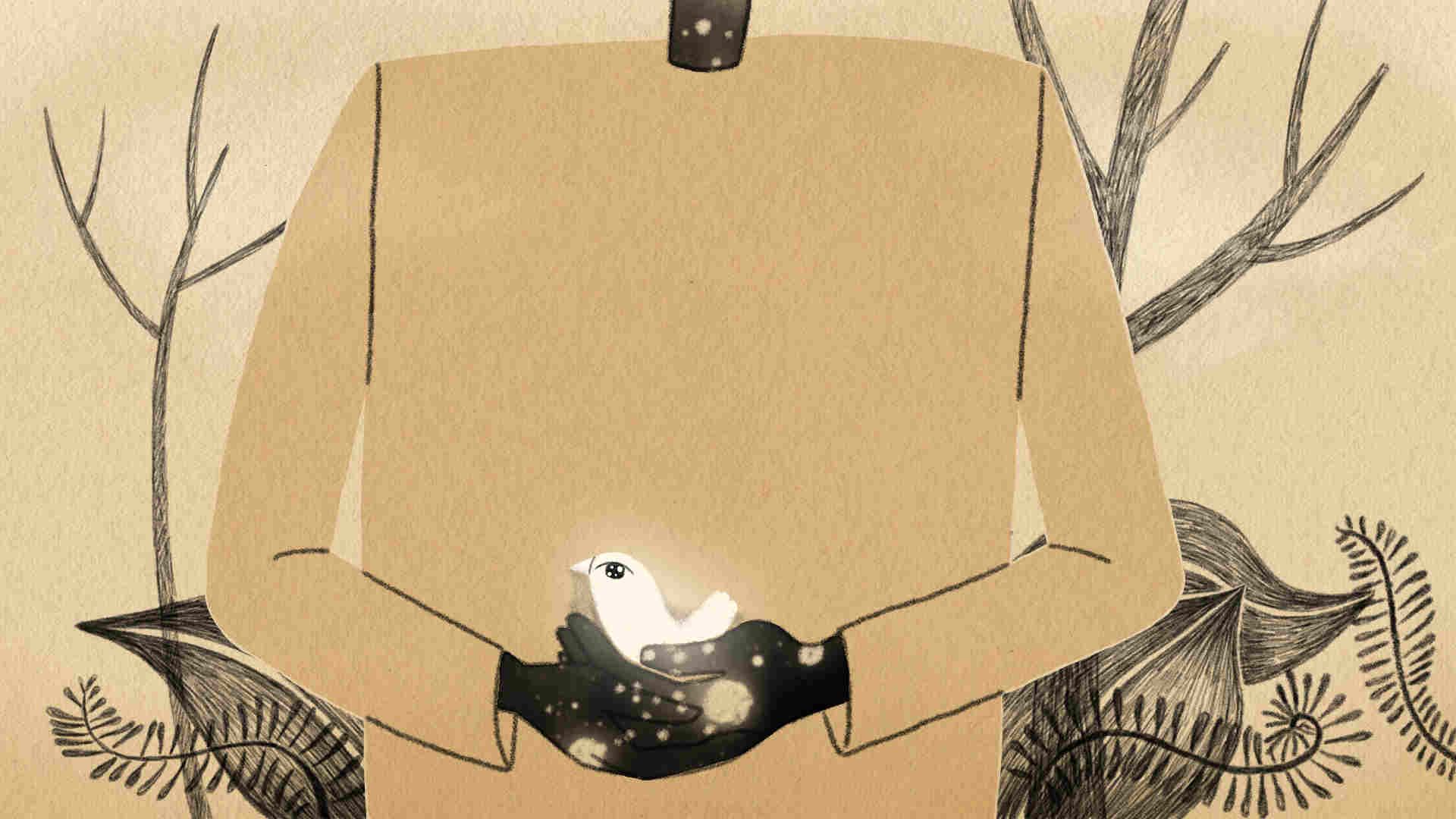 One of the new voices in Croatian animation, Petra Zlonoga has consistently drafted a path that combines the visual and the textual in her work in films like Hunger (2014), Dota (2016) and her latest 2D animation short, One of Many (2018).
I am one. One of many. One of everyone yet the only one. What is it that I am looking for, that always seems out of reach? - Film Synopsis
The film won the ASIFA Croatia Special Mention 2018, and many festival selections (from Animafest Zagreb to Animateka Festival and Melbourne International Animation Festival) soon followed.
One of Many narrates a common experience to all of us, yet one that we don't perceive it in the same way. The idea for the the film, including its structure and visuals came to the director in 2011. "It was inspired by my own ruminations around the natural and supernatural, the worldly and whatever it is that is beyond it." Petra Zlonoga tells Zippy Frames.
Once the production started in 2017, a lot of things changed regarding both story and narrative. "I wasn't sure about the dialogues until the very end. I am finally very pleased that they did come through, I feel that they are a crucial part in balancing the visuals and the story. Even though they make the film even more poetic, it seems they also make it more understandable" the director makes clear.
Watch One of Many by Petra Zlonoga:
The script of One of Many was Petra Zlonoga's own, a monologue that reflects and questions one's own perception of the world (even though the themes are universal). Influenced by her favorite authors Rumi and Khalil Gibran ("they reduce anything that might be unnecessary"), the monologue is trying to express most by discarding all the superfluous, redundant and, ultimately, distracting words. "I see it as a sort of distillation of a much more bigger and wider and complex text" Zlonoga tells Zippy Frames.
The whole production took two years, from start to the film premiere. Zlonoga will detail: "A lot happened in the meantime, some life-changing trips, 800km walked on foot, death of family members, and some truly inspiring encounters and events. Since the process of making animated films, especially those that are less commercially oriented, take a lot of time, I feel that all of these things that happen around the production and people involved, matter as much as what happens inside the production". Animating itself was based on an animatic, and it took 6 months ("I worked with excellent and very dedicated Mia Murat") -last moment decisions and changes were promptly executed.
Narration in One of Many was voiced by Maja Posavec. Zlonoga has narrated her own films in other instances, yet here she had the chance to collaborate with a singer and an actress she felt "she had the perfect texture of voice and overall sensibility for this exact piece". It also suited her to remove her personal experience from the film itself -at the same time, she could concentrate on the various aspects of the production.
Petra Zlonoga assigns her differentiated artistic skills to the project in hand. In her previous Dota (watch it here), she relied on a combination of hand-drawn and stop animation;  One of Many is solely the result of 2D animation. The technique was suggested somewhat in the visual style of her first drawings. "Since it revolves around nature and cosmos, the simple pen and paper feel was what I had in mind when designing the layout and the rest of the visuals" explains Zlonoga. Digital animation was used for faster and simpler execution. "I always return to pencil, though" Zlonoga states. "I find it the most simple and at the same time the most rich and fruitful out of all the tools, including computer".
There are things that you can't miss in the film, like the sequence with the hand reflecting the whole of nature in the middle sequence. "I don't want to seem presumptuous here, but the nature here is simply what it is to the character" Zlonoga explains. "The main character is questioning everything around him, all of the natural and supernatural forces, yet he is also an 'nondetachable; part of it himself. Being part of a bigger whole, he cannot distinguish himself neither from what is beyond him, near him or that which he is himself, therefore the whole idea of the search collapsing into itself / himself.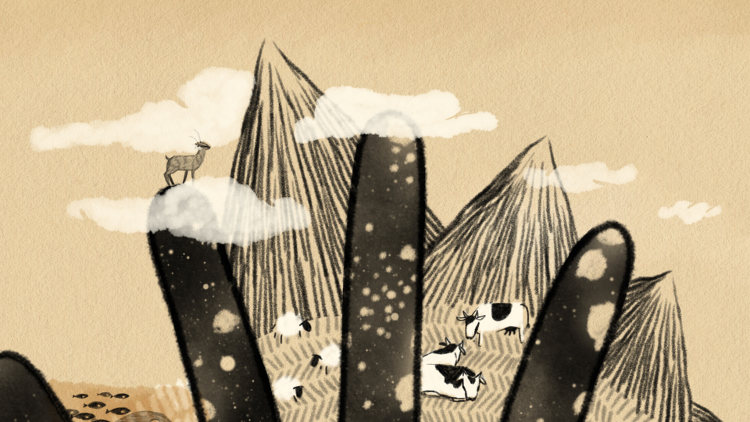 For a young director, still some elements are recognizable from one film to another, like the role of birds in both Hunger and One of Many. "I don't think about my previous films or imagery, but it turns out that -and that indeed is unintentional- that some kind of "signature" moments do exist, as I guess it is the case with other authors' work, too. But I do like to explore imagery".
Even though Zlonoga had a lot of roles in the production, her collaborations with other creative team complemented her efforts. Hrvoje Nikšić ('a great composer and musician') followed Zlonoga's suggestion to find the best sound viewpoint and angle from the film -in turn making the film stronger. "Mia Murat as the animator and Ana Horvat as additional colorist, were a great team to make this film happen" Zlonoga adds. Editor Miro Manojlović was on board before actual animated material was in place ("he steered in the right direction, and was a big help with making all the pieces fall together").
In an interview during 2016 Animateka festival, Petra Zlonoga mentioned she liked the play between words and images in her films, referring to her previous film Dota. This applies to One of Many as well. "Some sentences really did come out of the visuals and vice versa. Some visuals call out words and some words call out pictures and then somehow, and hopefully, they learn to all function together as well. In this particular case, though, there was a big clearance of the sentences from the overall text at the very end of the process"
Petra Zlonoga had her own One of Many Exhibition opening and animated film premiere in Οctober  2018 (Gallery GC), organized by the Zagreb Animation and Multimedia Center (AM Center), with Iva Gašparović as the curator. The exhibition consisted of plain sketches but also of more elaborate pieces of drawn animals, wildlife and scenery from the film.
"I really enjoyed making this exhibition because it gave an opportunity to broaden the borders of the film itself" she reports. "The drawings and collages that were exhibited were not merely still frames of the film but were parts of the processes that were taking place before and while the film was being produced. So, they are works in and of themselves but they are a part of a bigger story, a way for the viewer to enter the world of the main protagonist even more, and from other angles, too".
Petra Zlonoga wants to get an immersive 3D experience, but not necessarily an intrusive one. "I love the idea of film having a 3D dimension in a way that you can have a chance to explore it this way. It is like an analogue approach to what we now have in VR, but it leaves much more place and space for the viewer's imagination and interpretation to unfold".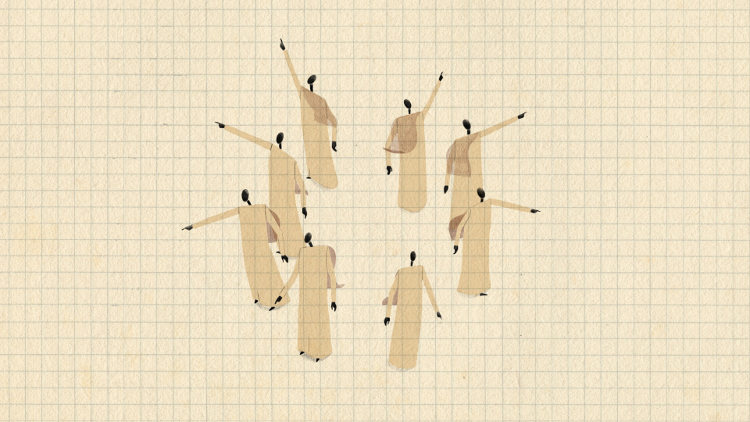 Film Review (Vassilis Kroustallis):
One of Many is a film that guides you mostly by giving you a sense of a direction and a trip to follow -instead of a given outcome. One big palm of a hand (where the whole of natural kingdom is mirrored), smaller index fingers pointing towards diverse directions, scarfs which fly above the land and the forest, produce imagery that always heads toward a endpoint. Even though the text (calmly narrated by Maja Posavec) could actually make for a sad story -and, in many ways, it could be read as one- visuals are variant, disarmed of unnecessary details, and in a constant need to operate beyond their given texture. Sometimes, figures look like they are trapped inside a textbook, out of which they attempt to escape. At other times, many other figures (birds, for one) tend to suggest a gravity-free environment where the distinction between the one and the many would lose its importance. One of Many functions like an investigative journey into the forms of being together, and drifting away at the same time -and its bivalence is a really welcome one.
About Petra Zlonoga
Petra Zlonoga (1982) holds an MA in Graphic Design from the School of Design (2007) and MA in Animated Film and New Media from the Academy of Fine Arts in Zagreb (2011). Since 2009 she works as a freelance graphic designer, illustrator and animator.
CREDITS
One of Many, Petra Zlonoga (Croatia, 2018, 5'32")
Production: Bonobostudio 
Scriptwriter, director, designer: Petra Zlonoga | Animation: Petra Zlonoga, Mia Murat | Music and sound design: Hrvoje Nikšić | Editing: Miro Manojlović, Petra Zlonoga | Voice: Maja Posavec | Producer: Vanja Andrijević  |  Distribution: Bonobostudio

SIGN UP: Want to read more free articles like this? Sign up for Our Newsletter
Read More About: