Shorts
Projection On Sofa by Violette Delvoye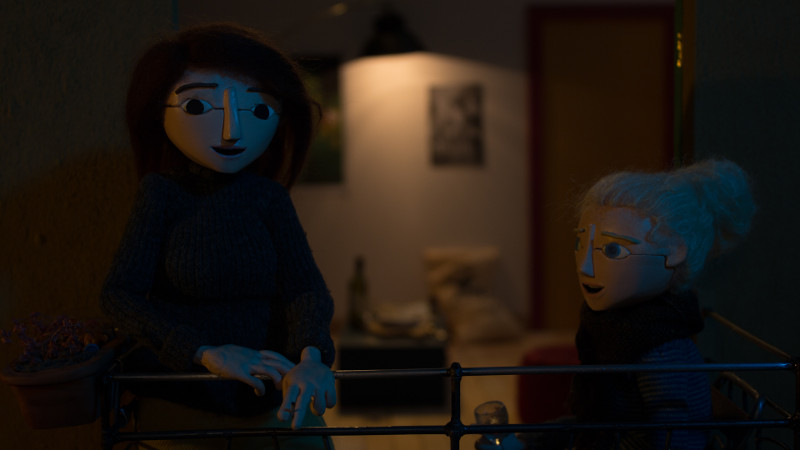 Movie night at home. At the end of the film, Lucie and Manu start a conversation about the idea of travelling. While smoking and drinking wine, they exchange their ideas, needs and expectations.
 Projection on Sofa (Projection sur canapé) is Violette Delvoye's graduation project worked in Le Cambre (ENSAV - École National Supérieure des Arts Visuels de La Cambre)  Bruxelles.
There is a certain play between the visual and the tactile in Delvoye's sensitive, 6-minute work - and it won't really stem just from the fact that it's a stop-motion film. It is the way the director chooses to highlight moments of fragility (replacement mouths have their seams too noticeable), moments of hanging out together (shawls worn, exploring a sweater sleeve). In contrast, every projection, from the opening credits (which show the ending credits of another film) to the beautiful and exotic scenery are a matter of contestation.
Relationships need to be less visualized than felt and tasted, and food and drink has its own share in Projection on Sofa. It invites a wholesome experience which sight alone cannot give. Add to this a smooth transition between dialogues and moments of silence, sincere voice-acting and suggestive cinematography, and you have an empathetic film that defies the need to travel to narrative /experimental heights to make itself relevant.
CREDITS:

Projection on Sofa, Violette Delvoye
Voices : Manon Lheureux and Charlène Sauldé
Photography: Laura Perera San Martín
Sound: Lancelot Hervé
Ending credits song: Nöma, by Benoît Lizen

SIGN UP: Want to read more free articles like this? Sign up for Our Newsletter
Read More About: