Shorts
Krasue by Ryo Hirano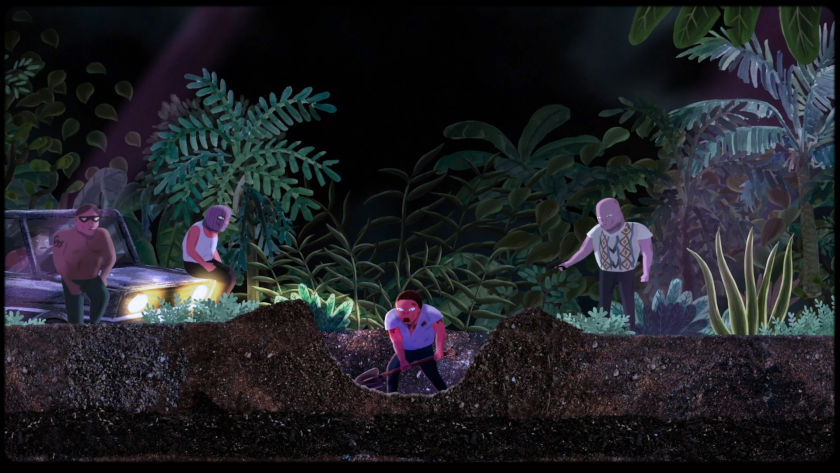 Ryo Hirano is an up-and-coming Japanese animation artist, whose new, horror-noir film 'Krasue' was selected (in competition) at this year's Annecy Festival.

In a town of SouthEast Asia, at night, a Yakuza is facing a bloody conflict with local gangs. During the fight, he encounters with a ghost called Krasue (pronounced Gasoo in Japanese), a flying woman's head with her guts exposed, and being followed by her because of his blood taste. Their battle eventually leads themselves to the depth of dark and damp jungle maze, where their boundary seems to fade, regardless of what they are, humans, animals or a ghost. With howling noise, "BOY MEETS GIRL" metamorphoses into "Encounter with another species".  - Film synopsis

ZF: Can you tell us about your background as an artist/animator.
I started making animation as an artist when I saw Igor Kovalyov's 'Milch' in a class at Tama Art University. I was shocked by the style of the film, which I had never seen before, and since then I have been studying animation on my own. I was not an animation major in college, but a media art major, so I have been influenced by many different cultures that I have encountered.
' 
ZF: Where did the ideas come from?
RH: Many of my works attempt to speak about human society and the body through the depiction of ghosts and non-humans. Krasue is a very famous ghost that has been made into many films in Thailand. I became aware of the existence of this unique ghost about 10 years ago and wanted to make my own story of it ーthere have been many Krasue films made in the Thai film industry that are quite liberal in their interpretation.
Through friends, I did a lot of research in Bangkok and Chiang Mai and found a lot of inspiration. An early idea was to have a boy-meets-girl between Krasue and a Japanese tourist, but I realize that this is too common a story in Krasue movies, so I decided to replace the Japanese tourist with a Japanese gangster Yakuza. Having the yakuza in the film would allow me to depict the physical action -I love actions!- and The yakuza character also fits the theme of 'the body,' which derives from Krasue's image of a flying and glowing ghost with a entrails hanging from its head. I like both Cinéma de genre and independent animation films, so I tried to create a film that combined them together.

ZF: Can you tell us about your creative process and your technical workflow?
RH: Basically, the drawing on the computer. I draw rough movements and then create shapes with animation using single-color body parts. Then, line drawings are layered on top to combine textures, creating a strange combination of computer and analog textures.
ZF: There is a strong pop-culture feel to the film, along with a more grungy and scribbly approach. What have been your main influences as an artist/animator?
RH: The artists who have influenced me the most are Manga-artist Shigeru Mizuki and Daijiro Morohoshi. They are great artists who excel at depicting non-human worlds such as Yokai, the supernatural world, and so on. Shigeru Mizuki was the first artist to introduce Krasue to Japan through his drawings. My film 'Krasue' is strongly influenced by Asian noir films, by Johnnie To, Diao Yinan, and John Woo. And I also enjoy the work of the Coen Brothers. Thai artist and director Apichatpong Weerasethakul's work has also been a great source of inspiration. And indie Filmmaker Igor Kovalyov's films have always given me a lot of inspiration.
 
ZF: Where in Japan are you based? What is the independent scene like there, in terms of funding opportunities, festivals, and networking opportunities?
RH: Since last year, I leave Tokyo. and based in a small town surrounded by mountains called Fujimi-machi in Nagano Prefecture. I can't make a living only by making animated short films, so I save up money for production by doing commission works. I also work as a manga artist. The New Chitose International Airport Animation Film Festival and the Hiroshima Animation Film Festival have started a new movement. I feel that connections that transcend genres are gradually emerging, such as the attention paid to independent games.


Personally, I have been stimulated by connecting with artists such as Manga-artists, film directors, musicians, dramatists, and game creators. "Krasue" had a screening and exhibitions held at a contemporary art gallery(not a mini-theater) in Tokyo over the last year, and we have attracted the participation of artists from a variety of genres including a pixel artist, a sculptor, illustrators, a Kimono fashion designer, Manga artists, and even a pâtissière to make Krasue icing cookie since me and my staff believe that Japanese animation artists can expand their perspective through proactive interaction with creators of other fields.
Film Review (Joseph Norman): 
This deeply atmospheric and blood-drenched neo-Noir short film tells a dark and spiritual tale. A violent rift between rival Yakuza in a Thai city is turned inside out by the arrival of Krasue, a vampiric female spirit with luminous internal organs hanging from her neck. She habitually travels the city attacking people. The main protagonist is involved in a violent altercation with another gang, leading to shootings and lots of blood being spilled.
The film stands out due to the striking graphic quality – a loose, scribble approach to the rendering of textures, flames, and blood spurts. The world has a grungy authenticity, due to the beautiful fusion of hand-drawn elements, photo textures, and heavy atmospheric lighting. The foley, by Pete Burgis (of Foley Farmers) and Franziska Treutler transports the viewer into the scene through tactile materiality. The action is infused with dark humor and a certain 'intimacy' that develops for a time between the main Yakuza and the spirit. This is highly visceral, grungy, and glossy horror-Noir.
Credits:
Krasue (2021)
Director: Ryo Hirano | Producer: Chihiro Tanikawa | Music: Gareth Sager, Tatsujiro pop Oto | Foley Artists: Franziska Treutler, Gareth Sager
SIGN UP: Want to read more free articles like this? Sign up for Our Newsletter