Shorts
Sangro (I Bleed) by Tiago Minamisawa, Bruno H Castro & Guto BR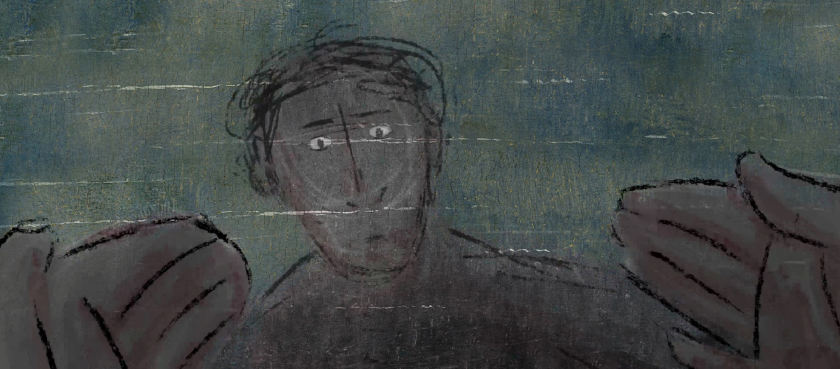 From the producer and the writer of Guida by (watch it here) Tiago Minamisawa, Bruno H Castro, and co-directed by Guto BR comes a film of HIV-awareness.
Inspired by a true story, "I Bleed" is the intimate confession of a person living with HIV. Whirlwind of emotions. The first sensations. An animation film which tries to demystify issues that, to this day, persist in society's imagination about the virus.
The film is released online on the Worlds Aids Day (1 December 2020).
Watch Sangro:
Film Review (Vassilis Kroustallis):
Blood and the red color alternates with blue and the sea of life in Sangro (I Bleed), a tantalizingly candid narrative of an HIV-positive person who needs to recreate himself as a person. Starting from the letting go into the vast sea of abandonment, then assuming the foetal position (only to be bitten out of his own regression), the character operates as a book character ready to be recreated (flipbooks here and letters being his main setting) as a person with affection. Wisdom and affection are two words used pointedly into this restless animation short, mostly as a source of stability against a heavy dose of Hieronymus Bosch nightmares. In a film where sea water helps mirror yourself as a new person, its ups and downs, its drawings and collages all lead to a certain re-introduction. Re-introduce yourself as a being who learns, loves, suffers and needs both understanding and affection. Sangro (I Bleed) is a manifestly both complex and personal film. Both these elements create the film's so winning simulation of a heartbeat.
Direction: Tiago Minamisawa and Bruno H Castro, Guto BR (co-direction), Animation, 7min, BRA
FESTIVAL AWARDS: (SELECTIVE LIST):
Silver Hugo Awards I Chicago Film Fest 2019
Best Brazilian and Best Documentary Short I Anima Mundi 2019
Best Documentary I Cinanima Portugal 2019
Special Mention I Animatou Geneve 2019
Special Mention I Havana Festival 2019
SIGN UP: Want to read more free articles like this? Sign up for Our Newsletter
Read More About: