Shorts
Sincerely, Now Air by Theresa Grysczok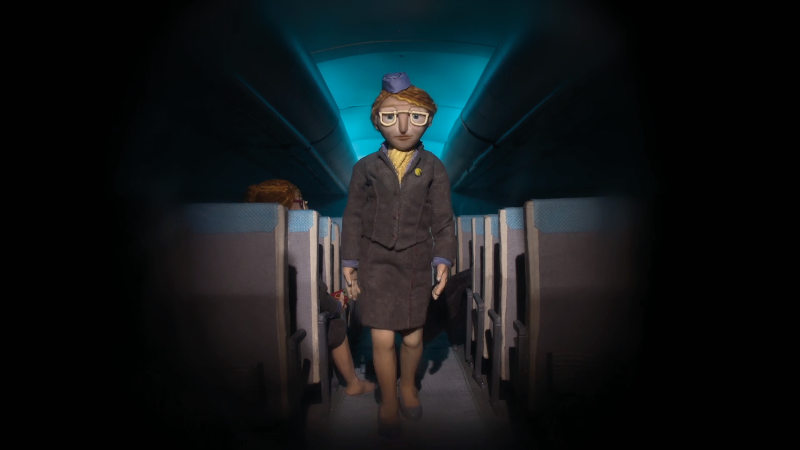 In an airplane, a surrounding where human error is not an option, flight attendants, decisively women are brought to embody flawless, authoritarian and at the same time highly empathic representants of human nature in order to create a fake-trust of comfort. If this fascade crumbles, especially in a life treatening situation, there is no space for hesitation or caution.
In the shortfilm Sincerely, Now Air a stewardess tries to bring a dying passenger back to life. Suddenly she has to deal with his death next to the requirements of her job. Hoping for a small withdrawl. Also the remaining passengers are thrown back to themselves weighing up over their little options for action.
Watch Sincerely, Now Air
Film Review (Vassilis Kroustallis):
The general set and its blue, cold colors all tell a sad story is about to take place. The bespectacled stewardess, on the other hand, has all our sympathy in her thankless but necessary task. And perhaps more than our sympathy. The way Theresa Grysczok structures her work, with reaction shots and a table tennis match between different eyelines, it makes you think that the issue is not the survival of the patient, but the survival of our morality.  There have been films with people trapped in awkward or menacing situations (like Animals by Tue Sanggaard), situations where isolation brings the worst of them; In Sincerely, Now Air, all you can see is a silent despair and a cry for hope; and the heartbeat of one passenger needs to be transferred to other inanimate objects, like toys. There are calculated puppet movements and scenes, and a central character whom we know nothing is easy, but needs to be done. This sense of 'making things done' is what permeates the deeply empathetic, finely-tuned Sincerely, Now  Air.
CREDITS:
Sincerely, Now Air (5, 45'', 2019)
Direction: Theresa Grysczok | Puppets: Theresa Grysczok | Set: Theresa Grysczok, Daniel Maaß | Music: Franziska Dürmeier | Voice: Sofia Sheynkler | Sound: Eeva Ojanperä, Theresa Grysczok | Compositing: Mikola Debik, Florian Maubach, Daniel Maaß, Theresa Grysczok
About Theresa Grysczok:
Theresa Grysczok was born 1988 in Erfurt, Germany. Since 2010 she studied "Communication De- sign" at the School of Arts and Design in Kassel, where she graduated in 2018. In 2015 she founded a filmmaker collective called "sticky frames", together with six filmmakers. Their aim is to spread and showcase indipendant, animated shortfilms in Germany and worldwide.

SIGN UP: Want to read more free articles like this? Sign up for Our Newsletter
Read More About: