Shorts
Le Mans 1955 by Quentin Baillieux
In 1955, during the 24 Hours of Le Mans, a sports car careers into the crowd and kills over 80 people. Yet the race continues until the next day.
When Belgian/French director Quentin Baillieux visited the Louvre and a 1950s car racing exhibition, he was struct by two very contradictory images: tragedy (people in a panic, a blazing inferno, bodies sprawled across the stadium), and celebration (delighted drivers celebrating their victory with champagne).  Library and Internet research resulted to what would be later his Le Mans 1955, a 15-minute 3D computer animated short.

The project was originally developed with Eddy, while De Films En Aiguille came on board when financing was in place; since then, it was a joint division of labour shared weekly  between Nicolas de Rosanbo (Eddy) and Carole Lambert (De Films En Aiguille). 
The 24 Hours of Le Mans, 1955. 300,000 spectators are watching from the sidelines. It is 6:00 PM when Pierre Levegh's car ploughs into the spectator stands, scattering the crowd with his car engine's hot debris. It is a tragedy that will cost more than 80 lives. And yet, the race goes on. At Mercedes, a friend and co-pilot of Pierre Levegh's is ready to take the relay. His name is John Fitch.
Watch Le Mans 1955
For all real events notwithstanding, Le Mans 1955 has not a 'documentary' look, but a very visceral and intense feeling of helplessness and moral despair. Strongly influenced by live-action films, Elia Kazan and his famous 'method acting' was an inspiration here -and sure Kazan knew how to built up a conflict. 'For a film like Le Mans 1955' Quentin Baillieux tells Zippy Frames, ' it's all about how the characters are written, and then about the quality, the subtlety of their animation. Only then comes the directing'.

Marlon Brando (left)  On The Waterfront (1955)/ Robert De Niro (right)  in The Last Tycoon (1976), both directed by Elia Kazan
The director of the famous obsession story of Laura, Otto Preminger, was here also an influence. 'Preminger composes the frames in his camera movements, complex but not ostentatious' Baillieux notes. 'I wanted to minimize, as much as possible, the camera movements that would be impossible in live-action, although they could be achieved with CGI.'
His camerawork also shows, for Le Mans 1955 won't let you off the hook for a single moment, whether it  be an extreme wide shot or a close-up; while, at the same time, Venetian blinds (the hallmark of film noir) tell their own character arc in the film. This is not the first time that Baillieux, a graduate of the infamous Gobelins French school, experimented with live-action; just watch his acclaimed short Lavomatic, where a boy looks for his father. Search for human connection is a motif topic also in Le Mans 1955, where the intimacy of characters competes with both the greatness of the scenery and the big stakes at play.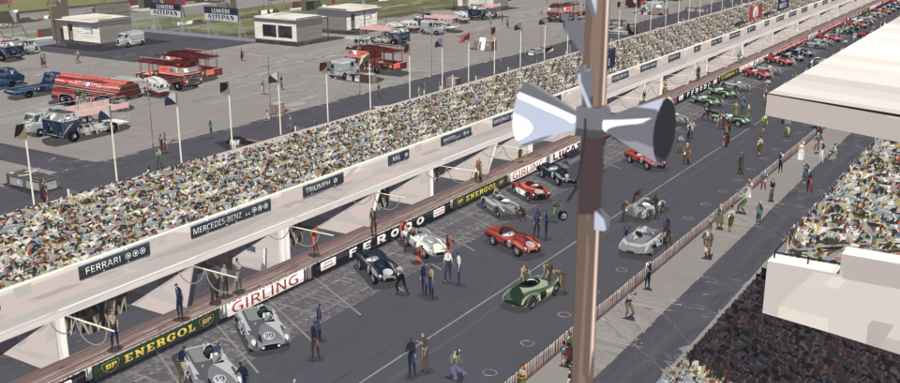 I was looking for the best approach, the angle or point of view that would tell the story I wanted, and would respect the victims and the people who had really experienced this unbearable moment. We wrote many different versions of the script. As the writing progressed, many secondary characters were dropped as they took a lot of space in the story. The final script focuses on three characters, Fitch, Levegh et Neubauer - Quentin Baillieux
His insistence in portraying the character conflict as rigorously as possible (three minutes were cut from the film to tighten the characters' arc) was extended to the animation technique. Interestingly enough (for a film which lingers much  on live-action references), 3D computer animation actually helped with the subtleties and nuances to show characters from the inside, with book characters.
It was also handy for last-minute changes. ' I wanted the freedom to change my directing ideas for as long as possible during the production ; make a last-minute camera angle change, or rework an entire sequence', Baillieux explains.  With Maya and Nuke being the main software components, Photoshop came in along for painting directly on textures (no CGI light rendering was used). Baillieux had already tried this in the music video Charles X "Can you do it, and his collaborative team improved on facial expressions. 'We managed to have the highest degree of creative freedom in a usually quite restrictive software.'
Film Review
With a score (by Ali Helnwein) which makes the central confrontation between John Fitch and Joe Sheridan equally palpable, Le Mans 1955 makes your heart beat faster and in the right moral places. Animation has long been associated with fantasy and the non-real, but Quentin Baillieux's film (now in its festival run) surely turns a very real story and tragedy into a gripping drama of characters, which deserves to be widely seen.
CREDITS
Le Mans 1955 / Director - Quentin Baillieux
Producers - Nicolas de Rosanbo and Carole Lambert
Scriptwriter - Julien Lilti
Editor - Benjamin Massoubre and Vincent Tricon
Sound designer - Xavier Dreyfuss, Line Producer - Céline Vanlint
With the voices of :John Fitch - Nathan Willcocks / Alfred Neubauer - Joe Sheridan / Pierre Levegh - Nicholas Mead
Original score by Ali Helnwein

COPRODUCER - BRUNCH STUDIO
Line Producer - Julie Bellemare, CGI Supervisor - Jean-Charles Kerninon, Production manager - Mélanie Parisi
Texturing - Lucas Durkheim, Maxime Dupuy, Sébastien Kirszenblat, Justine Thibault, Character Modeling/surfacing - Clément Lauricella
Rig/ Set up - Maxime Granger, Final Assembly - Rémi Julien
CGI Lead Animator - Axel Digoix, CGI Animators - Geoffrey Lerus, Paul Lavau, Daniel Quintero, Alice Dumoutier, Julie Bousquet
2D Animators Leyla Kaddoura, Vic Cchun, Louis Holmes, Grégoire Debernouis, Compositing - Mathieu Maurel, Maxime Granger, Victor Kirsch
Facial expression design - Wandrille Maunoury, Paul Lacolley, Modeling assistants - Mélanie Lopez, Edouard Heutte, Visual development - Leïla Courtillon, Arthur Chaumay, Pipeline development - Radouane Lahmidi, Alexis Prayez

COPRODUCER - LES ANDROIDS ASSOCIÉS
Storyboard - Ivàn Gomez Montero, Diane Fontaine, Previz - Volcy Gallois-Montbrun, Tristan Laville, Henri Zaitoun, Margaux Durand-Rival, Guillaume Robert, Florian Sauvage, Andréa Fernandez

POST-PRODUCTION - NIGHTSHIFT
Managing directors - Julien Desplanques, Mathieu Hue, Nolwenn Hajo, Grading artist - Gabriel Porier, Post-Producer – Nicolas Lim
Grading assistant – Johanna Dalmede, Post-Production assistants - Clara Escoffier, Margot Pluet, Laura Ballouhey, Justine Seris, Jan Vandewalle

SFX - BLACKMEAL
Managing directors - Matthieu Colombel, Vincent Ben Abdellah, Thomas Lecomte
Production manager - Charline Pineau, Animators - Vincent Cheaoum, Tom Goyon, Mélanie Gohin, Thomas Lecomte

SOUND STUDIO – POLYSON
Foley artist - Marie Mazière, Trailer editor – Juliette Delestaing
 Le Mans 1955 by Quentin Baillieux is distributed by SND films (festivals: Studio Wasia)
SIGN UP: Want to read more free articles like this? Sign up for Our Newsletter