Shorts
Snow Shelter by Robertas Nevecka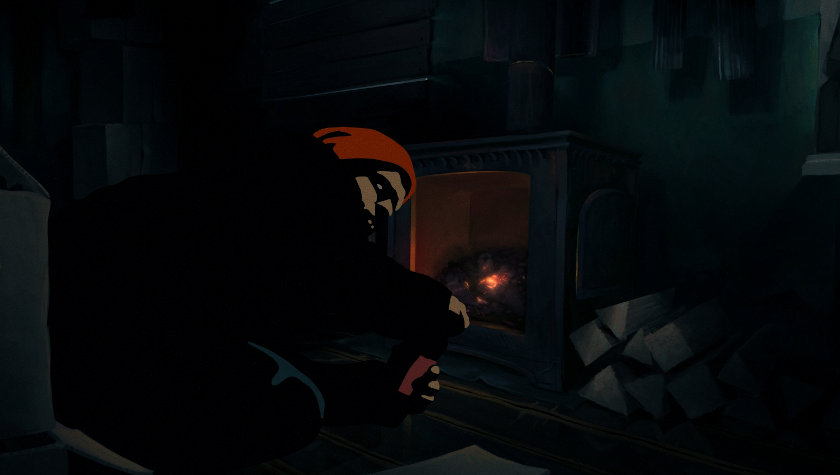 Frigid winter in a war-devastated, present-day city. Several years have passed since the destruction, and the city is slowly rebuilding. A thirty year-old guy is living as a squatter in an apartment with a group of strangers. He struggles to survive and also to find a little more comfort in this rough setting.
Zippy Frames talked to Robertas Nevecka (of Akis Bado studio) about the 16-minute, rotoscoped dystopian film.
Snow Shelter Trailer:


ZF: Looks like the film was based on a different material (a short story), but did you actually write the script yourself?
RL: It's an original screenplay. The roots for the story come from my childhood. I was born in the Soviet Union, but Lithuania regained independence when I was 6 years old. All my childhood I had this deep fear that the Soviets will occupy us again, a war will ignite, I had repeating dreams with bomber planes, tanks and soldiers.  The particular idea for Snow Shelter came in 2014. Just after the Euromaidan Ukrainian Revolution and the annexation of Crimea. The atmosphere in Lithuania suddenly became eerie as we have a long history of occupations and terror from our big neighbour. This inspired me to write a script about an alienated post-war society and backstabbing selfishness surging in these circumstances.

ZF: Do you actually want to pinpoint the exact era the film takes place or not? The setting also looks like Vilnius.
RL: I never wanted to pinpoint an exact era. Roughly it takes place in a nearby future or an alternate present, a few years after an undisclosed armed conflict. Making it more specific might become too political, grab the spotlight from the main character.
You're right, it is based on Vilnius. I wanted to use an existing city for the feeling of realism and Vilnius was an obvious choice, because I live here and I want to tell stories about my surroundings.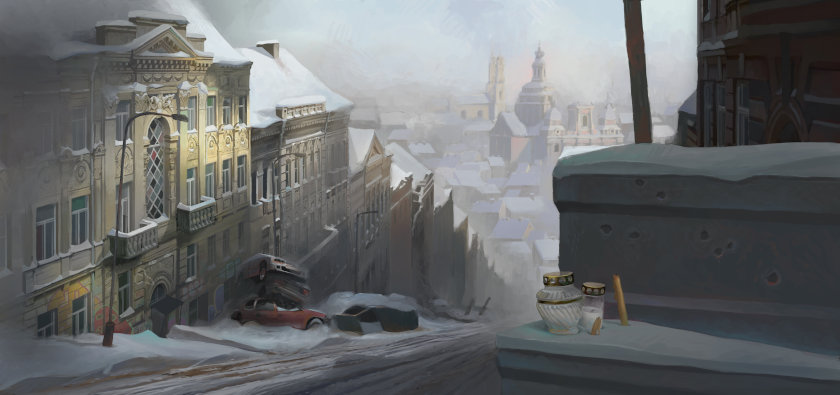 The background artist Gediminas Skyrius used photo references for the exterior shots, distorting the actual scale of the buildings for a more surreal look. As a big chunk of the film takes place in a single apartment, I created a 3D model for it. The extracted camera angles worked as guidelines for the background artist. This made the communication between us much easier.

ZF: I liked the scene of negotiating in the church. Was it always in the script? And did you actually have to add or delete things in the process?
RL: This scene was in the script from the first draft. We shot it exactly as it is in the film, not a single line of dialogue was cut out. One thing I originally wanted to add during the animation phase was a much bigger crowd in the church, at least thirty more characters. But the lesser number felt right during editing, a small bunch of dwellers looking for shelter looked lonely and isolated. A large crowd might have felt too comical.
ZF: Why did you opt for rotoscoping, needed a sense of realism? Was it TV Paint, I guess? Also lighting here has a very dramatic effect, shadowing people's faces
RL: Rotoscopy animation technique was chosen to pursue the look of distorted realism. To make it animated and cartoonish, but at the same time, awkwardly close to real life.  We used Adobe Photoshop for drawing. I've tweaked the workflow using timeline tools and custom actions to make it more like a proper animation software. It kinda works, but Photoshop is too complex, it's painfully slow with a 4K frame size and a long timeline. Surely I'm moving to TV Paint for my next project. It looks more convenient and snappier for animated film production. 
The dramatic film noir lighting and sharp shadows was my big priority from the start of this project. We developed this look with cinematographer Vytautas Plukas. I don't fancy the basic look of rotoscoped animation. Especially when it looks like a visual filter that just flattens the colors of a photographic image. I wanted it to feel a bit more like an animated film, not real life. Sharp lighting, burned out eyes, 12 frames per second and sometimes inaccurate rotoscoping was used to reach this.

ZF: You chose to have a full musical score; how did you collaborate with your composer
RL: I'm not fluent in music, so ideas were shared visually. I gave the music composer Domas Strupinskas a reference image with an empty apartment, abandoned and decayed, but with dazzling green plants growing inside. Combined with realistically grim sound design, the musical score should act as a glimpse of optimism. The composer proposed a classical string quartet which was recorded live in a unique underground punk club of Vilnius.

ZF: Wasn't it a big leap to have as your first professional film a 16-minute film? How did you work with your producer on that?
RL: It was a giant leap. During my film studies I've made a number of short live-action films. They were all around 15 minutes long and this length was never an issue. But it's a completely different story with animation. The 16-minute duration made it extremely hard to complete the film with a 3 person animation team. It took a year longer than we expected. For producer Giedrė it was also the first animated film, so both of us plunged into the unknown waters. But we're glad we were able to finalize it. If I had to do it again, I would never ever make a debut animated film longer than 10 minutes. 
Film Review (Vassilis Kroustallis):
It is a fight for integrity from the start. More than distorted buildings, there are distorted emotions in the rubble of an unnamed but still beautiful to behold city. Between the sunlight of the exteriors and the shadowy interiors, reside people with white, but still hollow eyes;  in a post-political, post-institutional situation, where all it matters is a place to lodge and eat, Snow Shelter suddenly becomes very much like the depiction of our digital nomads era -minus the work and the pay. Actor movements and blocking show the obvious; they are trapped like rats in a cage, with reflex movements leading to disaster. Still, Snow Shelter is not a sinister, post-apocalyptic world; it imperceptibly tries to help its main character, and attempts to connect past ease with present worries, to construct a sense of identity. It is character-driven, honest and memorable.
CREDITS:
Snow Shelter, 2020
Cast: Justas Tertelis, Juozas Budraitis, Giedrius Kiela, Judita Urnikytė, Dovilė Šilkaitytė, Šarūnas Puidokas, Valerijus Jevsejevas
Director and screenwriter: Robertas Nevecka | Producer: Giedrė Burokaitė | Cinematographer: Vytautas Plukas | Sound design: Julius Grigelionis
Music: Domas Strupinskas | Costume design: Mingailė Skuodytė | Set design: Dravis Kavaliauskas | Background artist: Gediminas Skyrius | Animators: Pijus Balkaitis, Pijus Čeikauskas


About Robertas Nevecka
Robertas Nevecka is a film director, animator, illustrator. He creates animated films, music videos, works as an assistant director on movie sets, draws film industry meta comics. Together with film producer Giedrė Burokaitė he founded a film production studio Akis Bado, aiming to work with classical hand-drawn, artistic driven animation, to tell raving underground stories, to promote the most peculiar local artists.

SIGN UP: Want to read more free articles like this? Sign up for Our Newsletter
Read More About: