Festivals
StopTrik Produces Animyths Workshop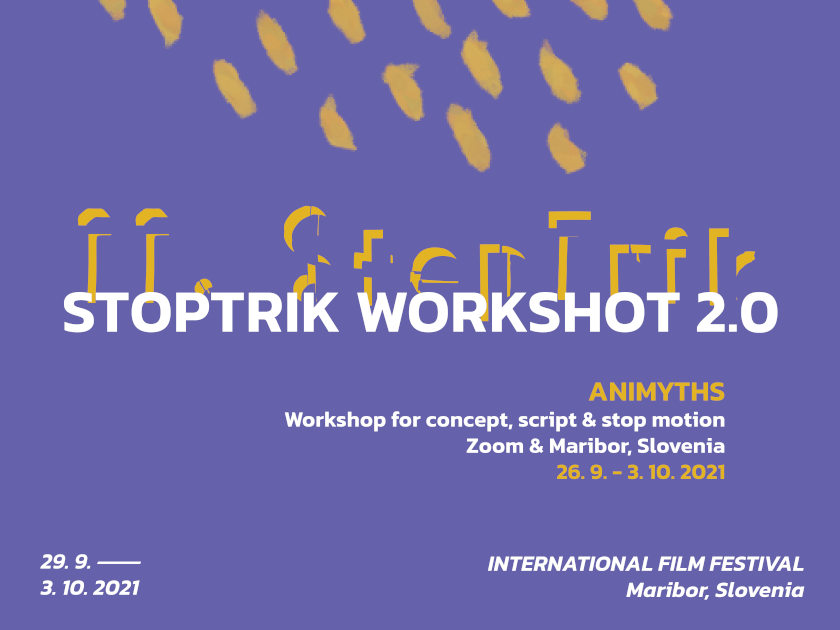 ANIMYTHS comprises of 3 stages of activity: (1) critical literacy workshop with Urška Breznik and Kaja Fiedler (head activists of the Pekarna magdalenske mreže NGO, Maribor, Slovenia), (2) script writing workshop with Vassilis Kroustallis (film writer, journalist, scholar, and founder of Zippy Frames, Greece/ Estonia), (3) animation filmmaking module with Martina & Marko Meštrović (Croatia).
WHAT ARE ANIMYTHS?

The 11th edition of StopTrik IFF thematically focuses on animated mythologies – under such notion we have put together retrospective programmes of the most brilliant historical and contemporary stop motion and experimental animations that adapt, twist, reinterpret, and sometimes even reinvent the stories and images which are fundamental for collective imagination in various cultural contexts. Entering the second year of the Covid-19 pandemic, and experiencing the accelerating proximity of the climate catastrophe, we all yearn for new images and narratives. It is our belief that critical examination and revision of the most universal narratives and representation tropes may stimulate and inspire the filmmakers to realize, reclaim or reposition themselves in a search for the new artistic language that could break away from status quo.
The concerns of political, social or ecological awareness do not necessarily have to be directly imposed on the theme of the film, sometimes the right metaphor or reference is waiting "just around the corner". Returning to the myths and dwelling upon the core structure and content of an artistic creation may empower the artists willing to use animation in an eccentric, adventurous and innovative manner in order to convey their hopes, anger, passion, frustration, desires or discords. Let's try to make ANIMYTHS a laboratory where learning practical skills of animation concludes exercises in understanding film art as a disturbing and estranged mirror of reality in crisis.
WORKSHOP STRUCTURE: TIME & CONTENT

Phase 1: 26. 9. 2021, Critical Literacy workshop with Urška Breznik and Kaja Fiedler, zoom
Through a critical literacy workshop we will encourage the realization that knowledge is a
social construct and deepen our ability for critical understanding, interpretation and production of information. Namely, access to knowledge and information has a big impact on creation and preservation of inequality. With various theoretical tools we will reveal the relationship between knowledge and power and develop a critical attitude towards our own knowledge. We will raise awareness about economic, political and social interests that affect knowledge, information and the content we chance upon or produce on a daily basis. With the help of critical discourse analysis we will deconstruct audiovisual texts and search for hidden agendas and missing voices. During this phase you will learn about: - Power relations in the society and the ways to analyze them - How accessing knowledge and information is related to power - Application of critical discourse analysis in reading of written, visual and audiovisual texts

Phase 2: 27. - 29. 9. 2021, Script writing workshop with Vassilis Kroustallis, live event
On the first day of the workshop the participants will be introduced to the essentials of film narrative theory. The 90-min seminar will first cover the themes of plot and character structure, as evidenced in major narrative theories; but it will quickly focus on the notion of myths and archetypes presented in films, and more particularly the 5 'ArchePaths' framework of story development professional and mythologist Pamela Jaye Smith. The seminar will explain the major characteristics of these ArchePaths, how they lead to recognizable characters and actions, and apply them to instances of short animated films. From September 27th to September 29th the participants will work with Vassilis Kroustallis (individually or in groups according to their preferences) on the first draft of a short animated film which thematically refers to an original, canonical story of cultural importance to them. The script conceived during this workshop should function as a "blueprint" for the filmmaking part.
During this phase you will learn about:
 film narrative
character development & individual scene construction ("story beats")
saying farewell to initial ideas, and embracing new ones

Phase 3: 30. 9. - 3. 10. 2021, Animation Filmmaking with Martina & Marko Meštrović, live event
Under the supervision of highly creative and award-winning animators Martina & Marko Meštrović, and with the use of cell-phones and Stop Motion Studio application you will be challenged to make your ideas come to life in all desired techniques of stop motion animation. Starting from storyboard, getting through animatik, you should finish the workshop with 1 or 2 scenes to be presented at the festival closing. At this stage everything will revolve around the visual style you wish you develop, and exploring the animation filmmaking procedures that can allow you and your viewers to "feel the film".

During this phase you will learn about:
creating storyboards and animatics
stop motion tricks
unleashing your visual imagination
GETTING READY FOR THE WORKSHOP
When arriving at the phase 3 (animation filmmaking) you should have: (1) a laptop with any editing software installed; (2) a cell-phone with STOP MOTION STUDIO free application installed.
MENTORS' BIO
Urška Breznik a Sinologist and art historian, director of Pekarna Magdalenske mreže since 2013. She coordinates projects in the field of youth and cultural and develops and leads critical literacy workshops and seminars for young people, youth and pedagogical workers and general public. Executive producer of StopTrik IFF.

Kaja Fiedler a Sociologist employed at Pekarna Magdalenske mreže since 2016. Developing and leading critical literacy workshops and seminars for young people, youth and pedagogical workers and general public. Coordinating educational project in the field of housing cooperatives, climate crisis and workers rights. Producer of music events at StopTrik IFF and editor of StopTrik IFF website and social networks.

Vassilis Kroustallis is a Greek film and animation professional, currently based in Tallinn Estonia. He has conducted studies in Classics, philosophy and film in the UK and Greece. He has extensive experience of animation festival programming, currently serving as animation programme director at PÖFF Shorts (Tallinn); he is also Head Editor of the online international journal Zippy Frames. He is both a film and animation scholar (won the Society for Animation Studies award for his Waltz with Bashir study article) and a creative writer. His short film scripts The Hotel and Mar(t)y have entered into screenplay competitions, with Mar(t)y being the finalist at London Greek Film Festival 2020. He has acted as a professional consultant for animation filmmakers. He just completed his first directed short film and drama, Homespital, currently shown in international festivals.
Martina Meštrović graduated from the Sculpture department from the Academy of Fine Arts in Zagreb in 1998. She has held several solo and group exhibitions. In 2004, she joined the art
collective Kreativni sindikat, working as a 2D and 3D set designer, animator and director. She lives and works in Zagreb. Filmography: A Cat Is Always Female (2019), Peter's Forest (2016), Bla (2013).

Marko Meštrović graduated painting from the Academy of Fine Arts in Zagreb. He has been in animation since 2000. His films were screened at some of the most important film festivals (Locarno, Annecy, Clermont-Ferrand, Ottawa, Edinburgh, Sarajevo) and received many awards. Plays drums in world-music group Cinkuši. Selected filmography: The Raft (2021), Trip (2017), Levitation (2014), Why Elephants? (2012), No Sleep Won't Kill You (2010).
REGISTRATION
Maximum number of participants: 10
 Apply at: This email address is being protected from spambots. You need JavaScript enabled to view it.
The registration fee is 60 euros and combines an 8-day, theoretical and practical educational program with experienced mentors, a varied festival happening and a warm meal a day during the festival.
Early birds registration fee is 45 euros until September 10th
 Animations made as part of the workshops will be shown publicly at the closing event of the festival, on Sunday 3rd October at 8 pm in the hall of the Vetrinjski dvor.
All events will be held in accordance with the National health institution guidelines and in accordance with provisions of the Government of the RS. For participation person need to meet the recovered-vaccinated-tested requirements. Face masks are required upon entering. In the case of stringent Covid-19 measures there can be some changes or cancellation.
Read More About: