Shorts
The Albatross by Paul Bush (Classic Animation Frames)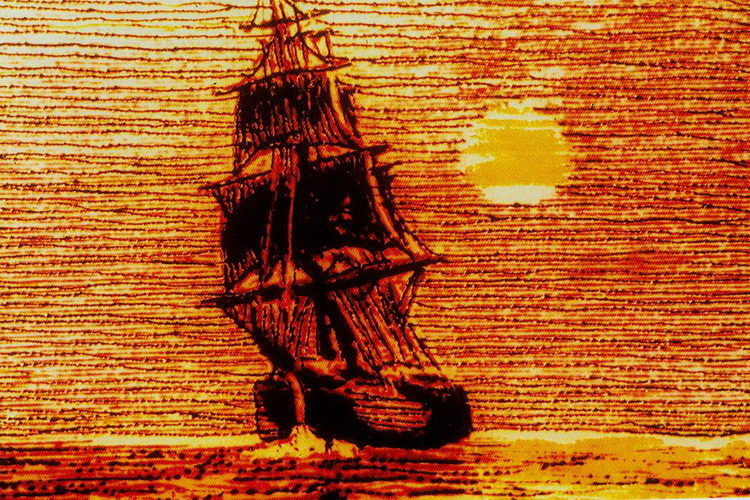 Before Robert Eggers and his 'Lighthouse' (2019), there was Paul Bush and his equally absorbing parable, 'The Albatross'. The UK animation filmmaker (1956-2023) has left an impressive body of work behind him in his films and his own teachings and masterclasses.
In the 15-minute film, 'The Albatross', he adapts 'The Rime of the Ancient Mariner', a poem by Samuel Coleridge (read the whole version here). Both in Coleridge's poem and Bush's film, one man survives through an epic voyage to tell his compatriots a tale of destruction and redemption.
Awe and wonder are the first feelings when watching the film, carefully made by using 19th-century etchings and live-action material, film all of them (16mm), and then scratching the surface of its enlarged 35mm color filmstock (more on the exact technique used). There is a feeling of watching the artist and director create in the making of his film, paralleling the narration of the mariner to his fellow land residents. 
The result is both mesmerizing and tangible at the same time, as if the audience were at sea watching etchings suddenly move and in danger of getting lost from view. Bush has carefully laid out the plan for his necessarily limited and monochrome color palette from scene to scene, and the analog effect is here as powerful as ever: we travel along with the film to the Pole and back again.
This is not to say that 'The Albatross' is just an experimenting exercise on imagery. The story of ecological catastrophe is of course here addressed, but there is a deeper level of humanity and connectedness that is sought. The old mariner won't simply narrate his story to himself, but to spectators ready for a wedding; a celebration of the community is going on, and all the joyous violin music (with the secondary characters framing the action) give more than just ecological danger. It is the need to have your story heard -even if the spectators need to recreate the story in their heads (which is what the animated film exactly does here).
This recreation of a poem that recreates existing still images and videos that recreates a story to spectators brings this vitality and energy to the film; we are constantly alert, trying to get every single detail of both the images and the spoken words. And Paul Bush makes sure his camera shots can be both wide and reflective and close and dramatic when needed -while the voiceover (by Gerard Murphy) makes a wavy trip look more solemn, grounded, but also needy.  'The Albatross' has its own distinctive seal of animated filmmaking that can never be missed.
Watch The Albatross by Paul Bush
SIGN UP: Want to read more free articles like this? Sign up for Our Newsletter
Read More About: