Shorts
The Blissful Accidental Death by Sergiu Negulici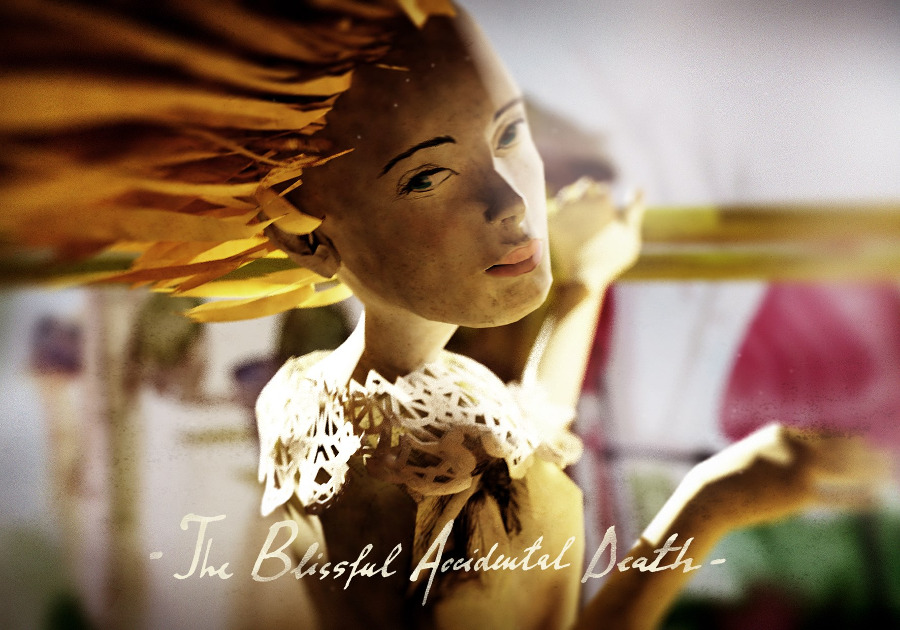 Entering an antique shop, a young man finds an intriguing drawing which is hiding a secret love letter on the back, written 70 years ago. After finding out that the author of the drawing is still alive, 105 years old, and persuasive in finding out if the story is real, the man goes on an unusual journey to meet her, the painter who befriended many important Romanian artists at the beginning of the 20th century. 
Armed with both the top prize at the recent 2018 Hiroshima International Animation Festival, as well as the 2017 Cinanima Grand Prix and the Annecy festival prize for first work,  The Blissful Accidental Death seems both highly topical and highly universal at the same time - it  is, after all, history of the art and culture in the making.
As the director himself describes it, "like the knitting of a burgundy sweater".  The Romanian animation short by Sergiu Negulici ( Reniform Production/ Abis Studio, but also trainer at Animest Worksheep editions) was inspired by his real encounter with the then 105-year-old Romanian Jewish painter Medi Dinu (Martha Dinescu in
film, died in 2016). Dinu was in a circle of many Romanian artists and intellectuals, who transferred Dadaism to Romania.

"One of the main things that impressed us about this woman",  Sergiu Negulici and scriptwriter Ioana Nicoară tell Zippy Frames, "was this incredible list of intellectuals and artists she met during her life. She was married to Stefan Roll, a Dada poet and was close to the Brauner brothers. Nae Ionescu, Gellu Naum, Sașa Pană, Marcel Iancu, Mihail Sebastian, Geo Bogza, Tristan Tzara.  It was quite an important part of her social life, so we tried to make that visible".
Negulici was introduced to the painter almost by chance, by going to an antique shop and finding an old love letter of hers in the backside of a lithograph. But it would be false  to describe this as arts news documentary, and Negulici insistently states that is a point of view -constructed film .
"We thought that life itself has a Dada way of being, so we constructed the film to appear like unrelated fragments".  After a lot of initial research, the three scriptwriters,  Sergiu Negulici, Ioana Nicoară and Manuela Marcovici, met up in a bar with a big roll of paper  put on the table and wrote down the things they knew about Medi and her life.  "The initial script was only the train part"  Nicoară explains,  "as a metaphor to  comprise periods of her life into wagons. However,  Sergiu realized that the real story of how he found the drawing and went to meet her was a good cover story, and engaged people emotionally more; so,  we added that up. We then drew a rough storyboard, and actually wrote the script afterwards".
Animator Sergiu Negulici (The Blissful Accidental Film is his first animation short) was trained in arts and sculpture in N. Tonitza Art College and National University of Arts Bucharest.; therefore, he was familiar both with 2D nature of painting and the 3D, tangible sculpture. The film itself needs both; The Blissful Accidental Death alternates between a 2D animation for the autobiographical, interview sequences, and a 3D animation (but paper-like) for the main train journey.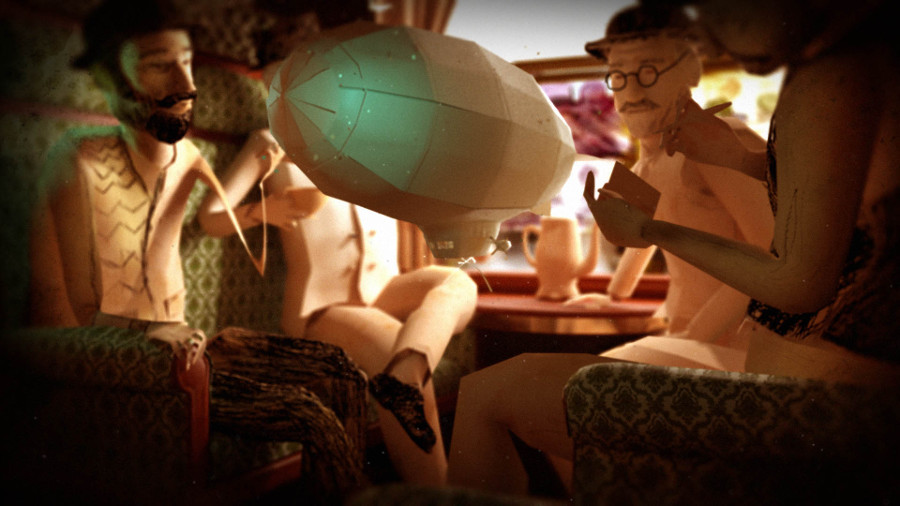 "The paper-like look of the film was something that I was thinking of for a long time and wanted to experiment in a short", Negulici elaborates, "but  It also happened that paper seemed a key material for this story as well. I developed two key visuals for the film before entering production and the team tried to stick to that". The real interview story necessitated a 2D approach to match her own drawings. Negulici also  preferred to add the 3D paper with the 2D drawing on top, to be closer to the train part.
The process extended to the film lighting, which penetrates the train wagons like a camera intruder who needs to know more about its residents;  but each wagon and shadow was a character in itself. "We treated each wagon as a diorama, a small stage, like a theater play, so we lighted it up accordingly to the state needed in every part of the film. "The movement of the camera in the train was designed to have that feeling of when you walk in a full train, searching for your seat and you catch up fragments of actions along. "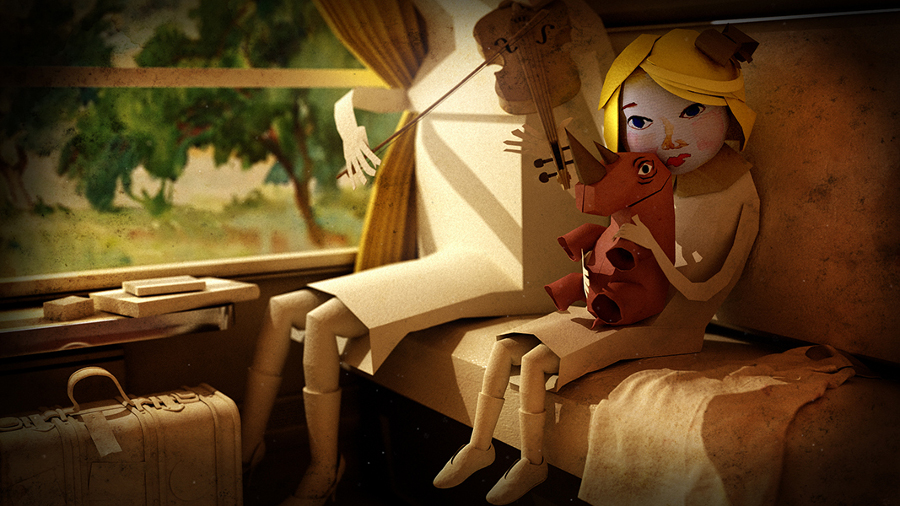 The journey itself is an experiential trip, almost magically constructed but still not a stream of consciousness affair either. "No element was placed by mistake or just happened to be there" Negulici concurs. "It was clear that we would use metaphors to suggest certain events of Medi's life. Each wagon has a sort of riddle. Why is the woman in a wagon full of water and fisher nets? The answer is she was painting at Balcik by the sea. Some riddles are harder than others, but we didn't want it to be easy either. 
Director and scriptwriters tried to keep the internal logic of a character's motivation, placement and action consequences. "But we also wanted the journey to be spectacular, like Medi's life, and the journey sometimes presents what we think might've happened in her life, at a certain time".
Furnished with an a strong ally in music by Vlaicu Golcea, which moves from hypnotic to celebratory in a few seconds ("he managed to surprise us", says Negulici), The Blissful Accidental Death refers in its title to the momentary wish of a happy ending (instead of a long torture). But this visual, calculated feast of intellectuals, artists and their Mitteleuropa dreams and desires makes it an inescapable place to be and experience; at the same it feels like watching a piece of history, more daring and more personal than a contemporary global states of affairs. This commitment to both the era and personal experiences makes The Blissful Accidental Death one of the most distinctive animation shorts of the year.
Sergiu Negulici now prepares a new shost, Numinosum, currently in post-production (to be released in 2019). Here's the first still of the film.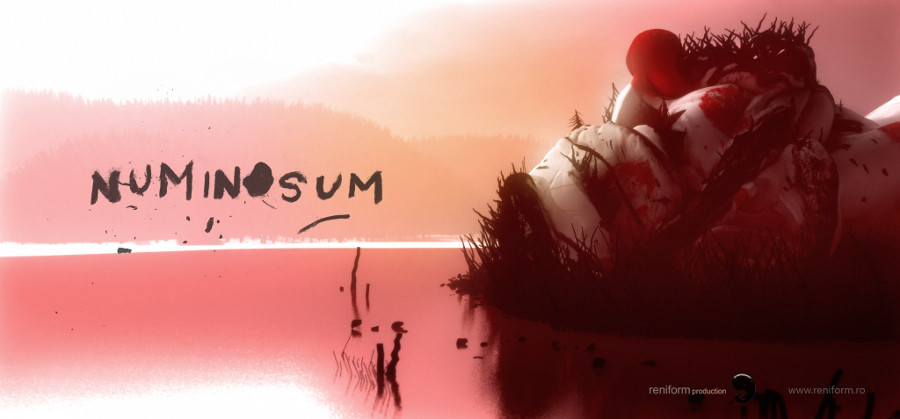 CREDITS:
The Blissful Accidental Death, 2017
Directed by Sergiu Negulici
Script: Sergiu Negulici, Ioana Nicoară, Manuela Marcovici
Produced by Reniform Production/ Abis Studio
Producer: Adriana Ionică
Animation: Sergiu Negulici, Ioana Nicoară, Manuela Marcovici, Ruxandra Corduneanu, Anca Laura Adascăliței, Lu Pop, Răzvan Diț, Alex Boncea
Music: Vlaicu Golcea
Sound Design: Tudor Petre
Foley Artist: Sebastian Zsemlye
SIGN UP: Want to read more free articles like this? Sign up for Our Newsletter
Read More About: