Feature Animation
The Summit of the Gods by Patrick Imbert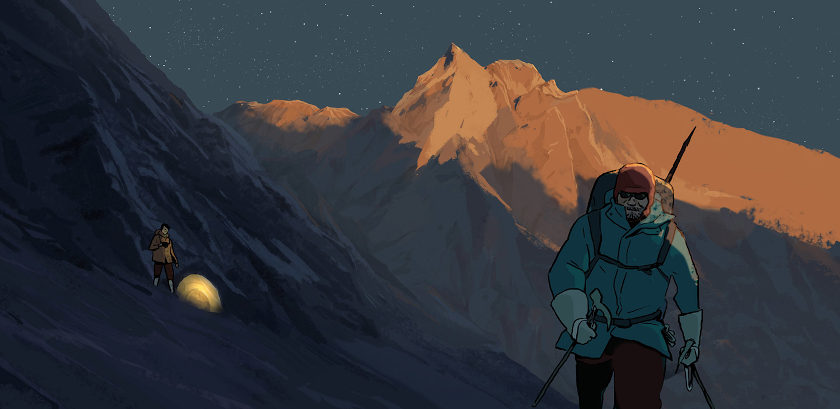 Kathmandu.

Japanese photoreporter Fukamachi accidentally comes across a camera that may well have belonged to Mallory, a famous mountaineer who disappeared in 1924. But a stranger comes along and takes the camera before Fukamachi gets a chance to see if the film is still inside. When he gets back Tokyo, the reporter finds out who the man was: Habu, a mysterious mountaineer who fell off the radar in 1985 after deserting an expedition to Everest with wounded pride.
Watch The Summit of the Gods Teaser:
CREDITS:
Summit of the Gods, 2D (90')
Adapted from the manga The Summit of the Gods by Jirô Taniguchi and Baku Yumemakura
Directed by: Patrick Imbert | Written by: Magali Pouzol and Patrick Imbert with the collaboration of Jean-Charles Ostorero | Music by: Amine Bouhafa | French Distribution: Diaphana Distribution | International Sales: Wild Bunch International | Coproduced by: France 3 Cinéma, Rhône Alpes Cinéma | In association with: Canal+, Ciné+, France 4, France 3, CNC Passerelle Cinéma, CNC Avance sur Recettes, CNC Création Visuelle et Sonore, Film Fund Luxembourg, Région Ile de France et Région Auvergne-Rhône-Alpes
Procirep, Angoa, La Fondation GAN, Cinémage 14, Palatine Etoile 17, Indefilm 8 | © 2021 - JULIANNE FILMS - FOLIVARI - MÉLUSINE PRODUCTIONS - FRANCE 3 CINÉMA - AuRA CINÉMA
Τhe Summit of Gods is presented as a Work in progress session during Annecy Festival 2020 Fri, Jun 19, 2020 at 2:00 GMT+1.
SIGN UP: Want to read more free articles like this? Sign up for Our Newsletter