Reviews
The Tragedy of Man by Marcell Jankovics Review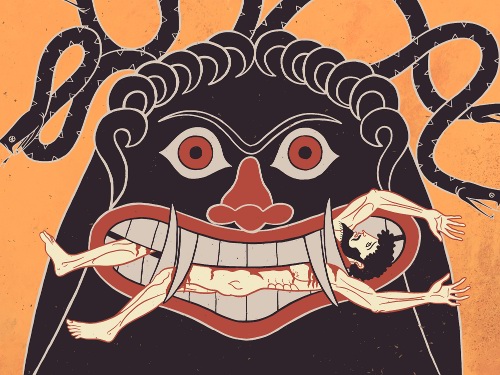 The Hungarian Marcell Jankovics (Oscar-nominated for his Sisyphus) and Cannes-awarded for his Flight (1974) has finally assembled together (and the end credits note the 20-year period) the epic and bleak story of human civilization, from the Garden of Eden to the chilling humanoid future.
This is a film adapted from Imre Madách's novel. Even though the task seems daunting enough, the motto is simple and can even be captured by the synopsis: either man is slave (to other men or to God) or free to despair -endlessly and in his unending quest for knowledge.
 Lucifer, the co-creator of the world (according to his statement) tests Adam and puts him to sleep to see his destiny through the ages. The trip is interesting, visually stimulating (but never pretty), and relentlessly repeating.
Not a single note of happiness or laughter enters The Tragedy of Man, which proceeds from the Garden of Eden to Egypt and then to classical Greece, Rome, Christianity and beyond.
At the some time, even the most shocking scenes (decapitation for instance) are given almost philosophically calm, as a result of the inevitable recurring world press.
The choice of the stories to tell is varied and remarkable. Along with the usual historical suspects (Danton and the French Revolution, Hitler and Stalin), the Miltiades story from Greece (a general who becomes a traitor), and the Tancred and Crusades segment -along with the battles on the Filioque- are a treat to watch in this context.
Yet, the most dramatic story is the one of Copernicus. In a film that utilizes an impressive array of visual styles, the almost simplistic black-and-white story of a genius who lives by telling the daily horoscope is fascinating and ironic enough to give credit to the insatiable but dooming need of the man to knowledge.
Not all of The Tragedy of Man follows along the same path. Even though the modern-era circus scene is impressing, the modern computerisation (that echoes the bad side of the Platonic Republic) is dealt with hastily. Most importantly, the never-ending dialogue of Lucifer and Adam seems more to preach about human unhappiness than actually showing it. And
Still, The Tragedy of Man is a film that needs to be taken seriously. This animated existential-philosophical melange is not without its flaws (close imitation of the Faust being one), yet it shows respect, care and genuine narrative and visual consideration  for a subject-matter few would dare to tackle.
Vassilis Kroustallis
Read More About: