Shorts
Two For Two by Jelena Oroz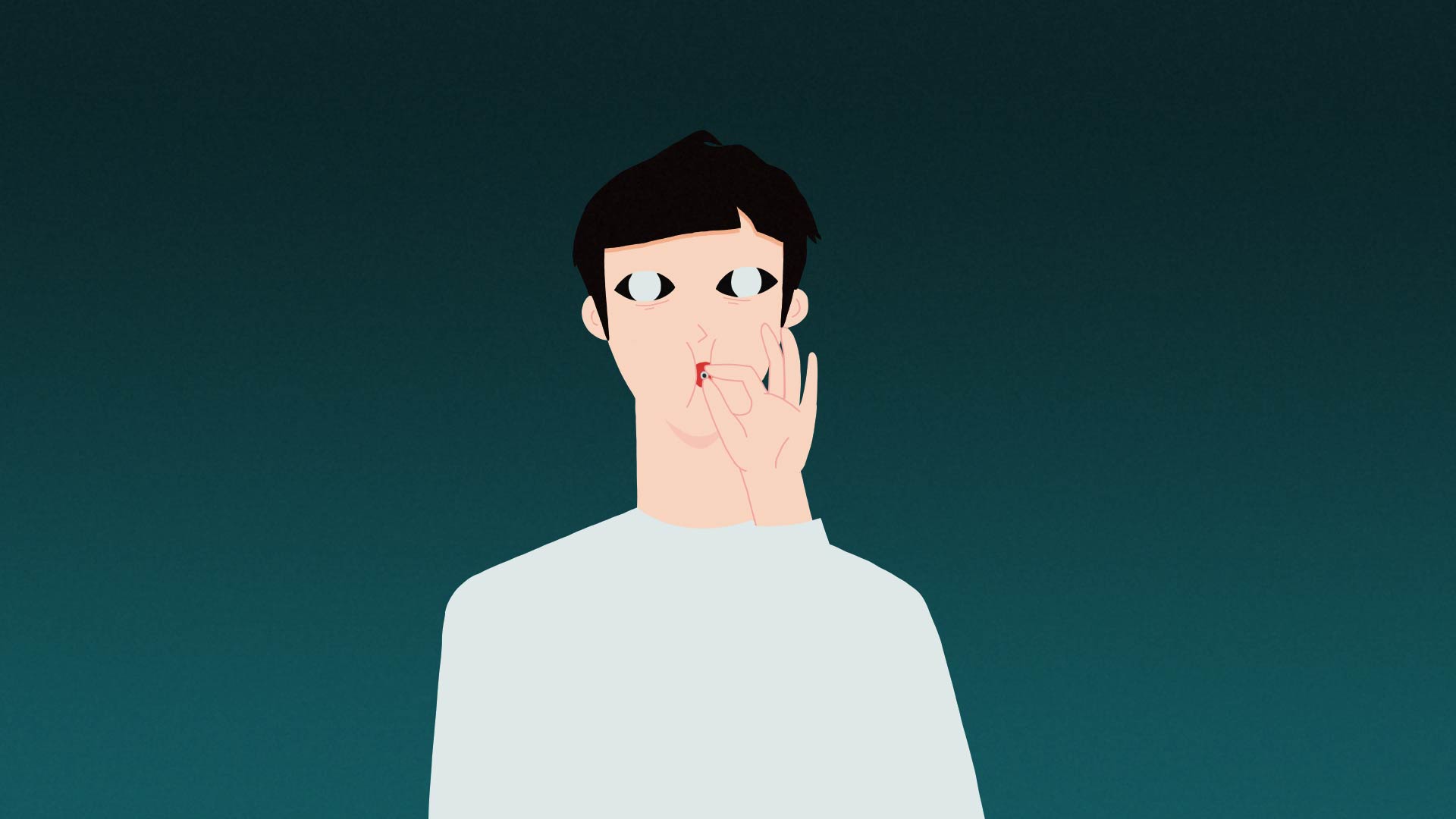 Our home is a fragile flower. Milk and honey. Cocoa and hell. Everyone pets their own bunny. This is the text and poem that appears in the intrinsically masked (and very finely executed) 2D animation film Two For Two by Croatian director Jelena Oroz.
Oroz first hit the festival screens with Wolf Games (watch it on Vimeo), another masked story of deception; it was there depicted as the story of a hunter and hunted changing roles, and the games in between. Oroz never expected the festival life her graduation film (Academy of Fine Arts, Zagreb) would have, she tells Zippy Frames; in Wolf Games, she experienced both total responsibility ('I did it all by myself') but also freedom to make spontaneous decisions and to change anything during production.
Another step forward and you meet Two For Two, her first professional film; at the same time,  this being a more personal and intimate film for Jelena Oroz, a self-described 'experiment focusing on tempo, visuals and sound'. Partnering with the always reliable and distinctive in independent animation circuit Bonobostudio, Oroz found herself in an environment where the sheer amount of people working on the film was definitely increased  ('It wasn't so difficult, but rather, it was very different' she mentions). The final film result has had its own festival life (Special Mention at Animafest Zagreb 2018, Special Mention at Animateka 2018, Honourable Mention at London International Animation Festival, ITFS Stuttgart, Animatou, Encounters Bristol selections).

Watch it below:
'The story started to develop from one illustration that I made for fun' Oroz explains." It was a girl in white coat petting a black bunny. And there was a guy next to her, wearing black, holding a white bunny. They looked like they were in a kind of relationship, but their eyes were focused on bunnies. That's how idea came, the bunnies are actually their egos. And by cuddling them, they are making them grow'.
Story modifications were to be expected. 'In the original, the couple would travel to a motel and have some strange rituals which in their mind was making love. And when the couple would fall asleep, bunnies would appear sitting on the couple's chest observing them'.
But some ideas remained, namely the directorial decision to have text titles inside the film.
I had an idea to divide the film into small chapters. Each chapter would have it's own title. I got attached to chapter titles. It reminded me of children's songs with some naive but wicked tone, and I wanted to keep them. The idea was to avoid classical way of storytelling, and use it as transition from one sequence to another. In my mind it works like a commercial break selling attractive story of love, but it is clearly rotten and wrong - Jelena Oroz
The symmetry between the two characters and their bunny avatars was also there from the start. 'It came very naturally for me' Oroz elaborates. 'At first, visuals had much more details and colors but along the way I decided to reduce and only keep the essence. Clear view of the sky at the time gave the idea of smooth gradients for the backgrounds'.
What changed was the character design. They had to look dull, and a bit unreal. 'Firstly I managed to achieve this using crayon brushes. But then this idea was refined into clean shapes to provoke more of relaxing and meditative feeling'. Balancing between the disturbing and the pleasurable, Oroz found the perfect fit in the bunny design: 
Bunnies seem very fragile, soft and tender, but their face expression doesn't exist. At least that's my impression. You can't really tell if they are positive or negative characters - Jelena Oroz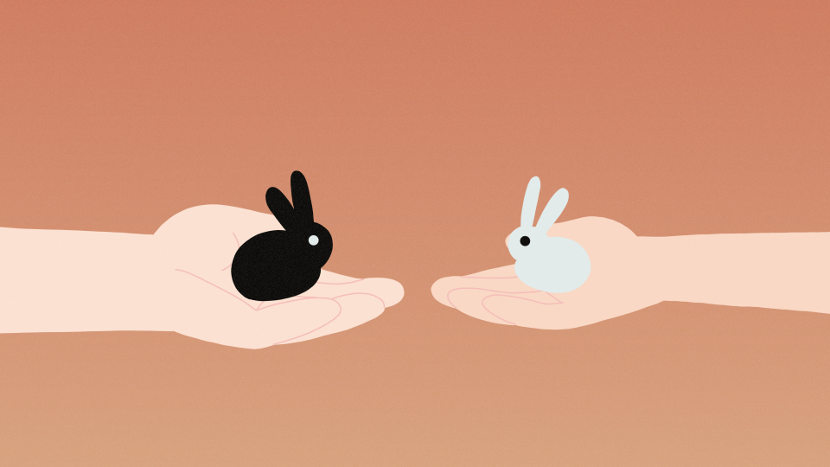 Director also had the artistic support of producer Vanja Andrijević ('she was really supportive from the beginning), animator David Lovrić (they both followed a more intuitive path of filmmaking along the process), sound designer Dinko Klobučar ('he successfully transferred my sensibility through sound design'), and the three of them (Oroz- Lovrić - Klobučar) were actually getting into creative decision even before the film was shot.
Two For Two was supposed to have really dark atmosphere. But at the beginning of production I moved from capital city to a peaceful village. I was also pregnant with my first child. I guess all that had an impact on how it all changed trough time, but I kept a bit of strange bizarre nonsense that looks perfectly normal - Jelena Oroz
Her next film (now waiting for results from The Croatian Audiovisual Centre) is an animated short for children. It is written by Jasna Žmak, and produced again by Bonobostudio. The story has a clear narrative, loveable animal characters and brings a message on free sharing of available knowledge, value of friendship and teamwork ('I would love to share this with my son and children in general', Oroz states). But the Croatian director promises she will turn again to twisted, obscure and bizarre projects. Cant' wait.
Film Review (Vassilis Kroustallis)
Two For Two is a remarkable co-ordinated power struggle between coupled reality and avatar fantasy. Symmetry, repeated scenes, and a sound design that alternates between eerie sounds and sounds that give the impression of corks opened or rifles shot makes this experience as tantalizing but always inviting to watch. Oroz makes her solid designs (especially the eyes) almost impenetrable - and the issue here is not the individual but the action in between. What matters in Two For Two is not just relationship deterioration or replacement of reality with bunny fantasy -it is the feeling of how the characters themselves indulge in this fantasy. Frightening, but seductive all the same.
Jelena Oroz (1987) graduated with a BA in Fine Arts Education from the Academy of Arts in Osijek. In 2014, she obtained an MA degree in Animated Film and New Media at the Academy of Fine Arts in Zagreb. She works as an animator. Jelena's graduation film Wolf Games screened at numerous festivals, including Animafest and Annecy.
CREDITS:
Two For Two, 2018
Scriptwriter, director, design: Jelena Oroz
Animation: David Lovrić
Additional animation and compositing: Jelena Oroz
Colouring: Jelena Oroz, Leona KadijevićEditing: Iva KraljevićMusic and sound design: Dinko Klobučar, David Lovrić
Producer: Vanja Andrijević

SIGN UP: Want to read more free articles like this? Sign up for Our Newsletter
Read More About: