ANIDOX: VR Award 2023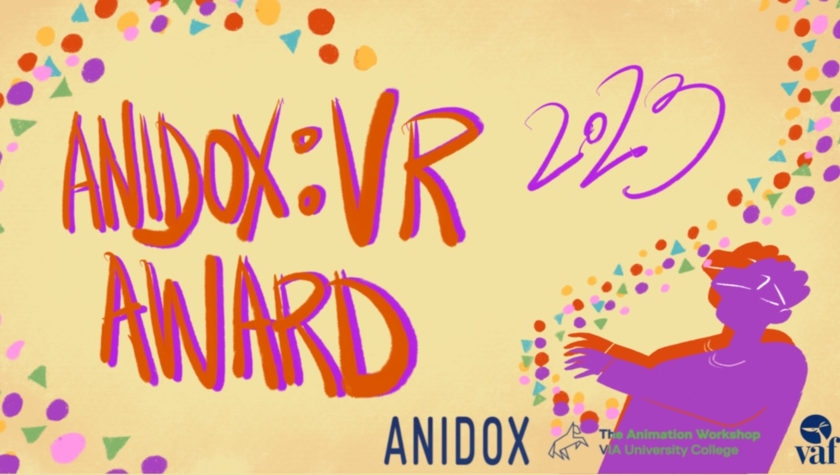 Deadline | Event Dates (period)
Email
This email address is being protected from spambots. You need JavaScript enabled to view it.
Final submission deadline
2023-07-15
Submission/Registration Fee
Yes
Event Description
ANIDOX and Viborg Animation Festival, have initiated a new award scheme – ANIDOX:VR Award, which distinctively addresses factual and visual storytelling in emerging media/VR. Awards include a cash prize and a residency grant for the development of new works 
Viborg Animation Festival, as well as the ANIDOX:VR Award is produced and organized by The Animation Workshop, Viborg Denmark. 
2023 Call for Entries
The ANIDOX:VR Awards competition is open to all original works, immersive and/or interactive VR experiences which can be justified as an animated documentary.
• Submissions are opened to all works completed 2022 -2023.
• A jury made up of a number of international industry professionals from the fields of XR, cinema and the arts will evaluate the experiences that have been selected.
• The jury will award prizes recognizing the best immersive and/or interactive works in the competition, for their contribution to innovative storytelling and production.
• The devices that may be used to watch the experience: HTC Vive or focus, Oculus Rift or Quest 2, or Playstation VR. Only playable builds are accepted.
=============================
2020 Award Coverage
Selection:
Hush by Vibeke Bryld, Final cut for real, DK (12 min.)
Minimum Mass by Raqi Syed and Areito Echevarria, Floreal films FR/NZ (20 min.)
Missing Pictures: Birds of Prey by Clément Deneux, Atlas V (8 min.)
The Dawn of Art by Pierre Zandrowic, Atlas V, FR (10. min.)
Watch the trailers:
2019 Award Coverage
The winners of the first-ever ANIDOX:VR Awards:
Best Immersive work (1000 €): *The Scream* (Sandra Paugam and Charles Ayats / Cineteve)
Innovative storytelling (Residency): *Another dream* (Tamara Shogaolu / Ado Ato pictures)
Jury and expert panel: Klara Grunning (Swedish Film Institute), Simon Løvind (Danish Film Institute), Uri Kranot (ANIDOX) and Monica Hellström (Final cut for Real). 
In Competition:
Ayahuasca Kosmik Journey - 2019 / 18 Min / France, Luxemburg, Director: Jan Kounen, Production: Atlas V, a_BAHN, Small
Accused # 2 Walter Sisulu -  2018 /15 min. / france, Director: Nicolas Champeaux and Gilles Porte, Production: La générale de production
Homestay -  2018 / 15 min / Canada
Directors: Paisley Smith, Jam3 and the NFB Digital Studio, Production: National Film Board of CanadaAnother dream - 2019 / 20 Min. / Netherlands Directors: Tamara Shogaolu, Production: Ado Ato pictures
The Scream - 2018 / 15 Min. / France Directors: Sandra Paugam and Charles Ayats, Production: Fabienne Servan Schreiber and David Bigiaoui
Out of Competition:Songbird VR Installation – 2018 / 10 Min. / United Kingdom/ Denmark Directors: Lucy Greenwell / Michelle & Uri Kranot
Event Dates
From

27/09/2023

to

01/10/2023