Animated Frequencies Workshop: Ottomani Laboratori, 28-30/9/18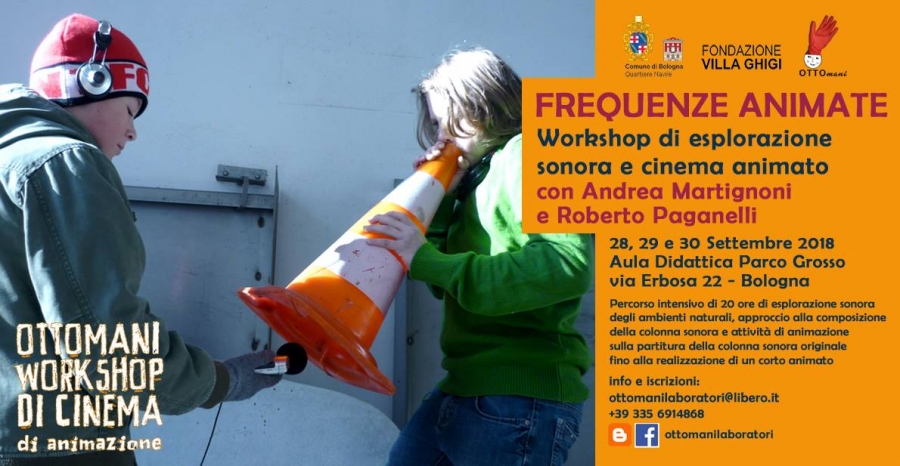 Deadline | Event Dates (period)
Email
This email address is being protected from spambots. You need JavaScript enabled to view it.
Final submission deadline
2018-09-26
Submission/Registration Fee
Yes
Associazione OTTOmani with the Municipality of Bologna / Quartiere Navile and Fondazione Villa Ghigi present:
ANIMATED FREQUENCIES: sound exploration and animated cinema workshop
Intensive workshop of 20 hours of sound exploration of the natural environments, approach to the composition of the soundtrack and practical activity of stop motion animation on the score of the original soundtrack up to realize the final animated movie.
Teachers: Andrea Martignoni + Roberto Paganelli (OTTOmani a.c.)
Friday 28 September 2018 at 9:00 pm at "Serre dei Giardini Margherita" (Bologna) the workshop will be completed by the public presentation by Andrea Martignoni showing the sound works created for animated cinema.
Description of the workshop activity:
Introduction to the concepts of observation and recording of sound with a subsequent approach to digital audio recording tools.
Exploration and sound perception exercises, exploration exercises and sound perception, sound recording exercises in indoor and outdoor environments
making a sound walk between city and nature and along the route of "Navile" Canal, adjacent to the site of the workshop.
Elements of technique of audio editing and realization of a short soundtrack to be used as a score for the for the animated short movie that will be made.
Illustration of the working method of the animated film: tools for animating, preparing the set, analysis and differences of the materials proposed for the animation, animating on the basis of a soundtrack as a reference for the construction of the film.
The work will be organized for small groups both in the activity of sound exploration as well as in the realization of the animated film. Conclusion of the realization of the animation on the soundtrack and final projection of the completed film.
Workshop does not require any prior knowledge of animation or the use of digital audio recording equipment. All necessary equipment will be provided by OTTOmani Association.
Practical Details:
SCHEDULE: Friday 2:00 pm - 6:00 pm, Saturday and Sunday 10:00 am - 6:00 pm, AULA DIDATTICA DI PARCO GROSSO, via Erbosa, 22 Bologna (Italy)
COST: 120,00 euros (including OTTOmani membership card). The materials are included in the registration cost.
Maximum number of participants: 14, minimum number of participants: 6.
Registration closes on Wednesday 26 September 2018.
To register you must book by writing to the email: This email address is being protected from spambots. You need JavaScript enabled to view it.
At the time of registration, an advance payment of 60,00 euros is required.

For information and reservations: This email address is being protected from spambots. You need JavaScript enabled to view it. // +39 335 691 4868
Event Dates
From

28/09/2018

to

30/09/2018