Animatus Libris - Stop-Motion Workshop, 23-24/3/19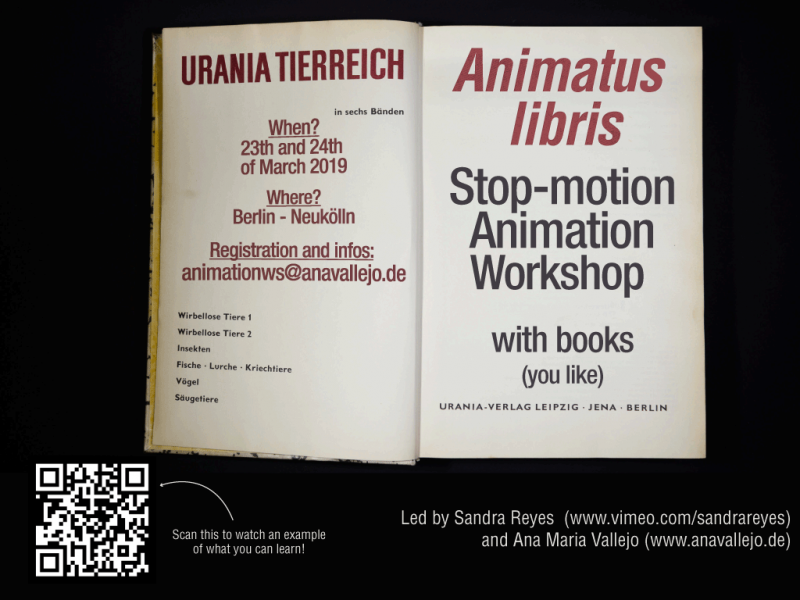 Deadline | Event Dates (period)
Email
This email address is being protected from spambots. You need JavaScript enabled to view it.
Final submission deadline
2019-03-22
Submission/Registration Fee
Yes
Animatus Libris – Stop-Motion Workshop in Berlin!
Registration is now open for "Animatus Libris", the stop-motion workshop where we will decipher the fascinating world of animation. Our starting point will be your favorite books, and we will bring them to life.
This workshop will be led by Sandra Reyes, stop motion short film animator (vimeo https://vimeo.com/sandrareyes) and Ana Maria Vallejo, lecturer on animation at the Bauhaus Universität in Weimar. (https://vimeo.com/anamariavallejoc)
The workshop mainly targets artists, designers, filmmakers, and related areas, but is also open to everyone interested in animation and beginners in Animation!
 What you will need?
One or more books that you want to intervene, or which you would like to use as the scene for your animation. (We will also have some boof available for you to intervene)
Materials to do handicrafts (scissors, glue, tape, clay, colored pencils, etc.)
If you have a camera and a computer with Adobe After Effects, bring it with you.  (optional)
 When and Where:
March 23 & 24, 2019, in Berlin-Neukölln
From 10 AM to 6 PM
 Cost:
150€

To register or request additional information, contact us at This email address is being protected from spambots. You need JavaScript enabled to view it.   
Event Dates
From

23/03/2019

to

24/03/2019