Baltic Pitching Forum 2023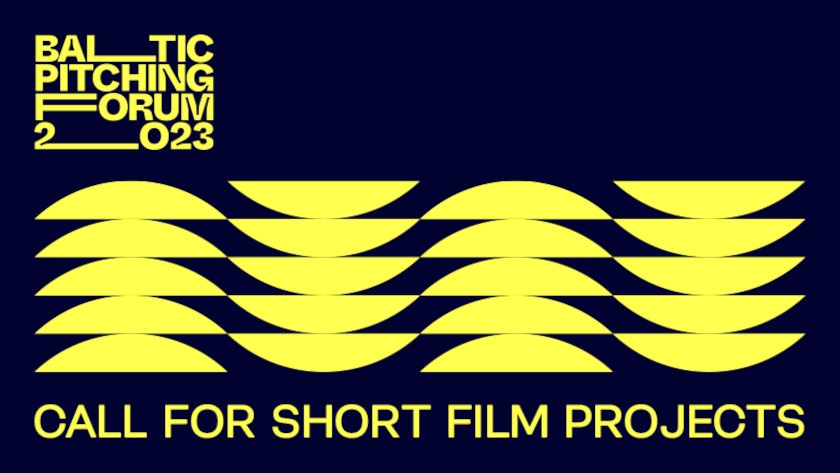 Category
PITCHING & INDUSTRY
Deadline | Event Dates (period)
Email
This email address is being protected from spambots. You need JavaScript enabled to view it.
Final submission deadline
2023-07-20
Submission/Registration Fee
Yes
Event Description
The Baltic Pitching Forum aims to set up a place for short filmmakers situated in the Baltic sea region to present their new projects whilst sharing common issues and knowledge, exchanging experiences and good practices, developing artistic ideas and increasing contacts. The event will also encourage them to attract active European producers, TV commissioners, film fund representatives, VoD and festival programmers and distributors. Organizer - Lithuanian Short Film Agency LITHUANIAN SHORTS.
2023 Call for Entries
The BPF will welcome 12 projects from Lithuania, Latvia, Estonia, and this year's guest country Greece. 2023 will mark the first time when the Forum invites a guest country that is located out of the Baltic sea region. With Greece currently a hotbed for the short film form, with numerous success stories emanating from the region over the past few years, the BPF will look forward to Greek and Baltic filmmakers coming together with a rich selection of projects and forming a basis for future collaborations over the coming years. 
Eligible applicants are Lithuanian, Latvian, Estonian, and Greek film directors and/or producers who have finished at least one short film and are developing new fiction, animation or hybrid projects which are up to 30 minutes and aimed at an international audience. A film must be in its early development stage with production planned for no earlier than 2024. 

ELIGIBLE APPLICANTS
Film directors and/or producers who are citizens of Estonia, Latvia, Lithuania and Guest country Greece or have a right of permanent residence in the countries mentioned *.
Applicants must have finished at least one short film project and are developing a new project which is:
● fiction, animation, hybrid (documentary projects are not eligible)
● in the development stage (the production should start no earlier than 2024)
● up to 30 minutes
● aimed at an international audience
Filmmakers are allowed to submit more than one project with the separate registration form for each submission. Projects that have previously been submitted to the Forum will not be accepted.
12 short film projects will be selected by the selection committee (3 projects per country). Up to 2 representatives of each selected project (producer and/or director) will be invited to take part in the training and pitching session
Participant fee: 350 EUR per participating representative of the project. (The fee includes accommodation, board, script consultation and tuition during the Baltic Pitching Forum -not travel).
Deadline: 20 July 2023
2020 Selected Projects
ESTONIA
Keyhole (fiction, dir. Juri Krutii, prod. Nell Cunningham, production company: Pensive Pictures)Rabbit Hole (fiction, dir. Ragne Mandri, prod. Laura García Baeza, production company: Kino Eyes)
Skin of a Mandarin (fiction, dir. Jaanika Arum, prod. Tiina Savi, production company: KARTULIÕIS)
LATVIA
Elk (fiction, dir. Lauris Ābele, prod. Sintija Heine, production company: Tritone Studio)
Tool (animation, dir. Raitis Ābele, Harijs Grundmanis, prod. Raitis Ābele, production company: Tritone Studio)
The Man Who Scooped the Sea (mockumentary, dir./prod. Zurab Dzhidzhilava, co-producer Elene Margvelashvili)
LITHUANIA
Bruno (animation, dir. Danas Bereznickas, prod. Gabija Budreckytė, production company: Kinomind Films)
Tell It to My Heart (fiction, dir. Elena Rožukaitė, Gabrielė Misevičiūtė, production company: Tremora)
The One Who Knows (animation, dir. Eglė Davidavičė, prod. Agnė Adomėnė, production company: Art Shot)
POLAND
Dessert Dachshund (animation, dir. Betina Bożek, prod. Aneta Zagorska, Robert Sowa, production company: Krakow Film Klaster)
Ebony (fiction, dir. Karolina Żebrowska, prod. Shruti Sidhan, production company: COWDAZE)
Team Building (fiction, dir. Mateusz Pacewicz, prod. Ludka Kieczak, production company: Kosmonaut)
Event Dates
From

10/10/2023

to

13/10/2023