CARTOON Next 2023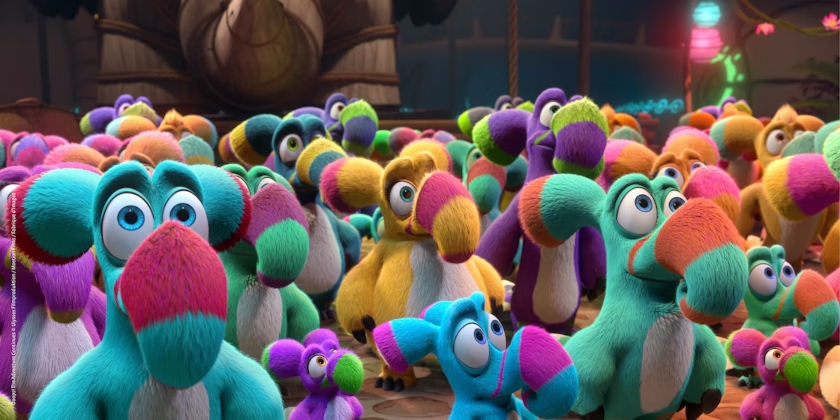 Deadline | Event Dates (period)
Email
This email address is being protected from spambots. You need JavaScript enabled to view it.
Final submission deadline
2023-02-01
Submission/Registration Fee
Yes
Event Description
Cartoon Next offers 3 days dedicated to the evolution of the creative and digital industries. The main focus will be on well-curated keynotes: experienced professionals bringing their vision on the future of your business, your craft and your day-to-day work. On the other hand, producers coming from all over Europe will pitch innovative projects, displaying their transmedia strategy, and getting a direct and thoughtful feedback from international animation experts with various background.
2023 Event Coverage

Talks and Panels:
A Boom for Animation : What's coming next ? A View from The Bridge
Julien Borde, President of Mediawan Kids&Family (France)
With generations of adults having grown up watching tons of animation on dedicated channels, YouTube and cinemas, animation has never been in a stronger position to rule the world. Not only pre-schoolers, kids and adults enjoy it in animated linear shows but also in prime time TV and streaming services, with more and more hybrid forms of storytelling. And with the rise of web3, the digital landscape is also rooting itself into animation, with more interactive opportunities to create truly interactive universes.
Julien Borde, President of Mediawan Kids&Family (European animation leader), ex-Disney, France Télévisions and WarnerMedia, will share his vision of the future of animation and storytelling and discuss the challenges and opportunities brought by new technologies to both consumers and talents. 
How creators and entrepreneurs challenge the way animated cross-platform concepts are created, now and in the future
Eliza Jäppinen, CEO of Visible Realms (Finland)
From pitching The Studio Killer's IP at Cartoon 360, to a successful Kickstarter, going viral with phenomenal metrics on Tiktok, onto launching a mobile game and finally developing a series with acclaimed US Studio Titmouse, Eliza Jäppinen says her journey has revolutionised the way she will approach every IP in her company. She will happily share the highs and lows of that voyage of discovery. 
PANEL: 
What is the state of the animation industry in Italy, France, UK, with insights into the Baltic Region. Importantly, what does the future hold?
What are the positives for today? But what are the challenges for tomorrow? What should we next be lobbying for in the future?
We hear from the leading trade bodies: Cristian Jezdic from Cartoon Italia, Samuel Kaminka from AnimFrance, Kate O'Connor from Animation UK, and giving an insight into the Baltic Region, reportedly to be expecting growth, Justė Michailinaitė from Lithuanian Animation Association.
8 projects selected:
Babookums, produced by Make It Happen (Lithuania)
Eli, Bimzal and the Water of Life, produced by Premierstudio Plus (Bulgaria) 
Jeppe's Pixie World, produced by Dully&Dax (Germany)
Sirocco and the Kingdom of the Winds, produced by Sacrebleu Productions (France)
Spanish Chapbooks, produced by Pata Palo Films (Spain)
Surkotés, produced by Surkotés (Belgium)
The Ride, produced by Mira (France)
Wonder Legends, produced by Myths and Steam (Poland)
--------------------------

2023 Call for Projects
WHO CAN PRESENT A PROJECT?
European producers who want to develop their animation project or property into a cross-media, multiplatform brand to be distributed on several platforms.
European creators and IP owners who want to use animation to develop a cross-media project.
Fluency in English is required to communicate with other participants and the pitch must be in English, as there will be no translation on site.

WHICH TRANSMEDIA PROJECT CAN BE SUBMITTED?
An existing or in development property which is being developed across multiple platforms.
Originating from an animated TV series, a film, or short form content
Or a book, a game, a live event, or even a toy where animation is to be used to extend the property into a transmedia proposition
At a stage where at least 2 ideas on distinct platforms can be fully pitched.
EUROPEAN Coun­tries asso­ci­at­ed with Cre­ative Europe — MEDIA: the 27 EU coun­tries + Norway, Iceland, Albania, Bosnia and Herzegovina, Liechtenstein, North Macedonia, Montenegro, Republic of Serbia, Armenia, Georgia & Ukraine. Atten­tion: since the Brex­it, the UK is not part of the eli­gi­ble countries.
Cost:
 400 EUR for producers pitching a project. Meals (3 lunches and 2 dinners) are included.
 300 EUR for participants without a project. Meals (3 lunches and 2 dinners) are included.


2019 Event Coverage

Event Dates
From

18/04/2023

to

20/04/2023