CARTOON Springboard 2023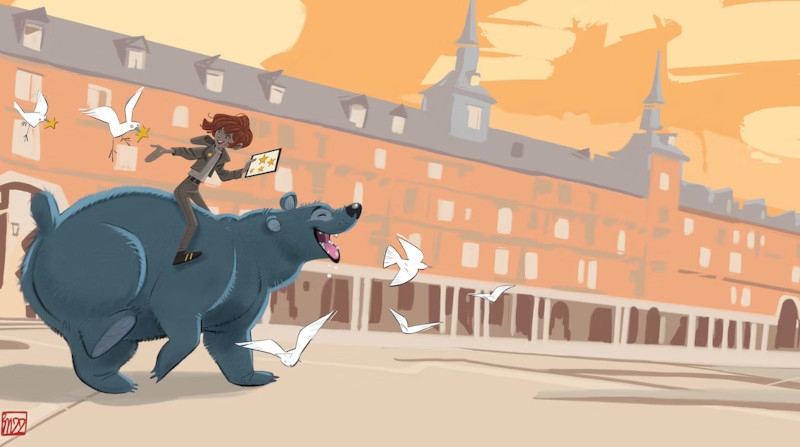 Category
PITCHING & INDUSTRY
Deadline | Event Dates (period)
Email
This email address is being protected from spambots. You need JavaScript enabled to view it.
Final submission deadline
2023-09-01
Submission/Registration Fee
Yes
Event Description:
CARTOON Springboard is a new pitching event where young talents of European animation schools will be able to pitch their project in front of a panel of experts from the audiovisual world.
The 3 day event will focus on 2 parts:
Presentations given by experts on market trends, buyers' expectations, etc.
Pitching sessions of young talents projects, including an interactive discussion with a panel of experts


The event is supported by the Creative Europe - MEDIA programme of the European Union, Generalitat Valenciana, Institut Valencià de Cultura and the Polytechnic University of Valencia.
2023 Coverage: Call for projects

Who can present a project?
European young talents who want to develop and test their new animation project or property for the international market and/or to be distributed on several screens.
Young talents who have graduated from animation schools for a maximum of 5 years (graduation date in Summer 2018 or after).
Flu­en­cy in Eng­lish is required to com­mu­ni­cate with oth­er par­tic­i­pants and the pitch must be in Eng­lish, as there will be no trans­la­tion on site.
European: The talent must come from or have studied in one if the countries of Cre­ative Europe — MEDIA: the 27 EU coun­tries + Alba­nia, Bosnia and Herze­gov­ina, Georgia, Ice­land, Liecht­en­stein, Mon­tene­gro, North Mace­do­nia, Nor­way, Repub­lic of Ser­bia, Tunisia or Ukraine. Since the Brex­it, the UK is not part of the eli­gi­ble countries.
Which project can be submitted?
a TV Special (minimum 26 minutes)
a TV or Web series
a feature film (minimum 60 minutes)
an animated project dedicated to multi-platforms
short films are NOT accepted
Cost
250 EUR for young talents with and without project.
Meals (2 lunches and 2 dinners) and accommodation (3 nights) are offered.
300 EUR for other participants.
Meals (2 lunches and 2 dinners) are included
Deadline: 1 September 2023
Testimonials

2022 Call for projects (Archive)
WHO CAN PRESENT A PROJECT?
Euro­pean young tal­ents who want to devel­op and test their new ani­ma­tion project or prop­er­ty for the inter­na­tion­al mar­ket and/​or to be dis­trib­uted on sev­er­al screens (360 approach).
Young tal­ents who have grad­u­at­ed from ani­ma­tion schools for a max­i­mum of 5 years.
Flu­en­cy in Eng­lish is required to com­mu­ni­cate with oth­er par­tic­i­pants and the pitch must be in Eng­lish, as there will be no trans­la­tion on site.

EURO­PEAN Coun­tries asso­ci­at­ed with Cre­ative Europe — MEDIA: the 27 EU coun­tries + Alba­nia, Bosnia and Herze­gov­ina, Geor­gia, Ice­land, Liecht­en­stein, Mon­tene­gro, North Mace­do­nia, Nor­way, Repub­lic of Ser­bia and Ukraine.
Atten­tion: since the Brex­it, the UK is not part of the eli­gi­ble countries.

WHICH PROJECT CAN BE SUBMITTED?


a TV Spe­cial (min­i­mum 26 minutes)
a TV series
a fea­ture film (min­i­mum 60 minutes)
an ani­mat­ed project ded­i­cat­ed to cross-media
short films are NOT accepted
2021 Event Coverage
TV series are the dominant format, accounting for 70% of the projects, but the selection also includes 3 feature films, 1 TV special and 1 project designed for new media platforms. Most of the directors are making their debut behind the camera, while half of the works are directed by two directors. 65% of the 39 directors are women.
France leads the selection with 7 projects by graduates from Gobelins - L'Ecole de l'Image, École de la Cité, ECV Bordeaux, Emile Cohl Atelier, and EMCA - École des Métiers du Cinéma d'Animation. Italy ranks second with 4 projects by alumni from NAS - New Animation in Sardegna, Nemo Academy, Civica scuola di cinema Luchino Visconti, and Scuola Romana dei fumetti. Germany and Hungary participate with 3 projects each. The former, with graduates from the Filmakademie Baden-Württemberg, ifs internationale filmschule köln, and Hochschule Darmstadt - University of Applied Sciences; the latter, with former students from Moholy-Naguy University of Art and Design, and Budapest's University of Theatre and Film Arts.

The selection also includes projects by graduates from the LUCA School of Arts, and ENSAV - La Cambre (Belgium), Faculty of Political Science of Zagreb University (Croatia), The Animation Workshop/VIA University College (Denmark), Animation Dingle The Big Pitcher (Jam Media), and Athlone Institute of Technology (Ireland), and Barcelona's La Salle-URL, and L'idem (Spain). One project is presented by students in their final year of graduation.
Following a trend detected last year, animation aimed at young-adult audiences rises to the top with 7 works, followed by projects for family audiences with 6 works. The selection also includes 4 works aimed at Preschoolers, and Children, and 3 to Teenagers.
Most of the projects are created in 2D animation except for two in 3D, one in stop motion and three using hybrid animation.
Confirming the sector's interest in discovering and supporting new talents, half of the projects have already secured a producer partner, including Story House (Belgium), TETRABOT (Croatia), Icare Entertainment and Yabunousagi (France), Blaue Pampelmuse and TWENTYTWO Film (Germany), CUB Animation and ULab (Hungary), JAM Media (Ireland), and Foore animation, Flora's Room and Lumiar (Italy).
2020 Event Coverage
19 projects have been selected at those events after their participation in Cartoon Springboard, confirming the success of this initiative.
AGENT B. AND SPY D., Ninar Al Himdani
ASTROCATASTROPHE, Claire McLoughlin
BACK TO NATURE, Ana Maria Angel
BRIMSTONE, Kevin Hemelaar & Coen Balkestein
DISBALANCE, Vuk Vulićević
ELEMENTARIA, Polina Minaeva
FORTUNE/MISFORTUNE, Marco Bambina, Elisa Bindi & Alessandro Fogu
HEADLESS MIKE, Natasza Cetner
JELLYPIMPLE, Tao Zhang
JERICHO, Sarah Andrews & Aaron Hopwood
KUBRICK AND PARAMECIUM, Αlmudena Sancho
LAOCHRA: THE HEROIC TALES OF LAOCHRA GAYLE, Εilis Nolan
PEPINO THE ACCORDIONIST, Alfonso Casado Diez
REYN: ANGEL OF FREEDOM, Shelly Gertan
ROSSOMAN, Giacomo Rinaldi, Gabriele Del Vecchio, Giuseppe De Donato & Gianluca Vitali
SPACE HAM, Nicolai VielwerthTHE BEEKEEPERS, Marco Maldonato
THE BLUE WEDDINGS, Samia Dzaïr
THE MYSTERY OF CUCUT CITY, Héctor Arnau
TRIP TO THE ANTARCTIC, Eva Pérez Misa
URBAN BOURBON,Zsófia Csánki
WHAT IT TAKES, Fabien Corre & Kelsi Phung


PROJECTS TOWARDS MATURITY

The shortlist for this Cartoon Springboard's sixth edition is defined by the originality of concepts, stories & themes, with projects about friendship, love, hope, identity quest, and environment. The projects hail from Austria, Denmark, Estonia, France, Germany, Hungary, Ireland, Italy, Netherlands, Serbia, Spain and UK, and more than half of them have been conceived for the Young Adults/Adults audience, a growing trend in European animation. The selection also includes projects for Children, Family, Pre-schoolers, and Teenagers. Format-wise, TV Series make up the overwhelming majority followed by Web Series and Feature Films (17, 3 and 2, respectively).
France, Spain and Italy are the best represented countries at the event, with projects by graduates from L'Atelier, ESAAT, Gobelins and La Poudrière (France); Barreira, U-Tad, ESUPT and ECAM (Spain); and Scuola Internazionale di Comics and C.S.C Centro Sperimentale di Cinematografia (Italy).
There are also projects from Denmark's ASF VGIK and The National Film School of Denmark; Germany's Filmuniversität Babelsberg "Konrad Wolf" and Animationsinstitut Filmakademie Baden-Württemberg; Ireland's Dún Laoghaire IADT; Budapest Metropolitan University (Hungary); HKU (Netherlands); Faculty of Civil Engineering and Architecture (Serbia); and Royal College of Arts (UK).
The group of experts in charge of guiding the project leaders is made up of acquisition and development managers from streaming platforms and tv channels' such as Sony Pictures Television, Adult Swim, Ketnet/VRT, France Télévisions and BBC Children, as well as consultants, scriptwriters and animation producers from companies such as Peekaboo Animation, Lightning Sprite Media, Blue Spirit Productions, Haruworks, Cartoon Saloon, Storyegg, MIAM! Animation, Dandelooo and Laïdak Films.
2019 Event Coverage:

Event Dates
From

24/10/2023

to

26/10/2023