Ionian Contemporary Animation Festival ICONA 2023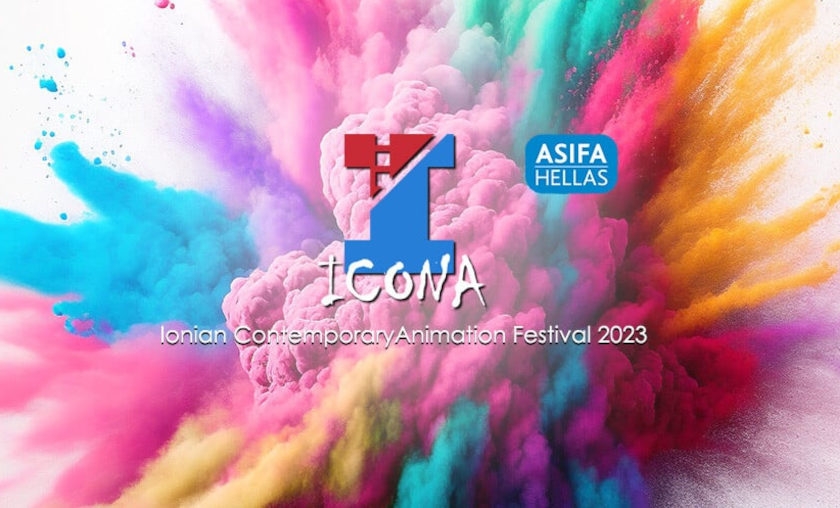 Category
ANIMATION & FILM FESTIVALS
Deadline | Event Dates (period)
City
Corfu, Greece / Online
Final submission deadline
2023-09-08
Submission/Registration Fee
No
Description:
 Organized by the Department of Audio & Visual Arts of the Ionian University this international festival aims to preserve and help develop the cultural heritage of animated film, contribute to creation of new films, provide ground for potential international co-productions and encourages dialogue between professionals, filmmakers and the public.  ICONA 2023 is a hybrid event and will take place in Corfu and online. Screenings in Corfu will be open for everyone. Online screenings will be available only for registered users.

2023 Call for Entries 
Only films made after January 1st 2022 can enter the competition. 
The competition program of ICONA 2023 consists of the following categories:

Category I. International Competition of Short Films
Category II. International Competition of Student Films
Category III. Greek Competition of Short Films
Category IV. Greek Competition of Student Films
Category V. Greek School Competition (GSC)*.
This category is addressed to students studying Primary and Secondary Education in Greece. Submissions must necessarily include 1 teacher as co-creator/supervisor. Submissions should be made by persons and not institutions. 
The highly rated films by the movie selection committee of the Greek Competitions (Category III and IV) will compete in the International Competitions of each category as well.
Deadline: 8 September 2023
============
2019 Festival Coverage
Selection Results:
135 films (72 short films and 63 student films) from 48 countries were selected. 
"EMBRACES & the touch of skin", Sara Koppel Denmark 00:02:42
"No smoking in a train", Shoora Vatman (Aleksandra Abramova), Kseniia Vasileva , Julia Franke (Julia Rostovskaia), Natalia Vorotnikova Russian Federation 00:02:25
(Diana)n, Natalia Aguilera López Czech Republic 00:08:18
(OvO), Mônica Moura Brazil 00:03:55
09:09 F Avinash Medhe India 00:05:04
400 Mph Paul-Eugène Dannaud, Julia Chaix, Lorraine Desserre, Alice Lefort, Natacha Pianeti, Quentin Tireloque France 00:04:50
8, Koba Tskhakaia Georgia 00:15:00
A count on 4., María Josefa luengo (Bebis Colossus) Chile 00:03:22
A Reality Show isea karsli United Kingdom 00:02:35
Adam & Eve Mk II, Sebastian Kuder United Kingdom 00:04:13
After, Matouš Valchář Czech Republic 00:05:26
Ailin on the moon, Claudia Ruiz Argentina 00:05:00
ARARAUNA, Evandro Machado Brazil 00:13:00
Balance, Raymond Limantara Sutisna Singapore 00:03:38
Big Boy, Jonathan PHANHSAY-CHAMSON France 00:04:45
Big Feet, Alice Harper, Ilaina Lowe United Kingdom 00:02:28
Blue Addiction, Ulrica Luo China 00:03:26
Boing Boing, George Dorobantu Romania 00:03:00
Broken Doll, Gaspar Aguirre, Román Sovrano Argentina 00:04:20
BUG, Joaquín Ortiz Argentina 00:07:31
Butterfly & Mouse, Mira Yankova Bulgaria 00:14:19
CASTLE, Ryotaro Miyajima Japan 00:05:00
Cat Not Here, Brian Luff United Kingdom 00:06:52
CHIAKAN-MOFEI, SHAN-YI LIN Taiwan 00:06:46
Climber, faruq samani Iran, Islamic Republic of 00:06:00
CYBORGY, Adam Żądło Poland 00:08:01
Dalia's Still Here, Nuria Menchaca Mexico 00:11:30
Daughter, Daria Kashcheeva Czech Republic 00:14:44
Deady Freddy, Alicia Eisen Canada 00:10:13
Declan McKenna - British Bombs (Official Video), Ed Bulmer United Kingdom 00:05:02
Drawing Life, Luciano Lagares Brazil 00:12:52
Dreams in the depths, Reza Mohammadi Iran, Islamic Republic of 00:08:59
Dubicel Yashira Jordan, Igor Gopkalo Streiff Bolivia, Plurinational State of 00:09:18
DUO, Tania Sharavarava Czech Republic 00:05:40
Euphoria, Katalin Egely Hungary 00:04:00
Filfla, Fabrizio Ellul Malta 00:06:57
Fish Loves Chicken, Josh Burke United States 00:04:50
Fisherman and the Girl, Mamuka Tkeshelashvili Georgia 00:15:00
Fleeting Autumn, Vojtech Domlatil Czech Republic 00:08:00
flight, sadegh ghasemi Iran, Islamic Republic of 00:07:24
Florigami, Iva Ćirić Serbia 00:05:30
Flut (Flood), Malte Stein Germany 00:09:55
Fragile, Ramon Faria United States 00:10:00
Frank's Joke Edward Bulmer United Kingdom 00:06:07
Going Home, Tom Denney United Kingdom 00:05:47
Going On Stage, 劉岱諺 Liu, Dai-Yen Taiwan 00:05:53
GOOSE EGGS, Evie Gaffney United Kingdom 00:03:34
Gunpowder, Romane Faure, Nathanael Perron, Léa Detrain, Benoît de Geyer d'Orth, Pei-Hsuan Lin, Anne-Lise Kubiak France 00:05:30
Her Head, Emma Louhivuori Finland 00:07:00
Hoan Alone: Personal Stories from the Bridge, Aaron Johnson United States 00:08:30
Hoki, Brian Luff United Kingdom 00:10:55
Homba. Footprints in the sand, Anton Kalchenko Russian Federation 00:07:49
Hounds Ido Shapira, Amit Cohen Israel 00:05:47
Hungry, Gianpierre Yovera Infanzon, Pablo Gonzáles Diéguez, Julián Andres Conde Martín, Ivan Torres Salvador Spain 00:04:48
Hunting stories, Ionel Luca Switzerland 00:03:35
Immersion, DIMITRIS AGATHOPOULOS Greece 00:05:53
INTRODUCING LIBROPHILEAS, Ivica Valentić Croatia 00:17:20
IPIG, Mans Weghorst Netherlands 00:03:00
Iron me, Ivan Rabbiosi France 00:08:45
Irritable Ball Syndrome, Brady Glover United States 00:05:21
Kwan, Stevani Willyanto Indonesia 00:04:20
Legend Of Ancient Borneo, Geoffrey Sinn Chun Hou Malaysia 00:08:43
Less but Better Soner Aktas, Simon Weckbach Germany 00:02:38
Life of Death, Jason Kiantoro, Bryan Arfiandy Indonesia 00:05:23
Lionverse, Hayden Chun Hei Mok Hong Kong 00:03:24
Loop, Krzysztof Tarasiuk Poland 00:03:50
Lost and Found, Shimon Engel, Ofer Winter Israel 00:04:07
Love Me, Fear Me, Veronica Solomon Germany 00:06:06
Magic Play, Natasha Cánepa United States 00:03:26
Mara's Memories, Wid Al-Hajjaji Saudi Arabia 00:05:43
MAZAY`S ARK, Tatyana Chernilevskaya Russian Federation 00:07:41
Minuet Aaron Hopwood, Harry Pearson United Kingdom 00:05:42
Morning Vojtěch Domlátil Czech Republic 00:03:33
Mr Indifferent, Aryasb Feiz Iran, Islamic Republic of 00:02:46
Mr. Angle, Mattia Bioli Italy 00:05:37
Mr. Eichmann and the Maverick Goat, Qiao (Joe) Cheng United Kingdom 00:03:22
Natural Selection Aleta Rajic Bosnia and Herzegovina 00:09:40
o28, Otalia Caussé, Geoffroy Collin, Louise Grardel, Antoine Marchand, Robin Merle, Fabien Meyran France 00:05:18
OBSOLESCENCE, Jesús Martínez Tormo Spain 00:10:00
PATCHWORK, Maria Manero Muro Spain 00:08:00
Peter-baas, Anastasiya Zhakulina Russian Federation 00:07:07
Propolis, part 7, Patricia Beckmann Wells United States 00:02:40
Rats in the Walls, Miryana Sarandeva Austria 00:05:15
restless, mehdi sedighi Iran, Islamic Republic of 00:03:00
Rockpaint, Andre Blak Brazil 00:04:14
Saturday Club John McDaid, Robin Davey United Kingdom 00:03:10
Sauvage Raoul Dhellemmes, Axel Beaudelot, Pauline Lemaire, Marius Dalle, Alexis Jouen, Ophélie Kaszynski France 00:04:42
Shedding, Alessandro Amaducci Italy 00:06:48
Shuffled, Markus Helmersson Sweden 00:05:05
SIGH, Vlad Bolgarin Moldova, Republic of 00:15:00
Skipper's Jam Tim Scott United States 00:02:40
Skyvision, Nicolas Mayeur, Alice Letailleur, Yanis Belaid, Lisa Vicente, Nathan Peyren France 00:04:20
Slice of Life, Mario Saputra Indonesia 00:08:07
Soup, Panagiotis Charalampous Greece 00:04:30
Studies of Muybridge and Etc..., Júlio F. R. Costa Portugal 00:05:00
Subconscious Notes, Susann Arnold Germany 00:03:37
Tangle Maliheh Gholamzadeh, Iran, Islamic Republic of 00:07:36
Technology for Talking, Jemima Hughes United Kingdom 00:05:27
That's Enough of That, Brian Luff United Kingdom 00:12:29
The afterbirth, Ignacio Rodó, Blanca Bonet Spain 00:04:00
The Creation of The World, Antonio Coello Mexico 00:10:00
The Credits Movie, Jeffrey Ashkin United States 00:05:29
The Cycle rickshaw, Saneesh Thomas India 00:05:00
The Doggy, Tamuna Kochalidze Georgia 00:02:07
The Feather Pillow, Joseph Specker Nys Brazil 00:12:17
The Fiddle (Der Fidle), Asher Schwartz Israel 00:08:37
The Fox Sadegh Javadi Nikjeh, Iran, Islamic Republic of 00:09:45
The Gods Of Tiny Things DEBORAH KELLY Australia 00:05:22
The Guardians, Li Cheuk Ying, Ng Wing Ki, Tang Wai Yu, Wan Fuk Wai Hong Kong 00:04:50
The Killing of the Oppressed Tyrant, Doriana Re United Kingdom 00:02:19
The last eagle Reza Golchin Iran, Islamic Republic of 00:07:47
The Lifeguard Cécile Mercier, Milena Blin, Clémentine Lecluse, Iris Stanley, Ming-Yang Zhao, Rohan Kotnis, Charlotte Humbert France 00:05:09
The Little Hero, Elena Ciolacu Romania 00:05:05
The Music Box, Joe Chang Canada 00:11:29
The Night, Martín Romero Spain 00:11:45
The Quiet, Radheya Jegatheva Australia 00:10:00
Three Meals from Anarchy, John O'Hare, Tom Phipps United Kingdom 00:06:00
Thumbelina and The Ogre, Cécile Robineau France 00:08:04
Tie, Meng-Ju Wu, Chia-Ying Pai Taiwan 00:08:00
Tiger Leaping Gorge, Liu Hongping China 00:08:34
Time Freeze, Ma. Ceazara Vidallo Philippines 00:03:32
To the end, Quentin Simon, Guillaume Chappe, Marie Delpierre, Claire Carcopino, Renaud Roquette France 00:08:18
TOKEI MARU, ZACHOS SAMOLADAS Greece 00:15:00
Tops of Memory, JIALIANG LIU Japan 00:02:56
Transconscience, Angel Pascual "Yelitö" Spain 00:11:56
Trois Francs Six Sous Clémence Ottevaere, Florence Blain, Louise Leblond, Varoon Indalkar, Morgane Ladjel, Hugo Valdelièvre-Rattier France 00:06:33
Twitcher Picture, Tristan Pike United Kingdom 00:06:39
Upshot, Andrés Borja Ecuador 00:03:42
Verso le Stelle (TO THE STARS) Antonello Piccione Italy 00:08:00
Waka Huia, Laurent Leprince Belgium 00:15:13
War For Keyboard Warriors, Lam Can-zhao China 00:02:27
War Machine, Iva Dimanova Bulgaria 00:06:31
WASTE OBJECTS, Luis Renteria Pimentel Mexico 00:05:00
Yin & yang, Ali alizadeh Iran, Islamic Republic of 00:09:20
You're gonna be fine in the end YOUNG CHAN JEON Korea, Republic of 00:09:52
\
Event Dates
From

30/11/2023

to

03/12/2023