VIEW Conference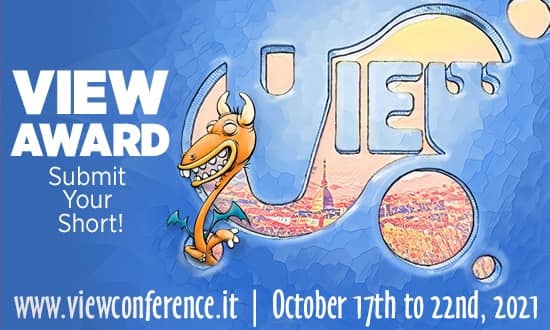 Category
ANIMATION & FILM FESTIVALS
Deadline | Event Dates (period)
Email
This email address is being protected from spambots. You need JavaScript enabled to view it.
Final submission deadline
2021-09-15
Submission/Registration Fee
Yes
The VIEW AWARD CONTEST is now open. The festival has two competitions running.
1) VIEW AWARD: First Prize is 2000 Euros
2) ITALIANMIX: First Prize is a Wacom Tablet
VIEW AWARD 2022 (Archive)

is now accepting submissions for our 2021 competition. Our VIEW AWARD is open both to professionals and students. If you have made an innovative short using 2D/3D Animation after January 1st, 2021, we want to see it! Submit it to our VIEW AWARD competition.
The first prize will receive 2000 Euros.
Maximum Duration: 30 minutes.  Deadline to submit: 15 September 2022. Fee to enter: 10 euros
DEADLINE TO SUBMIT: 15 September 2022
Winners will receive 2000 Euros.  Send  your work via Festhome:
ARCHIVE
2018 Festival Coverage:
Event Dates
From

15/10/2023

to

20/10/2023