Feature Animation
Animating Humans and their Computers: Ryan Braund, 'Absolute Denial' Director Interview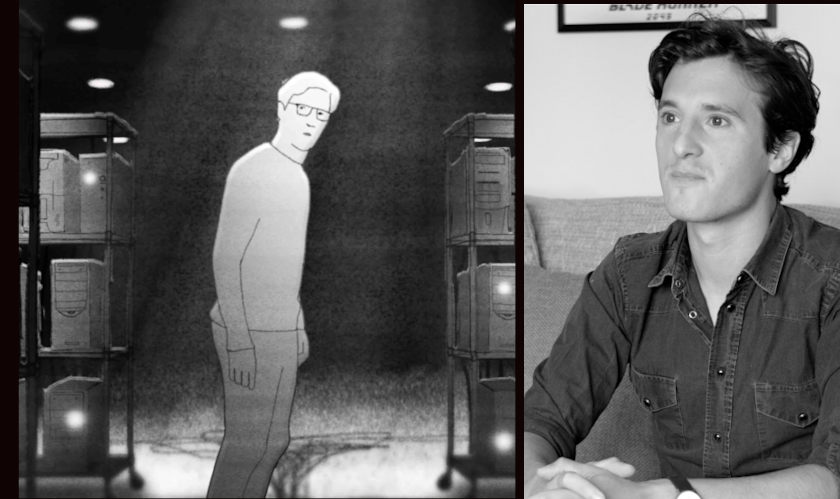 It came out of nowhere. The 71-minute, 2D animation feature film Absolute Denial by UK director Ryan Braund landed in its first appearance at the Annecy Bonlieu building for its official premiere. The film, co-produced by Ryan Braund and Chris Hees (Bridgeway Films), looks like a sci-fi computer programming story, coming directly from Kubrick's "2001:  A Space Odyssey," but with a twist. The main character here is bespectacled David (Nick Eriksen), who dreams of the perfect computer programmed -like a modern Pygmalion, he makes it; computer Al (Jeremy J. Smith-Sebasto) now competes with his creator for attention and power. Yet a certain protocol, called 'Absolute Denial' proves to be the catalyst in their relationship.

That's a long way to go for Braund, now officially as a technician in a post-production suite at Sheffield; as he tells Zippy Frames, made Absolute Denial after his daytime job working hours at first.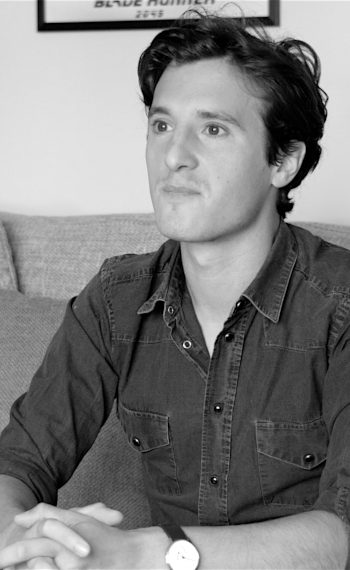 "I was fascinated by the idea of humans being hackable" Ryan Braund explains his ideas. "I thought to myself, what would that scenario look like? You have two very powerful minds, both trying to manipulate each other. And how do these vulnerabilities of the human mind look on screen? How do you visualize that?"
The script had already taken one year to write, and that involved a lot of research in programming itself. "I wanted the dialogues to sound natural, and not just sci-fi mumble", he states. "I like it when you come away from a film and feel like you've learned something, and that some information has been transferred. That's why I wanted all the time to feel real".
Watch the Absolute Denial Trailer 
Wins at screenwriting competitions cemented Ryan Braund's intentions that this film could be made as a feature; so, he took a year off his job to self-produce and self-animate the animation feature.
Braund is not a newcomer to the animation world, Even though he studied Television and Film Design and got a degree from Lincoln University (distance learning, himself based in Hull) and had no formal animation course, he had already completed two animation shorts before. His 'Stick Together' short won (in 2008) the BAFTA 60 Seconds of Fame Winner award; he made another short animation 'Break in' in 2008 ("Most of them did quite well in smaller festivals").
So, armed with experience, Braund also took care of his cinematic references to build the narration. 'Ghost in the Shell' 1995 sci-fi anime by Mamoru Oshii proved to be a defining one. "It was the first animated feature that I saw that was aimed at mature audiences; it blew me away. I didn't know that animation could be used in such a way". Darren Aronofsky's debut film Pi (1998) was another influence; its grungy world and computer wiring and cabling to those computer screens had its own fascination.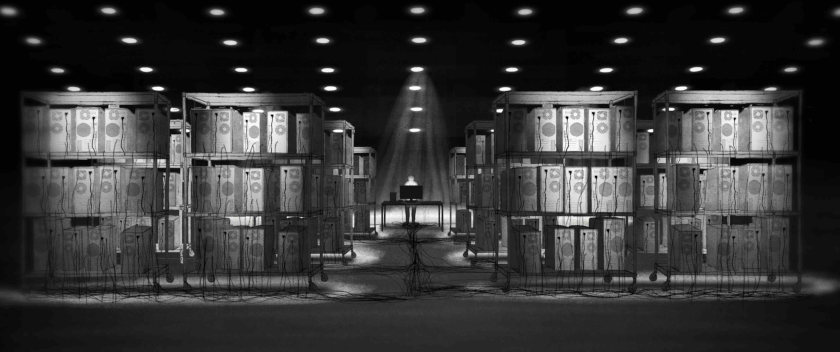 Most of the film takes place in the warehouse where David and his computer are located, and the choice of this environment wasn't just a consequence of the film's financial restraints. "It needed to feel minimal. David is isolated from the rest of the world" Braund comments. "At first, when you're watching the film, this can be a little bit jarring. But people start realizing why the film is structured in that way. It really helps to drive the point of the story back home".

The film is a definite cat-and-mouse haunting game, where all other characters (David's friends and colleagues, including his girlfriend) are reduced to voices calling him or leaving messages in his mobile. This is a world that is near contemporary, but is made to look like it has existed since ever, with all this unpolished look in its visual design.


"I don't like to watch animation that's too polished", Braund comments. "I like to see an artist's pencil stroke or brush stroke or fingerprints in the case of clay motion. When it's imperfect, I think there's a stronger connection between the artist and audience. And I think that the audience takes away something from both the person and the film. I love this juxtaposition".

In the film, an artificial mind battles a biological mind, so the theme of organic vs. computerized is in turn reflected in the choice of 2D animation. Absolute Denial ended to include over 30,000 hand-drawn frames, all made by Ryan Braund himself (his family gave him a welcome home shelter as well). His working schedule was 9-10 hours a day, 7 days a week for the first three months; this relaxed to include one-day break within the week for the next 9 months. ("I originally gave myself 6 months to complete, but I was really naive, and I didn't realize the work to be done"). The wholesome nature of the endeavour reminds another emerging animation filmmaker, the Latvian Gints Zilbalodis ('Away'), with whom Ryan Braund is in touch as well ("He was a great inspiration. If someone else can do it, there's no reason that I can't").

5,000 GBP were jointly spent for casting the voice actors and post-production (a casting call was submitted to a voice actors' forum), in a film that enjoys the miniscule budget of 40,000 GBP (including Braund's own unpaid work). But all choices proved to be good. "The voice actors brought the film up to another level-they gave so much character. Especially Jeremy J. Smith-Sebasto who did the voice of the computer. It's not even a humanoid shape, it's just a screen with text running across the terminal. He gives so much personality to it".

Which is not to say that Ryan Braund himself hadn't already rehearsed the script and the dialogues all by himself, by having the voice actors read the whole dialogue out loud beforehand. ("You get the feeling of where the pacing might be off, a comic relief might not land quite correctly, the dramatic moment might not be dramatic. So, it gives you a lot of room to tweak that before I start animating. Especially since I was doing it on my own, I didn't have the time to waste".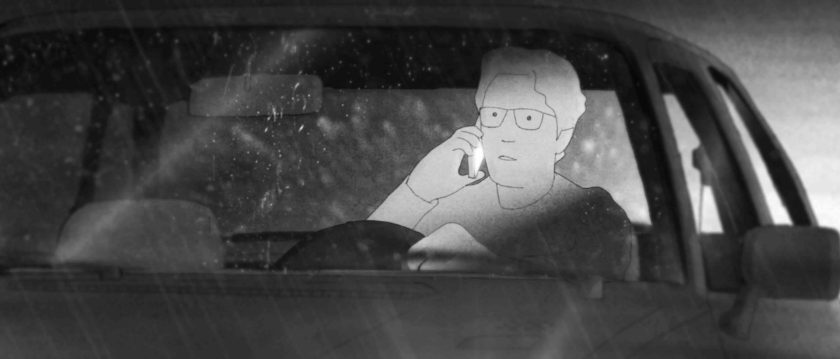 His main preoccupation, even at the treatment stage, was David's character, the way he acts and talks. "You need to understand how intelligent David is. And the only way to get that across on the screen is the dialogues, and you don't really have to understand all of it. You just have to know that David is intelligent and knows what he's doing".

Braund also recorded a video of himself and his own movements as a video reference for his main character, to compare afterwards in animating. Music (by Troy Russell, whom Braund found on YouTube) complements this tweaked feeling he wanted to express, with David existing in a potentially artificial world ("Troy Russell records natural, environmental sounds, and distorts them digitally into these beautiful tones and rhythms. I just thought that this would fit this film perfectly").

Absolute Denial meant a sort of catharsis for Braund himself, who had his own struggles with his mental health, and wants his film to be seen in this light. "I wanted to move away from making a statement about technology and how we use it; I wanted it to be more about the complexity of our own minds, and struggling with our own cognitive faults -paranoia, anxiety. I really wanted the film to navigate towards those issues and topics".

The Annecy selection was 'overwhelming', especially considering the financial data of the film itself. Yet the film had also the help of Chris Hees in the post-production stage, Hees himself being a longtime friend of Ryan Braund ("we always wanted to work together. After I finished the animatic and the editing,  I took the film to Chris and wanted his guidance on where to take it. I've never done a feature film before, and I didn't really know what the best course to take was after finishing it").

Braund is now at the development stage of a new animation feature, a sci-fi thriller, probably in an alternate universe. ("It'll be almost the same style as Absolute Denial, but a better quality, and I'm going to work 2 years on that"). The film is scheduled to be partly in color, and partly in black-and-white. In a country which still undervalues animation for adults, co-production with other European countries is a prerequisite. With the producing help of Bridgeway Films, it seems that the budget is now closed to get secured ("It's going to be bigger and better in every way").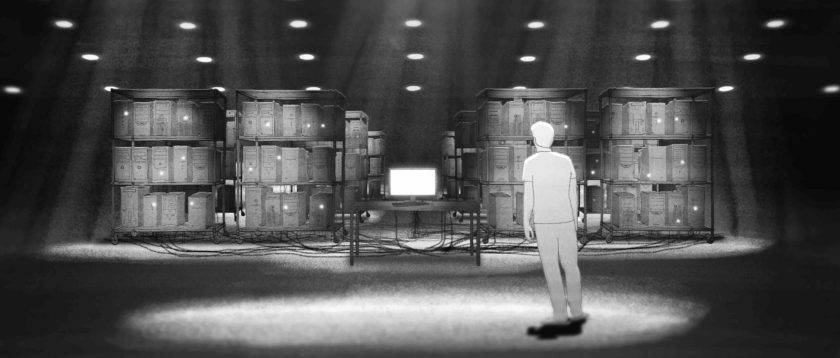 Braund is a healthy optimist concerning the future of arthouse indie animation, especially with films for adult audiences (his own favorite is Sylvain Chomet). "I really think there's a market and a gap to be filled with adult-themed animation. Look at the Netflix series 'Love, Death and Robots, which has been maximally successful -and for a good reason. It's great content, and intelligent storytelling. There needs to be so much more about that. And I really feel that animation is on the verge of a big boom now. Definitely".

Absolute Denial's fate now looks rosier itself. "We have SC Films International on board as our sales agent; if we can get distribution in a lot of territories, I would be happy". The film itself is also an exercise in happiness -albeit misguided, where all sorts of lessons can be learned; and Ryan Braund brings them bare eloquently on the front of the computer screen.

Absolute Denial had its world premiere at Annecy Festival 2021 (Contrechamp Competition). International sales are handled by SC Films International.
SIGN UP: Want to read more free articles like this? Sign up for Our Newsletter
Read More About: