Feature Animation
Coriander & A Penny's Worth of Lonesome by Julian Grant: Now Streaming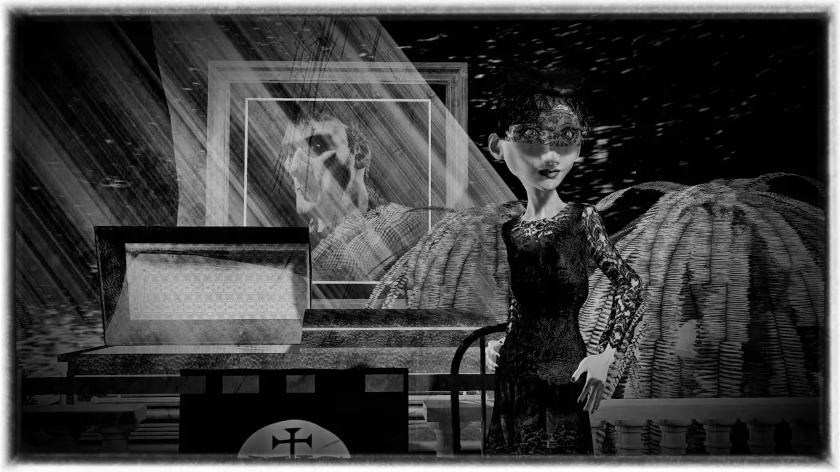 Julian Grant is an award-winning filmmaker with thirty-four feature films to his credit -and an Associate Professor at Columbia College Chicago where he specializes in numerous areas including animation and cinema visual effects.
His animation feature (directed, animated and produced) is Coriander & A Penny's Worth of Lonesome. With a screenplay by Ron Falzone, also a co-producer), the film is a black-and-white story on media, showbiz and the New York City of the 1920s.
When vaudeville performer Coriander Simm is plucked from the stage, she has no idea what lies ahead performing as Valentino's last love during his 1926 wake in NYC. Add an over-protective stepbrother with more than brotherly love on his mind and an amorous 'puss-pitcher' from United Artists, plus a rival movie star intent on usurping Coriander's position as the bereaved suitor and you've got a dark-tinged tribute to the films of yesteryear and the Tin Pan Alley - Film Synopsis
Watch Coriander & A Penny's Worth of Lonesome trailer:


Juian Grant wanted to marry CGI & stop-motion in what he himself calls 'the Norma Desmond Puppet Show'. With a German Expressionistic look and an arte povera aesthetic, it was completed as a solo animation effort.  Yet it was exactly this feature that let him work sequentially and shot in the script's own order.
This film is a shadow show - and I wanted to craft a world that reflected the fragile puppetry of the stage plus concentrate on non-verbal acting. Traditional animation is very gag-based with overblown gestures. I wanted to show the characters 'thinking' and this is where the eye-light and size of the characters actual eyes were instrumental in conveying this - Julian Grant
After a successful film festival showcase worldwide with the Lift-Off Network, "Coriander" has played LA, NY, London, Melbourne and other virtual film events during the height of the pandemic chalking up a Gold Medal in the Animation Category by the International Independent Film Awards.
Film's voice actors include Brian Shaw, Madelaine Anderson, Brandon Howard, with a score by Zachary Walter.
Coriander & A Penny's Worth of Lonesome is distributed by Ten Ninety One. Watch the film on itunes,Microsoft Store, Google Play
SIGN UP: Want to read more free articles like this? Sign up for Our Newsletter
Read More About: