Reviews
Anomalisa Review: And They Call It Puppet Love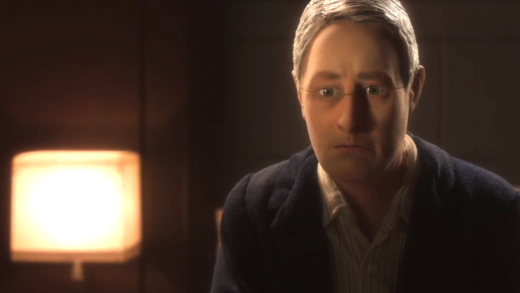 Yes, it is Charlie Kaufman, a mundane existence, the need to communicate and the impressive workings of the human mind (after a slate of hits (Being John Malkovich, Adaptation, Eternal Sunshine of the Spotless Mind) and commercial flops (Synecdoche, New York).
Only this time he does it with puppets - and it's still interesting.
The story of Anomalisa started out as a stage play in 2005, with the three principals, David Thewlis, Jennifer Jason Leign and Tom Noonan acting their roles in Carter Burwell's Theater of the New Ear.
The successful self-help writer Michael Stone (David Thewlis) flies to Cincinatti for a conference. Haunted by his past, he seems on the verge of breaking down in the luxurious Fregoli hotel, a location that seems to have come out of Coen brother's Barton Fink armor.
His only help is the insecure but beautifully-voiced Lisa (Jennifer Jason Leigh) that keeps him alive in his search for individuality and love.
The film -which was initially backed up by an impressive Kickstarter crowdsourcing campaign,knows how to play with its respective audience, intermingling scenes both of complete solitude and (particularly effective) crowd scenes.
Its tempo is less frenetic than the Eternal Sunshine of the Spotless Mind, and the few camera movements want us to absorb the impersonal (and sometimes delusional) hotel setting -a superb production design here. You even have an elevator sequence that plays a nod to Adaptation encounter of the screenwriter and his idol.
The basic predicament: a person who wants to disconnect from the crowd, which he considers like animals in the everpresent Cincinatti zoo (always mentioned, never visited). If all the different characters in one's life suddenly start looking similar (all voiced by Tom Noonan), then how to learn to connect?
The way Anomalisa cares to differ from other Kaufmanesque efforts is its mode of expression: puppets. There are many ways to use stop-motion either as a modernist but dangerous tool (watch Jiri Trnka's Cybernetic Grandma) or instruments of annihilation (Jan Svankmajer is a case of point) or even glamorous objects of self-destruction (Barry Purves).
Co-director Duke Johnson and the crew behind Starburn Industries wanted the puppets to be "realistic", a famously fluid term in cinema and animation alike.
It really comes down to this: mundane character-puppets but with a velvet skin, their 3D-printed face stiches visible and vulnerable alike; and in delusional nightmares ready to disintegrate but not quite so.
Puppets in Anomalisa are more fragile and warm than Charlie Kaufman's other tormented characters.
And they are not dolls. Japanese antique animatronics, sex toys are products of the same self-help book Michael Stone is famous for, but cannot compete with puppets in terms of reality. Sex between Michael and Lisa is carefully prepared, talked about (the scene took 6 months to shoot) and it is the most sincere version of communication in Anomalisa.
In a stagey environment with very few external settings, the signature song of Cyndi Lauper "Girls Just Want to Have Fun" takes another meaning, even though Anomalisa is more subdued than claustrophobic.
Characters seem resigned in the song verses: My mother says when you gonna live your life right / Oh mother dear we're not the fortunate ones.
Michael Stone and Lisa want to change their life, but can only perceive change as an anomaly in the course of time. Stone, in particular, is the more troubled one, viewing other persons as an extension of his past guilts and tribulations.
The fact that Anomalisa and its puppets move seamlessly from one shot to the other is a testimony that this strategy is more common than a mere individual perversion, and that Kaufman and Johnson can guide masterlfully an otherwise sad but uneventful story of soul-searching.
Without settling for high drama (except for the delusional scene with the hotel manager), Anomalisa is soft-textured and treats its characters with compassion.
Like Pinocchio, they want to be a real person, but (unlike Pinocchio) they can settle for another puppet soul.
Vassilis Kroustallis
Read More About: