Reviews
Approved for Adoption Review: Sweet and Complicated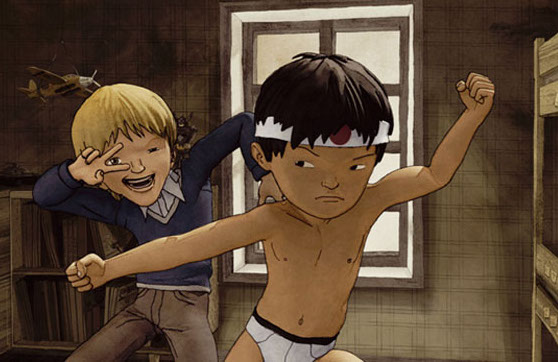 A retelling of South Korean cartoonist's Yung own autobiographical story and adoption in Belgium after the Korean War,  Approved for Adoption is a hybrid of 3D animation rendered to match the 2D feel of the original graphic novel.
It is interspersed with live-action footage of Jung traveling to contemporary (and indifferent) South Korea to discover his own past and relation to the future.
The merging of styles seems almost to signal an insecurity in the film: can Approved for Adoption penetrate into the inner psyche of Jung and his multiple family adventures, from his adoption as a young boy to being a rebellious teenager?
From the gloomy surroundings of the Holt Korean adoption programme in Belgium, where he initially resides, small Jung gets a new family with 4 brothers and sisters. His foster parents  implicitly seem to regard a new child as the acquisition of a new wonder car -yet they never cared for cars anyhow.
The nostalgic country surroundings, sweet as honey, do not hide the fact that Jung is different from the others, and his nightmares (in daring sketches) come to haunt him. However, none of this incidents would deter his progressive adaptation to the small city surroundings.
His early flirt with his new, spectacled sister Coralie give the impression that Yung is about to accommodate to his new home, even though his disdain of the new adoption present, the South Korean Valerie, makes him agitated.
The single dramatic episode of the film centers upon the relation of Yung with his foster mother. She seems to be responsible for not forgiving Yung's petty offences, and the 'Straight Plant' (Yung's translated name) is about to become a 'rotten apple' for her. Escalating violent episodes and severe punishments (with her eyes almost swallowed up behind her glasses) would trigger Jung's own search for an answer to his riddle of existence, and the need to search for his biological mother.
Instead, the film loses steam. Like Marjane in Persepolis, Yung dreams to be an anti-establishment figure, but the rock culture figured prominently in his shared room wall is never given enough credit (he later chooses to reside at the place of his former theology teacher).
His comic depictions of Japanese remind the failed attempts of Miky Rooney's Mr. Yunioshi in Breakfast at Tiffany's. Even though they are adorable, they hide the main problem: what is at stake in Approved for Adoption, Jung's own insecurities or the treatment he has to endure from his fostered environment?
The film opts for the former, but solves the enigmas with as much ease as it posits them. The mother figure can also be reassuring, and reconciliation ails identity worries
The extraordinary genial colors in both characters and the landscape suggest a sweet and tender story. Live-action sequences never bore, and they rather enhance the solemn and personal tone in the animated story.
Approved for Adoption is a tender story, but one is left wondering why the demons so obviously mentioned in the film never have a proper cinematic outlet.
Vassilis Kroustallis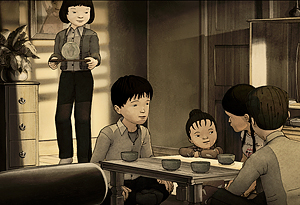 Read More About: