Reviews
Arrietty: The tiny girl that couldn't help borrowing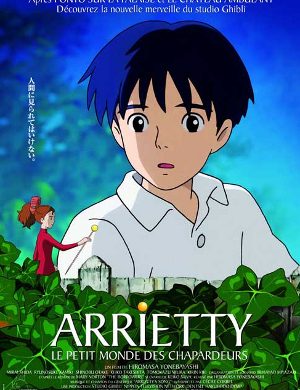 Arrietty is an elegy for things long gone: natural environment, sympathy for people, the feeling of a warm tea served and human friendship unfolded.

Based on Mary Morton's The Borrowers series, the latest offering from Studio Ghibli and directed by Hiromasa Yonebayashi,  narrates the story of a fearless small girl and her small-size family, who have to 'borrow' things from people they don't really need. In reality, the concept of 'borrowing' is narratively underdeveloped in the film, but gives rise to the most inventive visual scenes of exploring an old house with ropes that only James Franco in 127 Hours could match.

House and the family values that implies are seminal in a film that substitutes the fierceness of human nature in Ponyo and the monsters of Spirited Away with house corridors, giant lumps of sugar, and miniature doll houses that seems perfectly fit for Arrietty and her family. Her adventure starts early, but she's given a different turn when she meets the beautiful but very ill Shō. He's the one to challenge her perceptions of 'big people- bad people', help her when in trouble, and she's keen to return the favor.
Their relationship builds up like the Ponyo friendship, even if Arrietty is initially reluctant to trust a person like him. There is more distrust from the main evil character of the film, the old maid Haru. She's the one to look through her glasses, and  treat small people like pests, even when Shō's aunt insists that small people live in their house for many generations since.
But there are no real dangers, nor any sense of anguish in
Arrietty
. This film looks like a beautifully programmed escape into a dreamy countryplace where people have to learn to live together, and cellphones invariably signal a sense of danger.
In a film that centers around family, the characterization of family members is unusually daring. Sho's parents are always absent (and this is duly emphasized), whereas Arrietty's mother, Homily, is a constant source of distress.
Arrietty's peg around her hair marks her independence; her gift to Shōmarks the beginning of a beautiful friendship, even though this is not exactly under the same roof.
Arrietty
works like an autumn poem: less visually extravagant, and poignantly humane.

Vassilis Kroustallis