Reviews
Away by Gints Zilbalodis Review: Your Eden Is Just Around the Harbour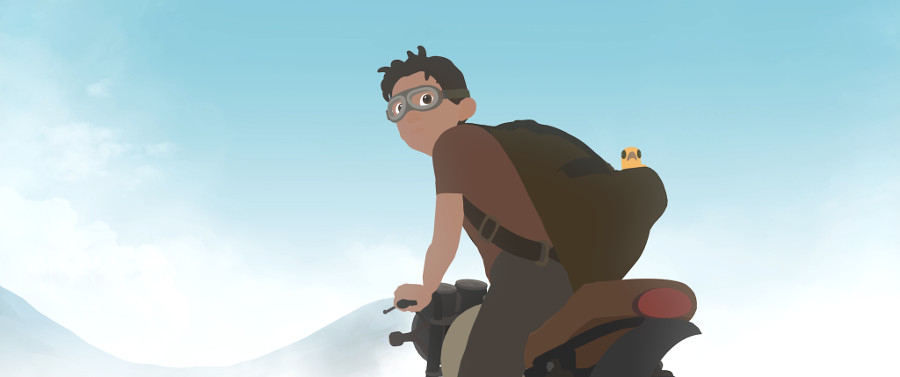 It will be definitely be compared (and it probably has already been) to Hayao Miyazaki films. Its director is now increasingly called one-man-band, as if this badge of honor would somehow cover up whatever infelicities are in the resulting film effort. None of this is true. Away, the first feature film by the Latvian Gints Zilbalodis bears little relation to the anthromorphised, always changing environment of the celebrated Japanese auteur -even though the game Shadow of the Colossus is an acknowledged Japanese reference here.

The 25-year-old Latvian animation filmmaker has, of course, written, directed, animated, produced and composed the eerily beautiful soundtrack of Away. But even this step was the logical conclusion of previous short animation efforts, like Aqua (2012), Priorities (2014) and Inaudible (2015). All of the above showed young men and animals trapped, and trying to survive in an unknown world; its inevitable conclusion would be a feature film effort.
Away is economical in its timing (both in overall duration, and in its individual scenes), ambitious in its widescreen format, and grand in its archetypal choice of themes and norms. Not a single word is ever heard in this strangely haunting film (and the boy's mouth is rarely visible), which starts off with a shot of the boy hung up on a tree, stuck in his parachute. He manages to get down, but he has first to face a giant (not of the screaming King Kong/ Godzilla variety, though). A map will show him the way to the harbour.
A motorcyle and a little yellow bird are his allies in a story concept that is so simple that it won't do justice to what
Away
is about. More an animated version of Peter Weir's
Picnic at Hanging Rock
(1975), and a story of a stressful coming-of-age boyhood than an ordinary adventure,
Away
has a lot of guilt themes to dismiss, and a lot of environmental hazard to go through (alarming, but never suffocating).
More questioning the existence of God than presenting his vindictive power,
Away
unfolds in four chapters, at least two of which would make up for a fine Bible bedtime reading: "Forbidden Oasis", "Mirror Lake", "Dream Well", and "Cloud Harbour"
Everything starts with biting a fruit in a young Adam mode -but without a snake around. All animals in Zilbalodis' universe are never spectacular, and their design sometimes can be distractingly naive. They all look they were drawn 40 or 50 years ago, and they're now waiting for their filmmaker and master to put them on screen for the first time. On the contrary, the boy and main character (goggles, backpack) looks all ready and determined for an adventure, but not in the superhero department. He comes and goes, he evaluates his powers and allies, he gets confused and hallucinates -in other words, his learning curve makes him a hero to relate to.

The spirit/giant itself is also silent, mostly inactive, a constant threat (and perhaps secret guilt) but not a show-off adversary. The third main character here is the changing environment itself, from the tall forest trees (through which our boy passes, accompanied by single piano notes) to big vistas and a sense of Gulliver in the world of (good-looking) elephants.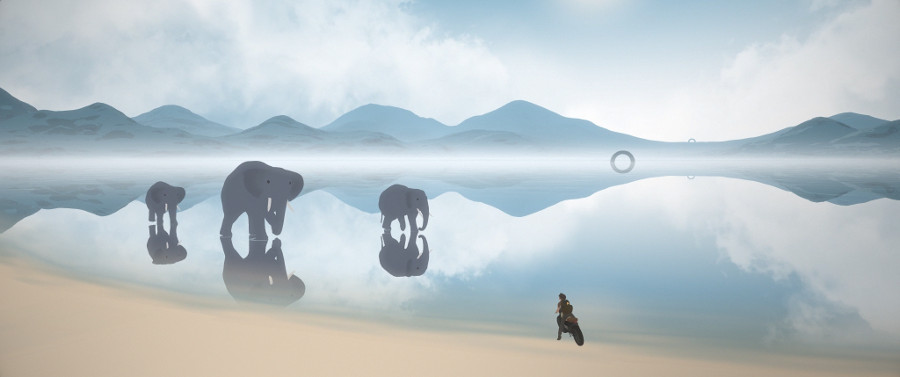 Unlike the similar-themed The Red Turtle by Michael Dudok de Wit, Away won't aestheticize its environment; it really wants us to become part of it and face it, using intrusive but gentle camerawork to bring us to this world. It is the perspective between large and small, between high and low which matters here, and not the visual beauty itself. Contemplative awe in Away is really not the recipe, when real action is required.

The natural element of water is here celebrated in all its forms, and music is the film's most consistent hypnotic driving force, even when the story has déjà vu moments. The Dream Well sequence is the most contemplative here, and the closest to the reality/fantasy illusion that animation is so proud of achieving. Nothing overtly experimental, but all sequences are anchored in the character's disorienting experience, where no explanations are given (and no justifications are needed).

Away is an exceptional cinematic effort, animated or otherwise, on what it takes to be your own saviour. Deserves to be widely seen.
Vassilis Kroustallis
Away (2019) premiered at Animafest Zagreb 2019, and won the Contrechamp competition at Annecy Festival. Cinema Management Group manages the film's world sales. 

The film will be released in cinemas in the UK and Ireland by Munro Films from August 28, 2020.
SIGN UP: Want to read more free articles like this? Sign up for Our Newsletter
Read More About: