Reviews
Climbing by Hye-mi Kim Review: A Woman Cut in Two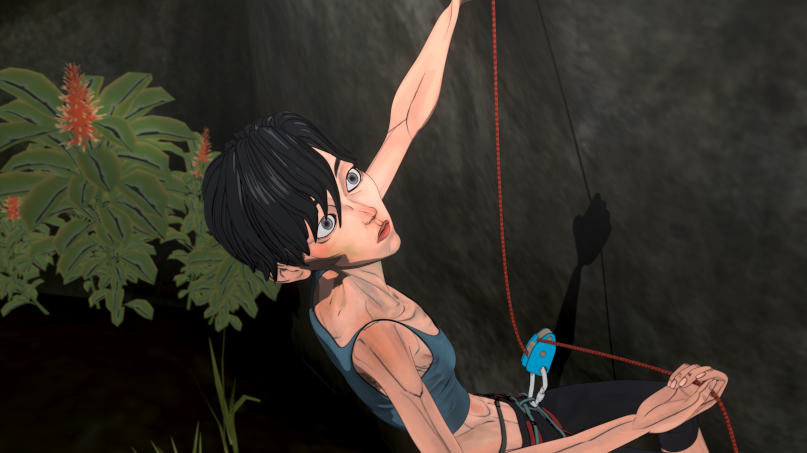 A woman needs to do everything impeccably in the harrowing but fascinating environment Hye-mi Kim, a gruduate of the Korean Academy of Film Arts (2004), puts her main character in the Korean animation, Gothic horror feature, "Climbing".

Se-hyeon Choi (Kim Minji) is a professional climber and almost world champion -if only she could get away with her post-traumatic stress disorder, caused by a recent car accident. Her husband supports her but cannot do much in helping her; her coach has plan of her retirement, and there's always a competitor to get Se-hyeon's place in the film -with her being relegated to teacher's duties.

Still, the impressively persistent Se-hyeon wants to enter the Climbing World Championship -only to discover that she's pregnant. At this point, she's starting getting text messages from an alternate Se-hyeon, who has a different story to tell; one of home confiment, being handicapped and still carrying a baby of her own. Ultimately, these two story lines will get entangled more and more, and will start affecting each other.
Pregnancy and being a mother is a daring subject indeed in animation, and here Hye-mi Kim does her best in bringing forward a first-person account (being halved between two parallel stories); the film both starts and ends with the image of a newborn baby, and this unwritten factor mobilizes all subsequent behavior. Se-hyeon is drawn with almost harsh lines, revealing a face whose veins are ready to explode. Fit and energetic, she presents an athlete almost on steroids -even though in her case, it's her own imposed need to succeed that does the trick. Bereft of ordinary love, and being thrown in a society that either values champions or motherhood -but not both, and not at the same time- Se-hyeon and her alternate ego soon disintegrate into chaos.
The film's second act is certainly the most interesting one, and one that would make Robert Aldrich, the director of Whatever Happened to Baby Jane? proud. Se-hyeon is not just driven by her own success fuel; her own weakness becomes multiplied by a mother-in-law which embodies the worst in patriarchy, with which Se-hyeon she has to dwell. The lighting here and its unreal coloring seems destined to serve a story far away from realism.
The limited budget of the 3D computer animation film shows itself at places (such as the crowd scenes); the story and the character, though, hold the film together, while the transition from the first to the second parallel universe is edited in a way that maximizes suspense.
Climbing is mostly a film of interiors, matching its character's own self-worries. Expectations about pregnancy (rather than being yourself pregnant) is the social horror where Climbing dwells. It is a well-crafted animation feature, which uses its slasher prerequisites in an economical way, and enrolls its viewers for a roller-coaster ride with a woman who simply had it too much -and needs to get out. A tense and rewarding film at the same time.
Vassilis Kroustallis
SIGN UP: Want to read more free articles like this? Sign up for Our Newsletter
Read More About: