Reviews
Colorful review: guidelines for best soul incarnation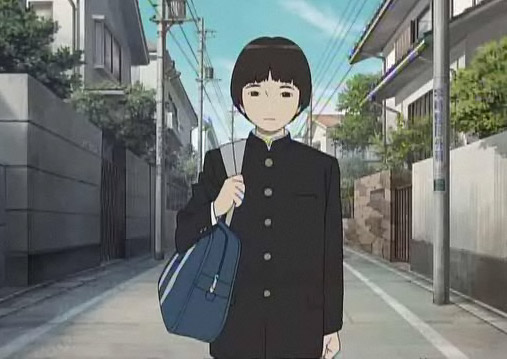 Colorful has its own ready explanation for the title. Men and women are not made from a single color; their composition includes different colors, same beautiful and some ugly. But one should respect the fact of their composition.
Should we? Colorful has a deceitfully warm visual environment in a depressing story. The 14-year-old Makoto Kobayashi has attempted suicide, and he is about to die at the hospital. A dejected soul (not itself to be seen, but through its written utterances) is almost ordered to transgress the heavenly realm and a cold atmosphere of white silhouettes waiting for a bus.
It takes the crimson elevator to descend to the earthly world, and inhabit the Kobayashi's body, to the relief of his parents.
But embodiment is not the same as being identical. What the soul in Kobayashi's body learns is that there is a reason for Makoto committing suicide; parental tenderness might be an excuse for negligence and secrets that causes a grave situation in the first place.
Colorful has two narrative levels. The first describes in colorful detail Makoto's family and the friendly background. A shy kid with a talent in drawing was placed in an environment of female infidelity and parental neglect, teenager prostitution (a 14-year-old girl can be as money-hungry as an adult), and his only friend is the equally outcast Shoko Sano.
The shocking frankness of the narration is only matched by the soul's behavior. Probably having committed a grave sin in its former life, the new Makoto has not learnt to forgive himself; and, as a result, he can never forgive others.
His mother and family food gathering are his first and prominent targets. (He might be right: only take a look at the colorful, but almost shapeless lunch and dinner that Makoto is constantly offered).
Drawing and directing the family gathering from the same unchanging angle and table positions is also by itself a repeating assault. Yet, Makoto is not only ungrateful, but shocks  the others; he is unjustifiably uncontrollable and unjustifiably angry. The culmination of his assaulting behavior reaches the person who is more than eager to point toward the soul in him (rather than his bodily appearance).
Yet every problem has a resolution. A new friend who does not care that Makoto ranks 32nd out of 32 students in the class -he himself is number 31- makes Makoto care for others. They both travel into the nostalgic past -a series of black-and-white photographs makes it look realistic enough- and they become close buddies.
The question is now for how long Makoto can proceed with his bodily appearnce. An irritating and austere teenager angel Pura Pura ("Don't call me angel!"), who is dressed as a British boarding school boy (all blazers, tie and shorts), is bound to make the soul as uncomfortable as he can. Still, the film proceeds to a new revelation for the Makoto soul.
Colorful is not a film of liberal and political correctness, but a call to move from immoral to moral behavior. It is daring enough to depict the former (kids may have a hard time here, even though no violent or sexual act is graphically depicted). The first shocking part makes the necessary reconciliation to seem almost like a relief -even if the happy ending makes things too easy.
Music is top-notch, and animation has lively characters move into an urban, but sometimes also picturesque, environment. But the most warm element in Colorful is the fluffy, green bed mattress in Makoto's room. That is what the future, soul-and-body Makoto would really enjoy.
Vassilis Kroustallis
Read More About: