Reviews
Jasmine review: Politics and Letters that Cross in the Mail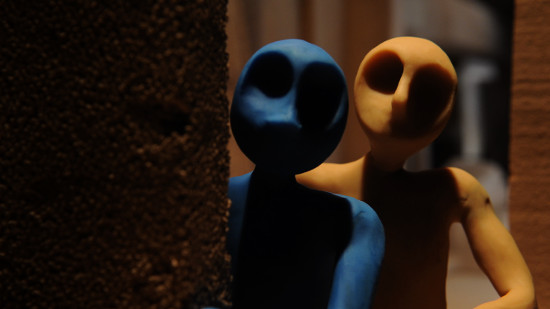 The autobiographical animated feature Jasmine  by the French director and animator Alain Ughetto (César-awarded for his 1984 animated short, La Boule) mixes a Franco-Iranian romance with the bigger canvas of the Tehran under Shah and his revolutionary successor, Ayatollah Khomeini (production: Les Films de Tambour de Soie)
Starting with a grainy video footage of the 70s Tehran, but swiftly moving to claymation, Ughetto quickly establishes a malleable beauty strictly located in the past and juxtaposed with the harsh reality of both archival footage and his own, present-day intervention.
His story is simple but effective: Alain meets and falls in love with the revolutionary Iranian Jasmine in France. They decide to move to Tehran in August 1978. Afraid of showing their multicultural love affair to Jasmine's family and the world, they share their intimacy inside apartments which act like convenient prisons.
Their situation reflects the nation's distress: everyday curfew imposed by the Shah regime leads to protests by angry but politically weak Iranians.  When Khomeini and his mullahs rise to power, the incoming fanaticism makes both Alain and Jasmine to literally fly, not walk, in the face of the harsh realities encountered.
In an animated film where image is less detailed than sound (claymation lovers have hollow openings instead of eyes), only the intimate sex scene has the power to unite Alain and Jasmine -and the regime the power to annihilate them. Alain and Jasmine mostly narrate their story via letters that serve as the only means of transport between them (while their characters are evocatively voiced by Jean-Pierre Daroussin et Fanzaneh Ramzi respectively).
Both characters seem like desperate pawns in an increasingly non-hospitable political milieu. Jasmine won't present a series of dramatic acts or twists and turns; instead, it  works more as an impressionistic tale of dreams taken away.
No wonder that its most colorful scenes occur when the two lovers find refuge in the clear night sky at the rooftop of their immensely high building.
Leaving behind the open space and the youthful optimism of Persepolis, Jasmine only shares with the latter the female character's revolutionary tendencies -which will also be quickly frustrated.
Alain stands in the background, more worried and disturbed until his final parting. The character-director is a constant presence in the film, manipulating his characters, putting them into their proper places, and crashing them when he wants to forget his former self. Announcing that he has abandoned both stop-motion animation and Jasmine for almost 30 years, Ughetto crafts a very tense dialectic between the maker and his creature.
Jasmine is a poignant drama that makes clear that love cannot survive political entrapment. It is a slow-burner, and relies solely on the bonding between the two characters (which could have been developed more than a mere outline) to achieve effectiveness.
It is adult animation at its most unapologetic, and seductively beautiful (helped by Isabelle Courroy's dreamy soundtrack) -leaving a sour taste for a love almost doomed from the start.
Vassilis Kroustallis
Read More About: