Reviews
Lisa Limone and Maroc Orange A Rapid Love Story: FIlm Review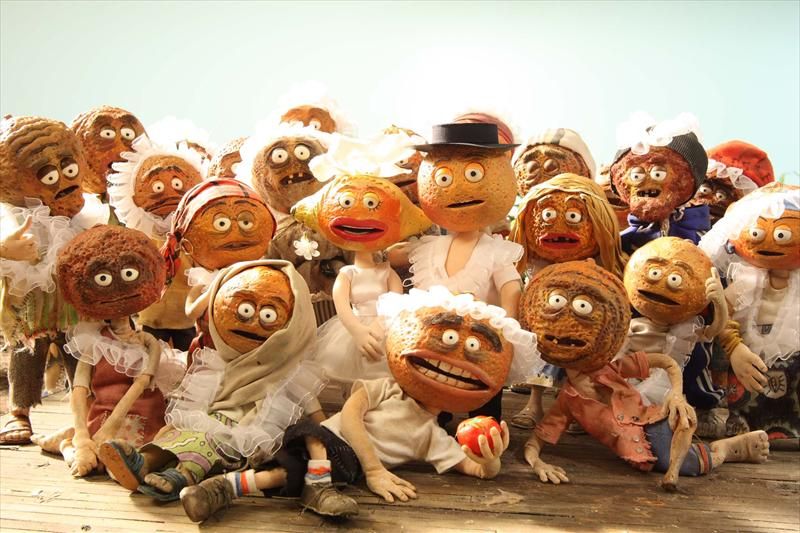 Animator Mait Laas with his masterful short Generatio (2005, see the discussion with Chris Robinson) has established himself as one of the hopes of Estonian animation (which boasts Pritt Pärn, Olga Pärn and Ülo Pikkov among its members). But his first feature animation output is an uneven film.
 Taking its theme from a forbidden love affair (the one that could find its resonances in Shakespeare's Romeo and Juliet, but without the tragic ending), Lisa Limone & Maroc Orange: A Rapid Love Story is the first stereoscopic Estonian feature animation.
 Using a novel concept for a feature animation, the pop animation opera setting (with a dramatic score by Ülo Krigul with much to admire), the film follows the Marocian immigrant Maroc (an orange) who dreams of freedom.
Yet he and his refugee friends land in a place of ruthless tomato exploitation (reminiscences of Aardman's 2000 Chicken Run here, but in a less cruel version), which rule the lemon father of Lisa and his minions.
While Maroc is the romantic idealist soon to realize the unpaid labour his friends have to suffer to earn their daily bread, Lisa is a selfish girl who only complains of her non-singing seashell, and thinks of love as only a game
 As expected in a modern fairy tale, both Maroc and Lisa will fall in love and end orange and tomato exploitation -or, maybe they won't, since the film is ready to offer a alternative, archival footage ending.
 Lisa Limone & Maroc Orange comes with a heavy burden. It needs to primarily addres family audience with a social cause that is a pressing issue in European Union at the moment, namely one of illegal immigration. Its purposes are clear, but the film forgets that they need to be made into something cinematically more stronger than a mere exhibition of social justice ideas. As is, the film navigates between a commitment to social realism and the need to distance itself from the formulaic plot, a practice already exercised in the alienating stage introduction.
The 72-minute puppet opera sung in the respective languages for the characters (French for Maroc and the oranges, Italian for Lisa and lemons, English for the seashell) seem to contribute to the linguistic confusion of a Eurovision contest rather than a documentary approach of multiculturalism.
A thin plot and minimal character development makes the relationship between Maroc and Lisa imposed from the film setting. Puppet design is solid, but seems subdued to the overriding purpose of making a film that children will like, and not really daring (apart from the always engaging, half-formed seashell). ome queer military characterizations withstanding, Lisa Limone & Maroc Orange is a safe option for kids, and a film where even ruthless character exploitation won't lead to puppet destruction.
It has the right dose of social and political engagement that won't destruct from the main story, but lacks the magic to turn its musical fanfare into a strong animating force of love, liberty and commitment.
Vassilis Kroustallis
CREDITS:
Director: Mait Lass
Production: Nukufillm, Bufo
Cast: Iris Vesik, Omar Nõmm ,Peeter Volkonski, Hardi Volmer, Andero Ermel, Risto Joost, Kati Kovacs,Jaan Pehk
Screenplay: Kati Kovács, Peep Pedmanson
Cinematography: Ragnar Neljandi
Sound: Karri Niinivaara
Set Design: Kati Kovács, Mait Laas, Ivika Luisk
Music: Ülo Krigul
Read More About: